Sri Anjaneya, Sri Vaikunda Rama temple, Bhadrachalam, Telangana
gk kaushik
Bhadrachalam
Bhardrachalam, the abode of Lord Sri Rama had derived the name from Bhadra - achalam (hill), where Sri Bhadra son of Meru and Menaka had done penance for having dharshan of Lord Sri Rama. Bhardrachalam is a pilgrim center, famous for the Vaikunta Rama temple on the top of a small hill situated on the northern bank of holy river Godavari,. The temple in Khammam district of united Andhra is presently in Bhadradri Kothagudem district of Telangana state. The nearest railway station is Kothagudem, Bhadrachalam-Road station, which is around 40 Kms from the pilgrim town. Public Transport and taxis are available from the railway station
Legend of the temple of Sri Vaikunta Rama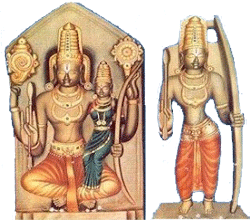 Sri Bhadra son of Meru and Menaka had done penance for having dharshan of Lord Sri Rama at this holy place on the banks of River Godavari. Sri Rama gave dharshan to him along with Sita mata and Lakshmana. The diety of this depicts the form in which Sri Rama had given dharshan to Sri Bhadra. This temple itself rests on Sri Bhadra. Sri Bhadra's head is seen on the back side of the main sanctum [gharbhagraham] which is seen as Sri Bhadra's heart and the entrance where rajagopuram is seen as Sri Bhadra's feet.
There is another school of thought that states that a tribal lady named Pokala Dhammakka, descendant of Bhaktha Sabari of Ramayana period was living in Bhadrireddypalem a place near to the present Bhadrachalam. She too is an ardent devotee of Sri Rama. The presence of Vaikunta Rama and other deities in the middle of the jungle was revealed to this pious and devoted woman in a dream. She then spotted the site as indicated in the dream, cleared the jungle and offered puja to the deities. With the help of local villagers she constructed a small temple for the deities. In memory of this tribal woman, Pokala Dhammakka, thousands of tribals from 29 mandals visits the temple, offer special prayers and darshan during Sita-Rama kalyanam in this temple. They also pay floral tributes to Dhamakka statue. One considers themselves fortunate to become part of the wedding works and providing the Goti Talambralu for the marriage. Goti Talambralu are made with the rice, whose husk was removed with the nails and mixed with the turmeric powder processed with hands. Natural pearls and scents will also be added to the rice to give a good aroma.
The present temple at Bhadrachalam was constructed by Goppanna known as Bhakta Ramdas. The renovation and construction of the temple premises is in itself an epic. The vimanam of this temple is crowned with Sudarshan chakram, which is very unique to this temple. In the vimanam a replica of main deity along with Rishi Bhadra is also seen. This temple and its deities played an important role in the life of Ramadas. [Pic: The central sanctum sanctorum of Bhadrachalam, with the Sudarshana Chakra at the top and the miniature of the temple's deity. - Prashanth.286]
Sri Vaikunda Rama
Since Sri Rama had appeared as He will be in Vaikunda the deity of this kshetra is known as Sri Vaikunda Rama. Sri Rama appeared with four arms Sri Rama here is in a very unique posture in many ways. The Lord reveals his full four-armed form here, holding a bow and arrow in His lower hands and Sankhu and Chakram in His upper hands. Sri Rama is seen seated in yogic posture with Sri Sitadevi sitting on His left lap. Standing next to Him is Sri Lakshmana with bow and arrow, affectionately guarding them. All three have their right hands in abhaya mudra, but interestingly, both Sri Rama and Sri Lakshmana hold an arrow also in the same mudra. Another interesting aspect of the Lord's form is that the Lord holds His Divine armaments Sankhu and Chakram in the reverse position. Lord holds Sankhu in His right and Chakram in left hand, unlike in other places. It is believed that the Lord holds the Sankhu in His right hand in order to blow the Sankhu to announce His arrival to Saint Sri Bhadra who was on penance.
Bhakta Ramadas
Sri Kancharla Gopanna popularly known as Bhakta Ramadasa or Bhadrachala Ramadasa was born in 1620 AD at Nelakondapalli village of Khammam in Telangana and lived for 68 years on this earth.
He is a devotee of Sri Rama and during his life time while working as a treasury officer for the Sultan Taani Shah of Golconda, he was posted in Bhadrachalam. As a Rama Bhakta Sri Goppanna while conducting his routines of collection of taxes for the royal treasury devoted time for spreading Ramanama also. During his course of duty he visited the temple of Lord Vaikunta Rama at Bhadrachalam. The Rama Bhaktha in him was overwhelmed at the sight of Lord Vaikunta Rama. The temple then was not in good shape and Goppanna thought that the temple requires renovation and reconstruction. He made an appeal to the people of the region, to raise funds to this effect. The funds were coming but the collection was not enough to keep the pace of the construction expenditure. Goppanna thought of replenishing the treasury money with money he will get as donation, and used the same for construction expenditure.
When the news of misuse of treasury money by Goppanna reached the sultan, he was called for enquiry to Golconda. Sultan found him to guilty and punished him with imprisonment. Subsequently the money was repaid to the treasury by non-other than Sri Rama himself and Goppanna was released from the prison.
For detailed biography of Sri Bhakta Ramadasa kindly see our web page "Sri Bhadrachalam Ramadas" under Hanumath devotees.
Bhadrachalam Bhaktha Ramadas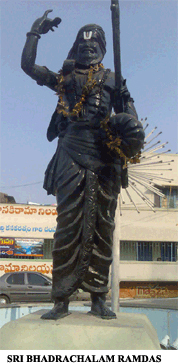 Today we offer our veneration to Sri Rama by singing with reverence the prayers composed by this great bhaktha Goppanna. The devotion expressed towards Sri Rama by him in the keerthanas earned him the name Bhaktha Ramadas. All his prayers are centered on Bhadrachalam Sri Vaikunda Rama, hence the name Bhadrachalam Bhaktha Ramadas. Many of the songs on Sri Rama composed by him encompasses the details of the ornaments he had made and the expenditure incurred for the deities of Bhadrachalam temple. This great Sri Rama bhaktha had to spend twelve years in prison for the delinquency made by him and Sri Rama who is the embodiment of righteousness [रामो विग्रहवान् धर्मः] had come to help his devotee, only after his devotee had undergone the punishment for the mistake made by him. Sri Rama had made his devotee to compose prayers on Him for gifting those prayers to us!
Sri Ramadas had composed many prayers on Bhadrachalam Sri Vaikunda Rama and his composition on Sri Hanuman of this kshetra known as "Sri Anjaneya Churnika" is very popular. Churnika in Sanskrit means "A sort of harmonious prose, not divided into prosodical feet, but with the unbroken sentence running on continuously".
Once the renovation of the temple was completed, Sri Ramadas had recited this Churnika standing infront of Sri Anjaneya with "chamaram" [fly-flap / fan made of soft plume]. His prayers having been answered he thanked the greatest Sri Rama Bhakta through this hymn. This great hymn recaps the entire life of Sri Hanuman.
We have the great pleasure in giving the composition "Sri Anjaneya Churnika" in Tamil in our Tamil website. The script is as practised in Bajanai in Tamilnadu.
Sri Anjaneya sannidhi
As the temple itself is on a hillick [hence this kshethra is known as Bhadragiri also] one had to claim few steps to reach the main temple praganam. Offer prayers to Sri Vaikunda Rama, Sita maa and Lakshmana at the main sanctum. Offer prayers at Sri Bhadra sannidhi, where Sri Rama padam and replica of main deity are seen along with Sri Bhadra. After offering prayers at the rest of deities and parikrama of the temple complex, come to Sri Anjaneya sannidhi to offer prayer.
Sri Anjaneya moortham of this great kshethra is about seven feet tall. The idol is made of granite stone in standing posture. The utsava moortham [processional deity] is also seen in the sannidhi.
Sri Anjaneya
Lord is standing with His hands folded and palms joined in 'anjali mudra'. Lord is standing beautifully in tribhanga posture.The lotus feet of the Lord are adorned with thandai and nupuram. Lord is wearing dothi in kacham style and girdle made of a triple string of muJja-grass. His both hands are adorned with keauram in upper arm and bracelet in fore-arm. The bahu-vallayam adds beauty to His shoulders. The yagjopaviitam is seen across His broad chest. He is wearing two malas as ornaments adorning His bosom. The tail of the Lord is seen near His lotus feet, the end of which is slightly coiled. Lord is wearing ear-studs which are touching His shoulders. Lord is also wearing 'karna pushpam' in His ears. Neatly combed 'sheka' tied in a knot [not seen].
The distinctive aspect of the Lord of this kshetra is that He is yathurmuki ie, facing the devotees directly with both the eyes. His bright eyes are emanating compassion on the devotee. With such bright radiant eyes Lord of the kshetra is a figure that is to be meditated upon.
---
Experience
Dharshan of Sri Vaikunda Rama and Sri Anjaneya at this kshetra where Rishi Bhadra and Goppanna had penenced medidating upon Sri Rama are sure to give the feeling of being in heavan [vaikunda] and thereby immense 'anandha'.
Ed: February 2023
SWAGATHAM
Welcome to the pages on Son of Wind God Vayu Lord Anjaneya Swami -Vayusuthan.
The intention of this site is to propagate the glory of Lord Anjaneya [Hanuman].
Though the intention of this site is to propagate the glory of Lord Anjaneya [Hanuman], kindly note that no material appearing in these pages could be reproduced in any manner without explicit permission from vayusutha.in
SRI HANUMAN
SRI HANUMAN THINKS DIFFERENTLY, THINKS FAST, THINKS AHEAD AND ACTS FOR SURE.
Our salutations to this Hanuman who always brings subham - everything that is good - for His devotees and eliminates the bad and the evil. He removes even the traces of bad thoughts and deeds from His devotees. i.e He makes them pure in words, thought and deed.