SWAGATHAM
Welcome to the pages on Son of Wind God Vayu Lord Anjaneya Swami -Vayusuthan.
The intention of this site is to propagate the glory of Lord Anjaneya [Hanuman].
Though the intention of this site is to propagate the glory of Lord Anjaneya [Hanuman], kindly note that no material appearing in these pages could be reproduced in any manner without explicit permission from vayusutha.in
SRI HANUMAN
SRI HANUMAN THINKS DIFFERENTLY, THINKS FAST, THINKS AHEAD AND ACTS FOR SURE.
Our salutations to this Hanuman who always brings subham - everything that is good - for His devotees and eliminates the bad and the evil. He removes even the traces of bad thoughts and deeds from His devotees. i.e He makes them pure in words, thought and deed.
BRIEFS ON AUTHORS
---
Shri K.C.Subbaiah
Shri K.C.Subbaiah is the son of Late Shri Laxmaiahgaru a great Vedic Scholar from Andhra Pradesh. He studied Vedanta from great teachers, Shri Vazuthoor Rajagopala Sarma, 'Anna' Subramanya Iyer of Ramakrishna Mission at Madras and Prof. K.Swaminathan, Ramana Kendra, Delhi. After retiring from Government service, gives lectures on Vedanta at various fora in any of the four languages, English, Hindi, Telegu and Tamil and his weekly discourses at Delhi Ramana Kendra are greatly appreciated.
---
Shri A.V.Subramaniam
Shri A.V.Subramaniam holds masters' degree in English,Tamil and Education. A Sri Vidya uppasaka, he is proficient in Carnatic music holding titles like "Ahiri" "Rama Sangeetha katha Bhushanam" and was AIR artist (Sr. B+ High). He presently gives religious lectures and music performance in various fora.
---
Shri Kathyayini priyan

Shri Kathyani priyan born in a reputed family, had his early education in Madras and had studied Sankskrit under Shri Vazuthoor Rajagopla Sarma. He had his higher education from Mysore University. Having served SBI as officer, he is now a freelance author writing articles on Vedanta, and also on financial analysis.
---
Dr. Shri C. Santhalingam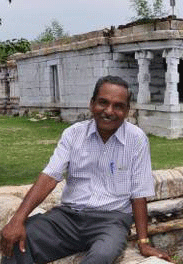 Dr. C. Santhalingam, a retired official from Archaeological Survey of India and is instrumental in deciphering many of the inscriptions pertaining to History of Pandya Nadu. Based at Madurai he continues to contribute towards unlocking the myth about Pandya Nadu through Pandya Nadu Centre For Historical Research, Madurai along with other scholars. Ever helping enthusiast of Pandya History, he is a person sought after by students and scholars alike for information.
---