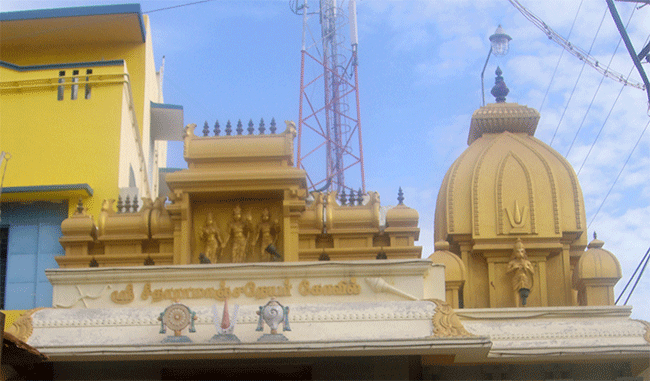 Sri Sitarama Anjaneyar Temple, Mahal 5th St, Madurai
gk kaushik
Madurai
When you think of Madurai the first and foremost thing that comes in the mind will be Meenakshi Amman temple and its beautiful and imposing towers. There are no words to describe the happiness and joy, one gets after a visit to this temple. Madurai, built around this temple, as a capital city, had been ruled by many dynasties and each one of them had contributed their might to the temple and to the city.
Madurai had been the gateway to the deep south of Bharat. It has the tradition of acting as host for many pilgrims and travellers alike. This Bustling city known as "city that never sleeps" is today a much sought after pilgrimage center and tourist spot. The city we see today owes a lot to Madurai Nayak dynasty, especially to Tirumalai Nayak and Rani Mangamma of this dynasty. Many of the temples which were destroyed during Malik Kafur's rule (1296-1316) and subsequent rule of Madurai sultanate were restored and brought back to its old glory by the Nayak dynasty.
Madurai and Nayak dynasty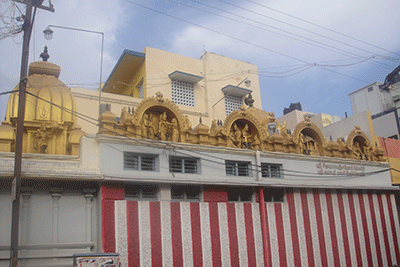 It was Sri Kumara Kampanna of Vijayanagar samrajya who had brought peace to Madurai from 1378 by eliminating Madurai Sultanate. But the tussle for power continued. But it was only during the rule of the great emperor of Vijayanagara, Sri Krishnadevaraya, lasting peace was finally brought to Madurai.
Krishnadevaraya, the emperor of Vijayanagara, sent his general Nagama Nayak to Madurai in order to punish the Virasekhara Chola for despoiling the Pandyas who were under the protection of Vijayanagara. Having defeated the Chola, Nagama proclaimed Madurai as his own. Provoked, Krishnadevaraya sent Visvanatha Nayak son of Nagama Nayak himself to produce his father in the royal court. As a reward for his loyalty Visvanatha Nayak was made ruler of Madurai during 1529. Visvanatha Nayak and his son Krishnappa Nayak supported successive rayas till 1565, thereupon Krishnappa Nayak set up an independent Madurai kingdom with the help of his father. Thus Madurai Nayak's dynasty started from 1529.
The Madurai Nayaks rule continued from 1529 till 1736 for nearly two hundred years. Of the many nayaks of the dynasty the period of Tirumalai Nayak and Rani Mangamma rule is considered as the golden period of Nayaks. Both these rulers had their subjects in mind and had undertaken lot of welfare activities. They had used diplomacy as their main tool against their adversaries and avoided war. During their period many temples were renovated and reconstructed. The temples which are treasure houses and cultural centers thereby reactivated the vibrant culture of the region. They were secular in their outlook and took care of all sects of the religions. Many highways were laid; many choultries built paving way for easier mobility of goods and pilgrims between Madurai and rest of places. Both were great builders, lover of art and encouraged art and craft of the region.
Tirumalai Nayak Mahal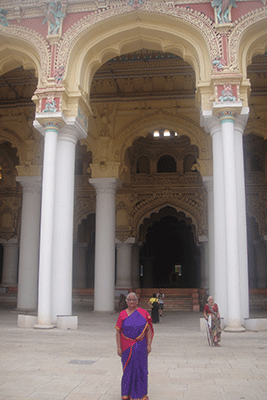 Tirumalai Nayak had ruled from 1623 to 1659 for nearly thirty six years. During his time many improvements were made in the Meenakshi temple. While a lot can be spoken about the contributions he had made, the palace he had built in Madurai is an exemplary on many accounts. The palace today is known as Tirumalai Nayak Mahal. It is a structural wonder and engineering marvel of then time.
The huge art treasure we see today in the name of Tirumalai Nayak Mahal is one forth of what was built by Tirumalai Nayak then. In what remains today as Mahal the size of the pillars, arches and pavilions are all amazing. One is sure to be mesmerized on seeing the stucco work on the arches and paintings on the ceilings even after the precious stones were taken away from the magnificent palace.
The complex which was huge in those days is now truncated to one forth of its size. The rest of area which was part of the then Mahal is now known by the name Mahal area. Today in this area many temples are found. Many of these temples are maintained by the people from Saurashtra community. One such temple is a temple for Sri Anjaneya Swamy located in the fifth street of Mahal area.
Saurashtrans of Madurai:
To know more about Saurashtrans, their language, Saurashtrans of Madurai and their contribution to Madurai kindly read in our other article on "Sri Anjaneya, Sitarama Anjaneya Mataalayam, behind Alankar Theater, Madurai".
Sri Sitarama Anjaneyar Temple
The temple "Sri Sitarama Anjaneyar Temple" is located at the intersection of Mahal 5th street and Majanakara Street, very near to Sri Muttaiya swamy temple. On the side of the temple one could see "Sri Sitaramaanjaneya satsangha arangam" – a prayer meeting hall and office for the management.
I had been to this temple around thirty years ago. It was a small temple consisting of four into two pillared hall with Sannidhi for Sri Rama parivar. Sri Anjaneyar was seen on a raised platform facing Sri Rama parivar. Along with Sri Anjaneyar many 'naga pradishtai' were also seen.
All the eight pillars were of hard granite and in one of the pillar there was a carving of royal lady facing Sri Anjaneyar and praying to Sri Rama parivar. I infer from this carving that the Sri Rama Temple had the Royal patronage of Nayaks. No vimanam could be seen for the Sannidhi from either side.
I revisited the temple around eight years back and the temple had been renovated in the modern terms with polished granite, marble flooring, vimanam for Sannidhis, separate Sannidhi for Sri Anjaneyar, neatly lined up 'naga pradishtai', temple and vimanams all painted in golden color. Devotees to circumambulate two feet path around Garbhagraham had been provided.
During this second visit I could not find the hard granite pillars. Sri Anjaneyar is facing east and Sri Rama parivar is facing north in separate Sannidhis. Sri Sita Devi is seen on the right of Sri Rama and Sri Lakshmana is seen on the left of Sri Rama and the Utsava moorti is also seen in the Sannidhi. Utsava moorti of Sri Anjaneyar is seen in Sri Anjaneyar Sannidhi.
Sri Anjaneyar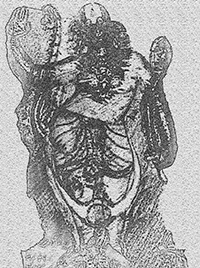 The idol of the Lord is carved on hard granite and is about four feet in height in 'ardha shila' [embossed] form.
Lord is standing with both His lotus feet straight and firm on the ground. The grace with which He stands in a 'tribhanga' posture with His head tilted slightly to the right is mesmerising.
Nupuram and 'Thandai' adorn both His lotus feet. A thin chain is seen in His right knee. Kankan in wrist and Angatham in bicipite adorn both the arms of the Lord. The left hand of the Lord is resting on His hip and holding the stem of the sowgandhika flower. The flower yet to bloom is seen just above Lord's left shoulder. The raised right hand of the Lord showers blessing to His devotees through the 'Abhaya mudra'. The curved and rising tail of the Lord is seen next to the bestowing right palm hand. A small bell is also seen at curved end of the tail. Necklace and two more malas are seen adorning His bosom. 'Kundalam' in His long ears are touching the shoulders. Kesam of Lord is tied in the form of tuft could not be seen, untied kesam is seen flowing near the ears. While the posture of His standing is mesmerising, the grace with which He showers blessing through His eyes is bound to make the devotees spellbound.
---
Experience
Darshan of the Lord who had blessed the erstwhile Royals with righteous thinking is sure to bring prosperity to all those who pray on to Him for righteous things in life.
Ed: Sep 2022 :: updated : 30.09.2022
SWAGATHAM
Welcome to the pages on Son of Wind God Vayu Lord Anjaneya Swami -Vayusuthan.
The intention of this site is to propagate the glory of Lord Anjaneya [Hanuman].
Though the intention of this site is to propagate the glory of Lord Anjaneya [Hanuman], kindly note that no material appearing in these pages could be reproduced in any manner without explicit permission from vayusutha.in
SRI HANUMAN
SRI HANUMAN THINKS DIFFERENTLY, THINKS FAST, THINKS AHEAD AND ACTS FOR SURE.
Our salutations to this Hanuman who always brings subham - everything that is good - for His devotees and eliminates the bad and the evil. He removes even the traces of bad thoughts and deeds from His devotees. i.e He makes them pure in words, thought and deed.