Sri Ramaswamy Senthura Anjaneya temple
Tirumanjana Veedhi, Mannargudi
B.Ramachandran Keskar*
Thanjavur
Thanjavur was at its height of glory during the rule of Cholas and especially during the rule of the first Rajaraja Cholan who had built the Brihadeeswara Temple for Lord Siva. When his son Rajendra Cholan shifted the capital from Thanjavur to Gangaikandacholapuram the attention and focus shifted from Thanjavur.
When the rulers of Vijayanagara Empire focused their attention on Thanjavur, it had gained the limelight once again. Vijayanagar Kings captured reign of Thanjavur in 14th Century AD. Sevvappa Nayak (AD 1549-1572), a Viceroy of the Vijayanager Empire assumed independent charge and founded the dynasty of the Thanjavur Nayaks. He built a new fort known as Sivaganga Fort - named after him – encompassing the Brihadeeswara Temple. Thanjavur remained the capital of the Nayaks for the next one hundred and twenty five years till the reign of Vijayaraghava - the last prince in the line.
Marathas' of Thanjavur
While Nayaks the rulers of Thanjavur were loyal to Vijayanagar kingdom, Nayaks of Madurai (Alagiri) wanted to capture the power of Thanjavur and was successful in overthrowing the then Ruler, Vijayaraghavan of Thanjavur Nayaks. A son of Vijayaraghavan induced the Bijapur Sultan to help him get back the Thanjavur throne. In 1675, the Sultan of Bijapur sent a force commanded by the Maratha general Venkoji (alias Ekoji and half-brother of Sivaji) to recapture the kingdom from the new invader. Venkoji defeated Alagiri, and occupied Thanjavur. He did not, however, place his protégé on the throne as instructed by the Bijapur Sultan, but seized the kingdom and made himself the king. Thus began the rule of the Marathas over Thanjavur.
Sivaji and Samarth Ramadas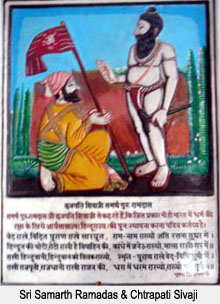 When Maratha rule was established at Thanjavur by Venkoji, Chhatrapati Shivaji had requested Samarth Ramadas go over to Thanjavur to guide Venkoji. It is well known that Chhatrapati Shivaji had accepted Samarth Ramadas as his guru and guide. On the request of Shivaji, Samarth Ramadas had come to Thanjavur. During that visit he had undertaken a pilgrimage to Rameswaram also. Samarth Ramadas is an ardent devotee of Sri Rama. He is considered as a rebirth of Lord Hanuman. He had meditated upon Sri Rama for many days. The tradition says, that Lord Panduranga Vittal Himself appeared before Ramadas and took him for the visit to Pandharpur and gave him Darshan as Sri Rama.
Samarth Ramadas teaching
He gave the "thryodhashari Mantra" "Sri Ram Jaya Ram Jaya Jaya Ram". Ramadas sent his disciples to all parts of India to spread the value of Sanatana dharma. His disciples and Mutts in the North directly or indirectly helped Shivaji and his work to reestablish rule of Sanatana dharma. His word of advice was: "Do not think much of your bodily wants. Have Satsangh with devotees. Keep the image of Lord Rama in your heart. Repeat the name of Lord Rama always. Annihilate lust, greed, anger, hatred and egoism. See Lord Rama in all creatures. Love all. Feel His presence everywhere. Live for Him alone. Serve Him in all beings. Make total and unreserved surrender unto Him. You will always live in Him alone. You will attain immortality and eternal bliss".
Kindly see more on "Samarth Ramadas" under Hanumath devotee column of our site.
Samarth Ramadas and Thanjavur
Ramdas's organisation had spread to South with Maratha rule having been established with Thanjavur as capital. Samarth on his holy pilgrimage to Rameswaram had established three major centers in and around Thanjavur to propagate Sri Rama bakthi. The first one was with Sri Bhikkji Bava [Shahapurkar] known as Bhimaraja Goswami as Mahant at Thanjavur. Second one with Sri Anantha Mouni as Mahant at Mannargudi, and third one with Sri Raghava Swami as Mahant at Koonur near Punnainallur Mariyamman koil.
Mannargudi Samarth mutt
Mannargudi is a town in Thiruvarur district and near Thanjavur. This place is known for the Rajagopalaswamy temple, a prominent Vaishnavite shrine. Sri Samarth Ramadas established his mutt at this place with Sri Anantha Mouni Swami as chief Mahanth. Lands were donated by Sri Venkoji king of Thanjavur for this establishment.
Mannargudi mutt guru parampara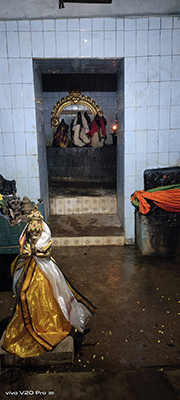 Sri Anantha Mouli Swami was propagating Sri Rama bakthi as per the tradition established by Samarth Ramadas with Mannargudi as headquarters. He had two disciples namely Sri Meru Swami and Sri Meghashyama Swami. Sri Meru Swami had two disciples namely Syamaraja Swami and Setu Swami. After Sri Anantha Mouli Swami's mukthi in 1693 Sri Meru Swami took over as the chief Mahant.
Sri Meru Swami's dedication towards learning the philosophy of Sri Samarth from his guru Sri Anantha Mouli had made him one of the greatest to have expounded the work and philosophy of Sri Samarth. His contribution towards this and the literary work he had left behind for generations to come is a testimony for the greatness of his scholarliness.
After him Sri Meghashyama Swami and then Sri Setu Swami had headed the Kendra of Mannargudi propagating Sri Rama Bhakthi. Even today the disciples of Sri Meru Swami are propagating of Sri Rama Bakthi as per the tradition established by Sri Samarth.
Mannargudi Samarth Ramadas kendra
Sri Samarth Ramadas Kendra was founded at Mannargudi with Sri Anantha Mouli as an abbot [the Mahanth]. Sri Ramaswami temple was also established at the mutt. This Kendra looked after the great temple tank known as "Haridra nadhi" and many temples around this tank.
In the kendra premises, Sri Samarth himself had established a moortham of Sri Maruti and did prana pratishta [consecration]. The moortham of Sri Maruti was smeared with 'Senduram' [vermilion]. The Maruti was named "Sri Prathapaveera Maruti". This was during the year 1677.
Sri Ramaswamy Sentura Anjaneya Temple
Sri Samarth Sampradaya Sri Meru Swamy Mutt is presently known as Sri Ramaswamy Sentura Anjaneya Temple in Mannargudi and is located on Tirumanjana veedhi towards East. The temple is seen with walls on all four sides. The temple has an outer courtyard. First we see Mukha Mandapam and in the northern side of it there is a wooden hall. There one can see the picture of Sri Rama Pattabhisheka and other deities. On the opposite side there is an entrance gate. Through that one can enter Main Mandapam; there stands Senthura Anjaneya facing north.
In the Artha Mandapam there are two sets of Sri Seetharama Panchayatna Murthies enthroned. Close to it is the Panchaloka Vigraham of Sri Dasa maruti facing the east. Next to this is the Garbhagraha. Idols of Sri Seetharama Panchayatna Murthy made of black stones are seen in the Garbhagraha.
Sentura Anjaneya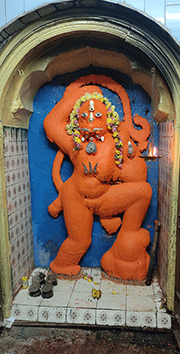 The murtham of Sri Anjaneya is about six feet in height smeared with 'Senduram' [vermilion]. The idol is seen in standing posture and looking straight towards the devotee.
In Lord's both lotus feet 'thandai' is seen. There is a decorative chain near the knee adorning His right lotus feet. While a demon is seen trapped under the Lord's left lotus feet His right lotus feet is seen firm on the ground. Lord is wearing a loincloth and girdle made of a triple string of muJja-grass. His bracelet adorning right hand is raised and is showing 'abhaya mudra', and is showering blessings on His devotees. His bracelet adorning left hand is seen resting on His bosom. Decorative ornament is seen on His bosom. His long raised tail goes above His head and ends near His left shoulder with a small turn. A Small bell is also seen at the end of the tail. The Lord is wearing kundalam [ear-studs] which are touching His shoulders. Neatly combed 'sheka' tied in a knot could be seen on the top of the head.
The distinctiveness of the Lord is He is smeared with vermilion and He is facing the devotees directly with both the eyes. His bright eyes are radiating benevolence on the devotee. It is rare to find Sri Maruti with 'vermilion' in south of India.
---
Experience
When you worship Sentura Anjaneya installed by Sri Samarth, all the worries of your mind will disappear. Perfect peace is achieved by meditating with one-mindedness on this majestic form of Sri Anjaneya.
* author is a Modi language expert and translator based in Thanjavur
working for Saraswathi Mahal Library
Ed: July 2022 :: updated : 28.08.22
SWAGATHAM
Welcome to the pages on Son of Wind God Vayu Lord Anjaneya Swami -Vayusuthan.
The intention of this site is to propagate the glory of Lord Anjaneya [Hanuman].
Though the intention of this site is to propagate the glory of Lord Anjaneya [Hanuman], kindly note that no material appearing in these pages could be reproduced in any manner without explicit permission from vayusutha.in
SRI HANUMAN
SRI HANUMAN THINKS DIFFERENTLY, THINKS FAST, THINKS AHEAD AND ACTS FOR SURE.
Our salutations to this Hanuman who always brings subham - everything that is good - for His devotees and eliminates the bad and the evil. He removes even the traces of bad thoughts and deeds from His devotees. i.e He makes them pure in words, thought and deed.