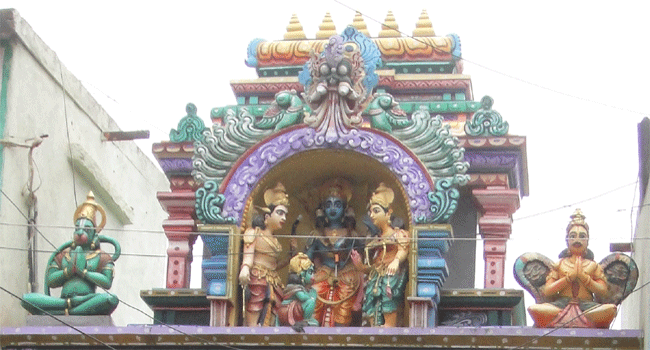 Vakkaleri Anjaneya gudi, Doddapet, Kolar, Karnataka
gk kaushik
Kolar
Kolar, formerly known as Kolahala, Kuvalala, Kolala, was called Kolahalapura during earlier times.This city presently in Karnataka was established during the third century and it is much older than capital city of Bengaluru. Sri Kolaramma temple built during second century, and Sri Someshwara temples are few of the old temples of this city which are vouching the importance and antiquity of the place.
Name Kolar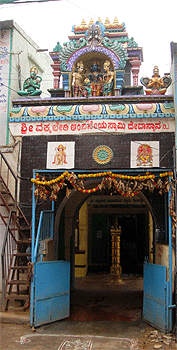 Jamadagni, father of Parasurama had a divine cow named Surabhi and was doing penance in this hill. King Kartavirya Arjuna (Sahasrarjuna) visited Jamadagni along with his army. When he came to know about the wonderful cow he demanded that the cow be given to the king as there is no need for such a cow for a rishi. Jamadagni refused to part with the cow since it is required for his religious rituals. In a fit of anger the king beheaded Jamadagni. Hearing this from his mother, Parasurama killed the entire army and beheaded Kartavirya Arjuna with his axe. Then Parasurama took an oath to behead the entire Kshatriya race and is said to have taken place on the hills. It is said that this place got its name from the word 'kolahala' (meaning celebration of the death of Kartaviryarjuna) and it later became Kolar.
Archaeologists say that the name Kuvalaala is found in inscriptions from 5th century AD and later periods. The region is called Kovalala, Kuvalala, Kolaala, and KolaHara in subsequent inscriptions. "Kuval" is red lotus [naidile in Kannada] and "Ala" is banyan tree. The name appears to have originated from the lotus pond with a banyan tree on its bank.
Kolar City and Water bodies
Many of the ancient cities were built by the kings on the banks of the river. In the absence of a river, the cities were raised near huge water bodies like lakes. Once the city comes into existence then more water bodies are built for the welfare of the citizens.
It was during third century that Konganivarman Madhava founded Western Ganga dynasty with this place Kolar in southern plains as his capital. Western Ganga was an important ruling dynasty of ancient Karnataka which lasted from about 350 to 1000 CE. The general belief is that the Western Gangas began their rule during a time Pallava Empire in South India was weakening. The Western Ganga sovereignty lasted from about 350 to 550 CE, initially ruling from Kolar and later, moving their capital to Talakadu on the banks of the Kaveri River.
Kolar has the Ammeralli kere, a tank, as its western boundary, Kodikannur tank as its northern boundary, and Kolaramma tank as its eastern boundary. Kolar during earlier times must have had many lakes, since there is no river near this place. It is said that till recent time western portion of Keelu kote area of the city was lake.
Today the new bus stand has been constructed on the dried lake area of keelu kote. The kodikannur tank had dried and "kodikannur water works" only is in existence. Nearby this dried lake an area called Karanji katte reminds us about Kodikannur Lake. Kolaramma Lake had already started shrinking.
Sri Vokkaleri villagers in Kolar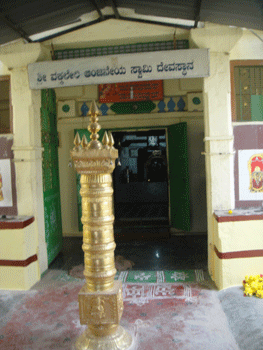 Sri Vakkaleri Anjaneya temple in Doddapet near the New Bus stand has a history which states about the then existed lake near the present New Bus stand.
Vokkaleri is village situated in midway between Kolar and Malur. Around one hundred sixty years back, few people from this village had come to Kolar which was the administrative head office for solving some village problem
Shala purana
During their stay at Kolar they took bath in the lake which was there in keelu kote area of present Doddapet. During their swimming in the lake they chanced hitting a stone. They moved away from that spot and again they hit upon a stone. It was as if they are chased by the same stone. One of them told that they should bring out the stone from the water since it may hinder other swimmers also. The team of people who came from the village put in their efforts to bring the stone out of the water.
When the stone was brought out of the lake, to the surprise of all them, it was not simple stone, it was a vigraha of Sri Anjaneya Swamy. Their joy found no boundary. But, after a while they realised that they may not be able to take the vigraha to their village. Therefore they sought help from local people who are from their village for further action to be followed.
With their help the murthy was installed at the very same place where it was brought out from the lake. A small shed was constructed for protection of idol and arrangement was made for conduction of daily puja etc.
Vakkaleri Anjaneya temple
The temple came to be known as "Vakkaleri Anjaneya gudi", for the simple reason that the vigraha was brought out of "jala-vasa" by the people of Vokkaleri village and temple was being maintained by these people.
In the end of nineteenth century Sri Anjaneya was sanctified by Shri Satyadheera Teertha the pontiff of the Shri Uttaradi Matha. Sri Krishnaraja Wadiyar IV had visited the temple and it is said that he had made donations to this temple.
The temple is very simple, east facing. Located on the main busy doddapet road, the entrance is between shops. At the first, we see a deepa stambha in the open courtyard. This is a part of concourse and a four feet path around of circumambulation of the temple. Then comes the mukha mandapa and then the Gharbhagraha the sanctum sanctorum. Devotees can have dharshan of the Lord from mukha mandapa. The poojas are conducted as per the tradition of Madhva sampradaya.
Sri Vakkaleri Anjaneya
The murtham of Sri Anjaneya is about four feet tall. The prabhavali and the Lord are made of single granite stone. The Lord is seen to have been sculpted as embossed arthashila idol, but in actual a full sculpted idol. The prabhavali has been made with simple but detailed artistic work.
While idol of the Lord is facing East, Lord Himself is facing north and in walking posture. Both His lotus feet are wearing 'Thandai' and 'Nupuram'. In His left knee Lord is wearing a jewel, chain. He is wearing 'kacham'. A decorative cloth is holding the kacham on His hip. Left hand is seen resting on His hip and holding the stem of the saugandhika flower. The flower is seen over His left shoulder. Raised right hand is showing 'abhaya mudra'. Bright charming face with fluffy cheeks is most attractive and beautiful. Long ears wearing kundalam, korapal – projected teeth, huge moustache are very attractive, but Lord's bright eyes are the one which are of stunning beauty. He is wearing a decorative head band to keep His 'kesam' intact. His head is covered with a small crown. Lords tail is seen raised and going behind the head and ends up near the left side near the saugandhika flower.
---
Experience
Lord who was on 'jala vasa' for many years had come out to bless His devotees, and end their worries and hardship. Offer prayer and reap the fruits of His blessings - wash away all anxiety and misery.
Ed: November 2020
SWAGATHAM
Welcome to the pages on Son of Wind God Vayu Lord Anjaneya Swami -Vayusuthan.
The intention of this site is to propagate the glory of Lord Anjaneya [Hanuman].
Though the intention of this site is to propagate the glory of Lord Anjaneya [Hanuman], kindly note that no material appearing in these pages could be reproduced in any manner without explicit permission from vayusutha.in
SRI HANUMAN
SRI HANUMAN THINKS DIFFERENTLY, THINKS FAST, THINKS AHEAD AND ACTS FOR SURE.
Our salutations to this Hanuman who always brings subham - everything that is good - for His devotees and eliminates the bad and the evil. He removes even the traces of bad thoughts and deeds from His devotees. i.e He makes them pure in words, thought and deed.