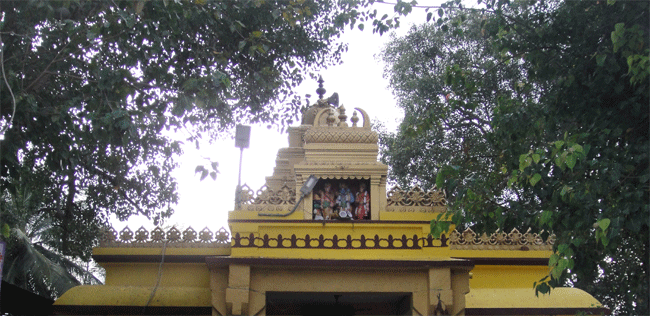 Sri Sripadaraja and Sri Vyasaraja pratisthapita only Hanuman
Hole Anjaneya temple, Maddur, Karnataka
gk kaushik
Maddur
Maddur town located in the mid of Mysore-Bangalore route. If you are travelling by train you will start hearing this name "Maddur" by the vendors who are selling a special vada produced in this town and sold in the name of "Maddur Vada". This non-descript town is a quite a peaceful place and has few ancient temples. The town lies on the right bank of a river Shimsha.
Marudur was formerly a place of importance. It lost its glory after the destructions caused during the war of Tipu with the English. It was during these times that gun power and explosives used for warfare were manufactured and stored here, giving raise to the story that this ancient place got its name Madduru from maddu. In Kannada maddu means gunpower, but wherein this place got its name "Maddur" from guarding deity of this place "Madduramma".
Ancient Maddur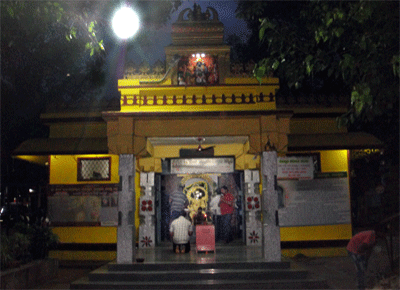 Maddur has a long rich legacy, starting from Mahabharat times. As Arjuna had visited this place on pilgrimage this place was known as "Arjunapuri". River Shimsha also bears the name of the Kadamba, from a rishi who resided on its banks. In later times Vishnuvardhana of the Hoysala line is stated to have given Maddur inam to the Srivaishnava Brahmans. He is also stated to have built the Maddur tank and the temple of Varadaraja The agrahara was called Narasimha-chaturvedi- mangalam, after his son.
Three great ancient temples namely Sri Ugra Narashima, Sri Varadharaja, Sri Rama in this town is spectacular and the deities of these temples are feast to the eyes. The processional images of the temple those of the Varadaraja and Rama temples are kept in Ugra Narasimha Swamy temple. The vigraha of Sri Anjaneya here depicts a dasa bhava keeping His hand close to His mouth as seen in chola perod vigrahas.
The palm leaf containing the shala-purana had been examined by Archaeological Department. Maddur is called Arjunapuri and also Kadambakshetra There are two inscriptions in the Narasimha temple and one is dated in 1150 A D. Another at the outer entrance has been set down to the 10th century. In the inscriptions, Maddur is called Marudur and also Narashimha-chaturvedimangala.
All these prove that the name of this place is not from maddu, the gun power. All these prove that the name Maddur is either from Marudur or Madduramma.
Sri Madhvacharya and followers
Sri Madhvacharya CE 1238–1317), had professed Dvaita philosophy. He is considered as rebirth of Sri Hanuman. In his school of thought worship of Sri Hari [Sri Vishnu] and Sri Mukhyaprana [Sri Hanuman] is important. Therefore all followers of his dvaita philosophy worshipped these deities.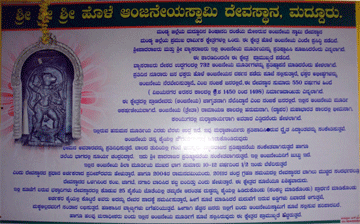 Sripadaraya or Lakshminarayana Tirtha (c.1422 - c.1480) was a Dvaita scholar, composer and the pontiff of the Madhvacharya mutt at Mulbagal. He is widely considered as the founder of Haridasa movement along with Narahari Tirtha. He was guru of Sri Vyasaraya. Gopinatha Swamy was his upasana moorthi.
Sri Vyasaraya is known for his installation of many Sri Mukhya prana devaru [Sri Hanuman] throughout south India. Both Guru Sri Sripadaraya and shishya Sri Vyasaraja were on tour and when they had visited this holy place Maddur they decided to install Sri Hanuman. Accordingly they had installed Sri Mukhya Prana on the bank of river Shimsha and on the special day prana pradishta was done.
Temple for Sri Anjaneya
Over a period of time the rulers of the kshetra and visiting kings contributed their might and constructed temple for Sri Anjaneya Swamy. Main deity is facing east and the river Shimsha. The Garbha graham is large and there is a mantapam in front of the Garbhagraham. Devotees can have dharshan of the Lord from the mantapam itself. It is a simple temple without any frills. With Shimsha river as background and sylvan charming you around, the devotee automatically acquire calmness in mind. Thus with peace of mind devotee will be able to pray to the Lord. Since the temple on the bank of the river the temple is known by the name Hole Anjaneya Temple, where Hole means river in Kannada.
Hole Anjaneya
Lord of this kshetra is facing east and seen walking northward. His both lotus feet adorn nupuram and thandai. Lord is seen wearing kaupeenam. Lords strong thighs shows the might of the Lord. His bosom adorns garland made of three rows beads. His 'uttariyam' is seen over His shoulder. The yagnopaveetham is seen flowing from His left shoulder. His both wrist is seen with kankana and upper arm He is wearing keyur. While His left hand is holding sowghandhika flower, right hand is seen raised showing 'abhaya' mudra. Kesam is neatly tied to form tuft. There are symbols of chandra and surya in the vigraha.
The Lord here is an Avathaarathraya Hanuman. The long tail symbolling Sri Hanuman, Sowgandhika flower symbolises Bhima, tuft symbolises Madhvacharya. The bell in the end of the tail of the Lord indicates it was installed by Sri Vayasaraja, the presence of surya and chadra indicates it was installed by Sri Sripadaraja. Both these saints had indicated that they profess Dvaita philosophy through Sri Hole Anjaneya by keeping His middle and index figure longer.
---
Experience
Come with full load of problem and heavy mind, moment you enter the premises the pleasant atmosphere will calm you down. Have Dharshan of Hole Anjaneya and concentrate your focus on the bright lustrous eyes of the Lord emanating karunya. You are sure to feel your mind relaxing, gaining confidence to face anything with the karunya of the Lord on your side.
Ed: October 2020
SWAGATHAM
Welcome to the pages on Son of Wind God Vayu Lord Anjaneya Swami -Vayusuthan.
The intention of this site is to propagate the glory of Lord Anjaneya [Hanuman].
Though the intention of this site is to propagate the glory of Lord Anjaneya [Hanuman], kindly note that no material appearing in these pages could be reproduced in any manner without explicit permission from vayusutha.in
SRI HANUMAN
SRI HANUMAN THINKS DIFFERENTLY, THINKS FAST, THINKS AHEAD AND ACTS FOR SURE.
Our salutations to this Hanuman who always brings subham - everything that is good - for His devotees and eliminates the bad and the evil. He removes even the traces of bad thoughts and deeds from His devotees. i.e He makes them pure in words, thought and deed.