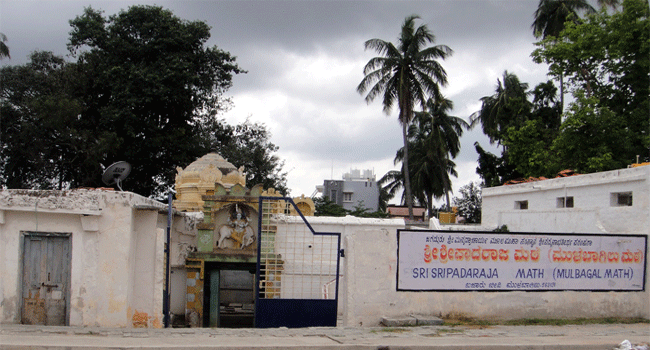 Sri Vyasaraja pratisthapita First Hanuman
Sripadaraja mutt, Bazar Vidhi, Mulbagal, Kolar, Karnataka
gk kaushik
Sripadaraja theertha
Shri Padamanabha theertha was the direct disciple of Shri Madhvacharya and was blessed with Shri Gopinatha vigraha for aradhana by Sri Madhwacharya himself. He was the first to write notes on Madhwacharya's great works like Brahmasutra bashya and other thirty seven works. He was the main architect to have established the philosophy of Madhwacharya's dwitha outside tulunadu.
The mutt established by him was known as Padmanabha theertha mutt. The spreading of message of Madwa was continued by his disciples. Sri Svarnavarna Teertharu the eighth in the lineage who selected a young Sri Lakshminarayana and initiated him into thuriya ashrama and named him Lakshminarayana teertha.
Sri Lashminarayana teertha happened to be in the presence of Sri Raghunatha theertharu of Sri Uttaradi mutt at Koppar. Young Sri Lakshminarayana theertharu was learning Sri-Sudha from Sri Svarnavarna Teertharu. Sri Ranganatha teertha observed the young yati explaining with ease even verses which were primafacie difficult to even understand. Sri Ranganatha theertharu, in admiration, said "we are just sripada (pontiffs), but you are Sripadaraja" (raja of all pontiffs). From then on, Sri Lakshminarayana teertha came to be known as Sripadaraja.
Stay at Srirangam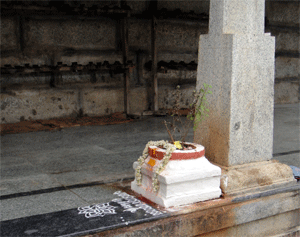 Sri Lakshmi Narayana Theertha stayed with Sri Svarnavarna Theertha in Srirangam and worshiped Sri Ranganatha. He heard pasurams in Tamil written by Alwars praising the various forms of Lord Vishnu being sung in Srirangam. Impressed by this, Sri Lakshmi Narayana Theertha translated 'harisarvothamatatwa' by Sri Madananda Theertha into Kannada, so that common people could experience the eternal bliss hidden in these works. Thus the common people were guided in understanding the philosophy advocated by Sri Madhvacharya.
He is widely considered as the founder of Haridasa movement along with Narahari Tirtha. His songs and hymns, having signature "Ranga Vitthala" are simple worded and spiritually high in vernacular language, was no wonder appealing to the common people.
Srirangam to Mulbagal
He started his journey from Srirangam to other places to spread the message of Sri Madhvacharya. He travelled to many places in south India, propagating the dvaita philosophy of Sri Madhvacharya. At that time Mulbagal was one of the learning centers for Dvaita philosophy. Therefore he established a learning center as mutt at this place. It is here he taught Sri Vyasaraja as one of his disciples.
Sri Sripadaraja then wrote 'Vāgvajra' [वाग्वज्र], his only work in Sanskrit. He continued writing in Kannada while he asked his disciple Sri Vyasaraja to write in Sanskrit. In his writings he emphasised more on Bhakti. He was known as Dasa Pantha Pravarthaka.
Sri Vyasaraja at Sripadaraja Mulbagal Mutt
Sripadaraja mutt at Bazar Street here is the place where Theertha had initially stayed and taught his disciples. He made prathistapana of Sri Lakshminarayana devaru at this place. It was here Sri Sripadaraja became the vidya guru of young Sri Vyasaraja. These two great saints of that time together were blessed by the celestial powers by showering flowers on them. The spot where it had happened has been commemorated by planting a tulsi plant at this premise. Sri Vyasaraja had spent twelve years studying under Sripadaraja.
Sri Vyasaraja and Sri Gopalakrishnan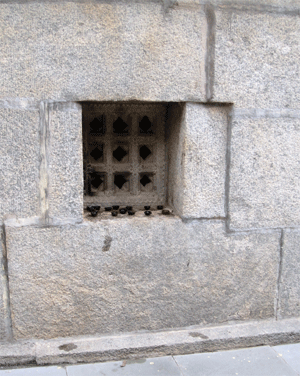 Theertharu once asked his disciple Vyasaraja to conduct the daily Puja in his absence. Shri Vyasaraja saw that one Sampusta (box containing divine Vigrahas) had had never been opened so far. Out of curiosity, he tried to open it, and succeeded also. He was astounded to see a beautiful Vigraha of Lord Gopalakrishna with Rukmini and Sathyabhama Vigrahas in the box. On seeing the vigrahas he started singing songs in praise of Lord Krishna. He could see the Lord dancing in front of him. He was so engrossed that he used the Saligrama as Tala. Singing the songs he went to kalyani [temple tank] for his bath, and when he was taking a dip in water he stopped singing. The dance of Sri Gopalakrishna stopped and movements froze in the middle of the dance, as if waiting for Sri Vyasaraja to continue with his singing.
This entire episode was witnessed by Sri Sripadaraja through navadwara kidiki [window with nine openings]. There upon Sripadaraja presented this icon to Vyasaraja and told him "I could not open the box, only you were destined to open it. So this Vigraha morally belongs to you". Even today, this miraculous Vigraha, with its unusual pose, is worshipped by saints of the Vyasaraja Mutt.
Sri Vyasaraja and Sri Hanuman
In the course of time, Sri Vyasaraja became the Raja-Guru of the Vijayanagara Empire. Although there was change of guard in the kingdom from Sangama dynasty to Thuluva dynasty, Sri Vyasaraja continued to be the Raja Guru and was advising the kings. It is a well known fact that he had built many temples for Sri Hanuman in various places in South India.
This arduous task of installing [pratisthapana] Sri Anjaneya vigraha at various places was started by him by the pratisthapana of Sri Anjaneya in Mulbagal. Sri Vyasaraya had installed the first Hanuman vigraha near the very same place where his vidya guru had installed Sri Lakshmi Narayan in Mulbagal.
Sri Sripadaraja pratisthapita Sri Lakshmi Narayan Swamy sannidhi is facing east. Sri Vyasaraja pratisthapita Sri Anjaneya sannidhi is very nearby and is facing south.
Sri Anjaneya of this kshetra
Extoling the three avataras of Mukhyaprana – Hanuman, Bhima and Madhwacharya is the hall mark of each of the idols of Sri Anjaneya installed by Sri Vyasaraja. This kshetra is where the first such idol with "Avatara Traya" characters was installed by Sri Vyasaraja. Tail with a bell at the end is also a significant indicator of Sri Vyasa pratisthapita Mukhyaprana.
The deity of Lord Sri Anjaneya Swamy of this kshetra is about two feet tall made of hard granite stone. He is in a walking posture and the carving is of 'ardha shila' type. Lord is seen walking eastward with His left lotus foot in the front. His right lotus foot is seen slightly raised from the ground. Both His feet are adorned by nupuram and thandai. His left hand is seen resting on the left hip and in his hand he is holding the stem of sowgandika flower [signifies Sri Bhima avatara]. The flower which is in half blossom state is seen above His left shoulder. Bracelet in wrist and nupuram in the upper arm are seen. He is wearing ornaments which adorn His bosom. With His other hand raised above He showers blessings on His devotees. The tail of the Lord is raised above His head with a curved end which is adorned by a small beautiful bell [signifies Sri Hanuman]. The Lord is wearing kundalam and His kesam is neatly tied into tuft [signifies Sri Madvacharya]. His eyes are glowing and emitting karuna on the devotee.
---
Experience
Come and sit in front of Him and meditate. You can feel the power of Mukhyaprana enveloping and creeping on you, removing all the non righteous thoughts from your mind. After few hours of dhyana you will come out as fresh and clean as you were when you had just born.
Ed: September 2020
SWAGATHAM
Welcome to the pages on Son of Wind God Vayu Lord Anjaneya Swami -Vayusuthan.
The intention of this site is to propagate the glory of Lord Anjaneya [Hanuman].
Though the intention of this site is to propagate the glory of Lord Anjaneya [Hanuman], kindly note that no material appearing in these pages could be reproduced in any manner without explicit permission from vayusutha.in
SRI HANUMAN
SRI HANUMAN THINKS DIFFERENTLY, THINKS FAST, THINKS AHEAD AND ACTS FOR SURE.
Our salutations to this Hanuman who always brings subham - everything that is good - for His devotees and eliminates the bad and the evil. He removes even the traces of bad thoughts and deeds from His devotees. i.e He makes them pure in words, thought and deed.