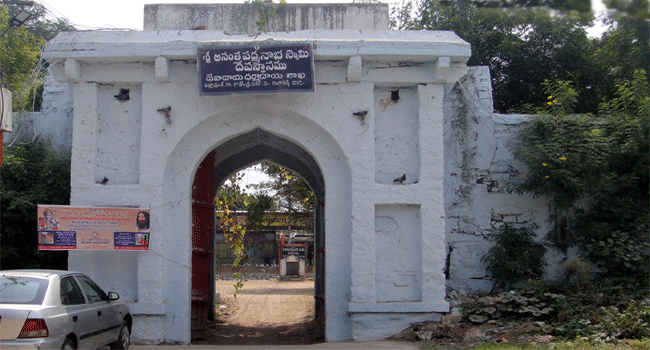 Anantagiri Kala Hanuman Temple, Rambagh Colony
Attapur, Hyderabad, Telangana
gk kaushik
Hyderabad
The present day Hyderabad originally had Golkonda as the nucleus and was ruled by Eastern Chalukya dynasty followed by rule of Kakatiyas and subsequently by various Sultanates. Sultan Quli, a governor of Golkonda, revolted against the Bahmani Sultanate and established the Qutb Shahi dynasty in early sixteenth century. The famous Charminar and Mecca Masjid were built during their rule. From them it went to Mughals till Asif Jah established his independent rule and named the region as Hyderabad Deccan, and started what came to be known as the Asif Jahi dynasty.
Rambagh, Attapur Hyderabad
Rambagh is a locality in Attapur of Hyderabad. It is not far off from the heart of Hyderabad or Golkonda the origin of Hyderabad. Today one has to pass through Rambagh to reach the international airport of Hyderabad. Attapur has many temples as old as 500-600 years or even more. From the temple architecture in this area it is predictable that these temples date back to Qutb Shahi period. The architecture of many of the rajagopuram is that of south Indian.
Temples in Attapur and nearby
While there are many temples in and around Attapur, oldest among them are the swayambu Sri Sri Laxminarasimha Swamy Temple and Sri Anantha Padmanabha Swamy temple. Both these temples are located on a hillock. Both the Lords are swayambu in that identity of diety could be known only on looking closely. These two deities are probably under worship from the time of Eastern Chalukya period say a thousand years back, but temples for the Lords were built by later rulers. Especially architecture of the temple tank seen in Sri Anantha Padmanabha temple could easy be said to be of Qutb Shahi period.
Temple Complex
The temple is located in Rambagh, just off the PVNR Expressway. The road opposite to pillar No 161 of the Expressway will lead one to the temple. One encounters the main gate which has a Qutab Shahi style archway with huge wooden doors.
On the left side there is huge "gou-shala" which was once a dharmasala [way side rest house]. On the right is a newly built quarters for the pujari and a newly built Sri Hanuman temple. Once you reach the entrance for the main temple, there is a huge covered hall standing on pillers intervening between two main deities. On the left is hillock in which Sri Anantha Padmanabha dwells and on the right is Dasa Janmejayan Hanuman also known by the name Kala Hanuman sannidhi. There are two trees dominating this main hall and in one of the tree there is a board which describes the history of this temple.
Sri Anantha Padmanabha temple Complex
On the left is the hillock in which swaymbhu Sri Anantha Padmanabha Swamy dwells. Few steps up one come across a doorway to the temple then a huge stone dwaja stambham is seen. At the next level on the opening one could see the naga pradeshta, Sri Maha Lakshmi and Sri Hanuman deities. Further up, there is stone mantapam and a sannidhi for Sri Srinivasa on the right side could be found. The other doorway seen will lead to the Sanctum of Syambhu Sri Anantha Padmanabha Swamy.
Have dharshan of swaymbhu Sri Anatha Padmanabha Swamy. The vimanam above the Sanctum of Sri Anantha Padmanabha Swamy is line with the rajapuram above the sanctum of Sri Kala Hanuman. From the Sanctum Santorum of Sri Anantha Padmanabha Swamy one could visualize the Janmejayan Hanuman sannidhi.
From the opening one could see the stone-faced temple tank with steps called koneru in Telugu. Lot of tortoises are found to be residing in this tank, and they come out of the water for basking on the Sun. The other side of the tank pujari's qurter is seen.
Sri Dasa Janmejayan Hanuman Sannidhi
After having dharshan of the main deity of this temple one can come down to have dharshan of Sri Dasa Janmejayan Hanuman. Since Sri Hanuman of this kshetra had been worshipped by Janmejayan He is known as Dasa Janmejayan Hanuman. He is more popularly known as Kala Hanuman since the vigraha is made of black granite. Back at the main hall Sri Hanuman Sannidhi is the main attraction.
Entrance to Sri Hanuman Sannidhi is through a strongly built mandapam with granite laid flooring. This mandapam has collapsible door on the first and a wooden door on the other side. There is opening in center of the roof where in hangs a bell. Actually this mandapam is the base of the raja gopuram.
As one steps forward of this mandapam towards the sannidhi there is small inner mandapam, from where one can have dharshan of Lord. Then there is inner space for pujari for performing pooja then the Sanctum Santorum of Sri Anjaneya.
Sri Dasa Janmejayan Hanuman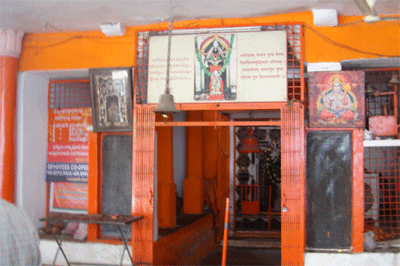 The black granite stone vigraha of Sri Dasa Janmejayan Hanuman is about seven to eight feet in height. Lord is seen in standing posture and having dharshan of Sri Anantha Padmanabha Swamy. Lord is facing the direction of South.
Lords lotus feet are fully and firmly on the ground and nupuram and thandai are seen adorning the lotus feet. Lord is wearing an ornament in the hip. His broad chest is adorned with sacred thread and two beaded garlands [mala]. He has His lotus hands folded and palms joined in revered 'anjali' mudra, towards Lord Sri Anantha Padmanabha Swami and holding japa mala. His lotus hands are wearing kankanam in wrist, keyuram in the upper arm. Lord is also wearing an ornament known as bujavali in His shoulders. He is wearing studs and a ring in ears. The tail of the Lord could be seen rising till head and ends with a small upward curve.
There is chanku and chakram on both side of the Lord.
---
Experience
Lord who had been worshiped by Sri Janmejayan is standing tall and doing meditation of Rama nama in this kshetra to grant His devotees all dharmic prosperity.
Ed [February 2019]
SWAGATHAM
Welcome to the pages on Son of Wind God Vayu Lord Anjaneya Swami -Vayusuthan.
The intention of this site is to propagate the glory of Lord Anjaneya [Hanuman].
Though the intention of this site is to propagate the glory of Lord Anjaneya [Hanuman], kindly note that no material appearing in these pages could be reproduced in any manner without explicit permission from vayusutha.in
SRI HANUMAN
SRI HANUMAN THINKS DIFFERENTLY, THINKS FAST, THINKS AHEAD AND ACTS FOR SURE.
Our salutations to this Hanuman who always brings subham - everything that is good - for His devotees and eliminates the bad and the evil. He removes even the traces of bad thoughts and deeds from His devotees. i.e He makes them pure in words, thought and deed.