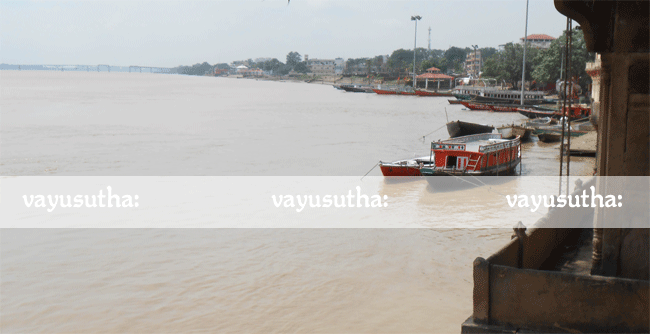 Tulsi Das Bal Hanuman temple, Tulsi ghat, Varanasi, U.P
gk kaushik
Photos by Sri Raghunathan, Chennai
Saints of Varanasi
According to the 'Vamana Purana', the Varuna and Assi are two rivers that originated from the body of the primordial Purusha. The tract of land lying between the two rivers is believed to be 'Varanasi', the holiest of all pilgrimage centres - a city in existence from time immemorial and that has enlightened many Rishis and Saints . The ante diluvian culture preserved by this great city is the standing testimony to the grandeur of past. Varanasi is the microcosm of Hinduism, a city of traditional classical culture. Glorified by myth and legend and sanctified by religion, it has always attracted a large number of pilgrims and seekers of soul. The city is also known as 'Kasipuri' and the word 'Kas' means to shine.
Varanasi
While there were many saints and Rishis who had lived in this city, famous among them are saints of comparatively recent times, namely Sri Goswami Tulsidasji, Sri Kabir dasji, Sri Ramanathji. The works of all these saints are virtually worshipped and are renowned for the philosophical ideas preached therein. However, the work of Sri Goswami Tulsidasji is remembered by many, as the language used therein was easily understood by even a commoner. At the same time, the pundits also found them to be valuable.
There will be hardly any devotee of Lord Anjaneya who is unaware of the forty slokas composed by Sri Tulsidasji titled "Hanuman Chalisa". This is the most powerful and popular composition recited by the devotees of Lord Anjaneya the world over. Devotion that this hymn develops towards the Lord is enormous and has to be experienced and enjoyed. If millions could experience the devotion, the power with which the hymn had been composed could be well estimated. His devotion towards Lord Hanuman is well beyond estimation. This is a siddha grantha and Sri Tulsidasji, a siddha purusha.
Assi Ghat
This Ghat of Kashi is one of the most important ancient Ghat and is situated as the southernmost Ghat of Varanasi. It is the first ghat of Varanasi where river Ganga and river Assi (now extinct) confluence, hence bathing in this one ghat is equal to the virtues of all other ghats put together. Earlier the area of this ghat was till Bhaidani Ghat. In 19th century this Ghat got divided into five ghats- Assi, Reenva, Tulsi and Bhaidani.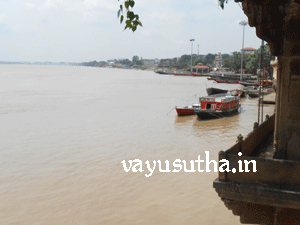 The great saint Tulsidas had lived in this ghat during his last days and had breathed his last while living in this Ghat. As mentioned the portion of the Ghat where he had lived had been named after him as "Tulsi Ghat". Raja Todar Mal who was a good friend and devotee of saint Tulsidas had gifted the place for his living in this Ghat.
Raja Todar Mal
Todar Mal started his career from the humble position of a writer but slowly moved up the ranks in the regime of Sultan Sher Shah Suri. With downfall of Suri dynasty, he continued to be a faithful public servant during Mughals also. During the regain of Emperor Akbar he continued to enjoy the confidence of the Emperor. He rose to become the Finance Minister in Akbar's Darbar in 1560. Todar Mal overhauled the revenue system of Akbar's Mughal Empire. He was well versed in Sanskrit, Persian and Hindustani languages and had translated Bhagavata Purana into Persian.
A committed hero of the values of Sanadhana Dharma, he was instrumental in rebuilding of Lord Viswanath temple. Earlier it was razed to the ground by Qutab-ud-den Aibek who ransacked Varanasi in 1194. The temple was rebuilt in 1585 by Todar Mal, the Revenue Minister of Akbar, only to be razed again by Aurangzeb, in 1669. The temple was again rebuilt by Rani Ahilya Bai Holkar of Indore in the year 1776.
Raja Todar Mal was a great friend of Sri Tulsidas and when the saint came to settle in Kashi for rest of his life, Todar Mal had given him a place in the Assi ghat. Todar Mal died in the year 1589.
Tulsidas migrates to Kashi
Tulsidas had lived in this city of Kashi earlier also, but when he was in the fag-end of his life he decided to settle in this city and breathe his last. He had lived at several places in Varanasi: at Panchganga Ghat, Hanuman Phatak, and the Gopala temple-all in the heart of the city – and, finally he was helped by his friend – Raja Toder Mal with a place in Assi Ghat.
The place is overlooking the river Ganga, the flow of the river and the sound produced by its smooth flow was mesmerising the onlooker. Saint Tulsidas who was ardent devotee of Sri Rama and His Bhaktha Sri Hanuman, spent his time reciting poems and in satsangh.
Tulsidas is said to have passed away here on the Assi Ghat. A famous couplet composed by Beni Madhavdas tells us of the date and year of Tulsidas' passing away:
संवत सोलह सौ असी असी गंगके तीर।
श्रवण श्यामा तीज शनि तुलसी तज्यौ शरीर॥

Sambata Solaha Sai Assi, Assi Ganga Ke Teer|
Saavan Syaamaa Teej Shani, Tulsee Taje Shareer || -(Mool Gosain Charit)
"…In the year V.S 1680, in the month of Shravan date third, on the banks of the River Ganga, Tulsidas left his body for his supreme abode…"
Devoted to Lord Ram in thought, speech and action, Tulsidas chanted the holy name of 'Ram' and left for his supreme abode on the third day of the dark fortnight in the month of Shravan in the year V.S 1680 (1623 A. D.).
Akhara Goswami Tulsidas, Tusli Ghat
Today the bhavan built by Toder Mal in Tusli Ghat is known as Akhara Goswami Tulsidas. Till recently the rare and only pandulipi [manuscript] of Sri Ramacharitmanas dated Samavat 1704 [1648 AD] and the piece of boat Sri Goswami Tulsidas used for navigating in Ganga were on display for public in this place. There is Gurukul run here imparting training in Sanskrit and vedas. There is a portrait of Tulsidas Ji painted during his time in this temple on one side of Sri Ram Mandir.
Tulsi Das while staying at this bhavan, used to sit in the balcony facing the Ganga mata and pray. He used to admire the beauty of Ganga mata, her flow and the melodious sound made by her while she was on move sitting on the balcony. The inspiration given by Ganga mata made many verses flow from the saint.
During his stay in Kashi, Goswami Tulsidas had established many adorable temples for Hanuman. These historically important temples will remain testimony for the faith Goswami had on Sri Hanuman and remain the center for the principles for which Tulsidas lived. Of all the Hanuman temples established by Sri Goswami in Kashi is the Bal Hanuman temple at Akhara Goswami Tulsidas, Tulsi ghat.
Sri Bala Hanuman Temple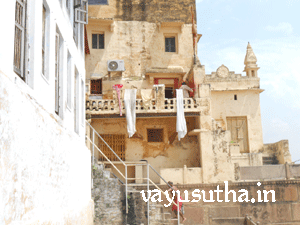 On an auspicious day he was inspired to establish the deity of Sri Bala Hanuman. Thus he had established this Sri Bala Hanuman here. He used to pray and offer pooja to this very deity during his stay in this bhavan. The deity is facing south since Dakshinmuki statue of Hanuman is considered quite stirring and auspicious. Sri Hanuman of this temple is more popular in Kashi as "Gufa Hanuman" [Sri Hanuman of Cave]. While this temple for Sri Hanuman is present in the lower level of the building, the upper level of the building houses temple for Sri Ram along with Sri Sita and Sri Lakshman. There are three more deities of Sri Hanuman here which are facing East, north, and west.
Prayers and festivals
Devotees come here to have their wishes fulfilled, they recite Sri Ramachandra manas, a few of them recite kishkintha kand as per their wishes. Tuesday and Saturday there will be heavy turnout of devotees to this mandir for offering their prayers to Sri Bal Hanuman. Sri Tulsi Jayanthi, Sri Hanuman Jayanthi are celebrated with pomp and show at the same time with devotion to the core.
Temple Timings:
The temple is open from 5 am to 12 noon and from 3 pm to 10 pm. Aarti is performed at 5.30 in the morning and at 8.30 in the night.
---
Experience
Ganga and Tulsi are most sacred. Ram and Hanuman are inseparable. Tulsidas and Hanuman are greatest Ramdas. Come to this kshetra and feel the benevolence of these combinations showering bless on you.
Ed [May 2015]