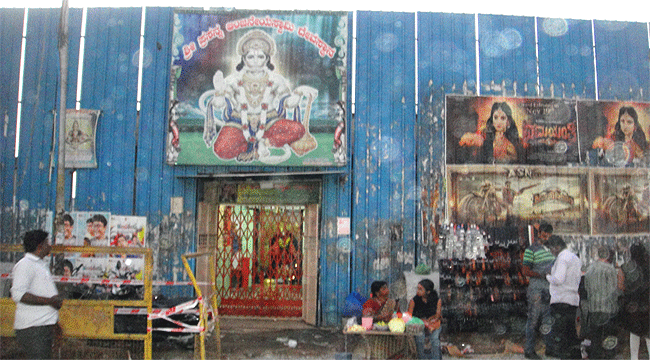 Sri Prasanna Anjaneya Temple
Subedar Chatram Road, Gandhi Nagar Bangaluru
gk kaushik
Bangalore then
Kindly read the following articles by the same author for his views and news relating to the Anjaneya swamy temples at Malleswaram as also his recollections of the then Bangalore [in early nineteen fifties]:
1. Malleswaram Raghavendra Mutt Anjaneya Swamy temple
2. Malleswaram Krishnar Kovil Anjaneya Swamy temple
Majestic circle ground
We were then living in Temple Road and on the back side of our house there was a middle aged mamaji whom we use to call 'scout mama'. He was a person who had served the Indian Army. He will insist that we should call him 'Bharat scout mama' instead of 'scout' mama. He will be telling us the story of the scout camps that he had attended. He will tell us that when we grow up we should become members of Bharat Scouts so that we can contribute meaningfully to the society and can also understand what it means to live together with people who are not our relatives or friends. He used to mention with pride that the Bharat Scout was founded in Bangalore.
Bharat scout mama used to go on walking rounds every evening and return just after sunset. One day I requested him to take me along with him, and with the permission of my mother I accompanied him. It was a long walk and we had walked past the 'Raja mill' – situated at one end of Malleswaram. He took me to a big ground which was nearly twenty feet below the road level. He told me to wait at a particular point near the ground, for him to return after completing his walking routine. While I was waiting for him, few more men joined him and all of them started jogging; they jogged along the border of the ground three times. After that they came to the place where I was made to wait. Some of them just sat on the ground while some others were engaged in doing physical exercises. They talked less and before leaving they said 'Jai Hind' or 'Namaskara' to each other and departed.
Now it is time for us to return to mamaji. He asked whether I would like something to drink. After a No from me we started returning home, but this time through some other route. I expressed my surprise to mamaji about the large size of the ground to which he had taken me. Till then I had seen only the ground adjacent to Ganesh Mandir and the other one opposite to Raja mill which is slightly bigger than the first one. Bharat Scout mamaji told me that this ground is called 'Nethaji ground' - named after the great patriot Subhas Chandra Bose founder of INA. He mentioned that this place was once a big tank which used to supply water to the old city. As we walked he took me to an Amman temple and said that the temple is one of the oldest temples of Bangalore. After prayers at this temple we moved further, say few meters and there was a temple for Sri Anjaneya near a pipal tree. Here we offered our prayers and started moving towards Malleswaram. He told me that Sri Anjaneya at this temple was also an old temple. People who were using the tank used to visit these two temples regularly.
He mentioned that the vigraha of Sri Anjaneya of this temple was found in the tank and later installed in this temple on the banks of the tank. I had accompanied mamaji in his walking trips a couple of times more. Each time I had dharshan at both these temples.
Later on I learnt that the ground/tank was the Subashnagar Tank opposite to City Railway Station. This was area was popularly known as Majestic area- dominated by film theatres.
Revisit to Majestic circle
I was at Bangalore recently, and decided to revisit the temples. I found it difficult to locate Sri Anjaneya Swamy temple. It is a good thing that I remembered about Amman temple. On enquiry, I was guided to Sri Annamma Temple and from there I went to the nearby Hanuman temple. The landscape had changed very much and a new commercial mall was coming up on the background of this Anjaneya temple. Because of this huge construction, the entire street was covered with a blue sheets barring a small area around the Hanuman Temple.
Few facts from Wiki
The Kempa Gowda Bus Station is located opposite to the Bangalore railway station. It is bordered by Seshadri Road on the North, Danavanthri Road on the East, Tank Bund Road on the South and Gubbi Thotadappa Road on the West. Dharmanbuddhi Lake area made way for the Bus Station. Dharmambudhi, Sampangi and Koramangala lakes are visible on the 1924 map of Bangalore.
It is possible to conclude that the Dharmambudhi tank built during the rule of Kempa Gowda was once the main source of water for the Bangalore pete and was fully functional at least till 1924.
Anjaneya Temple, Kempegowda Bus Station
This temple is located at Subedar Chatram Road near Majestic circle. Earlier also the temple was right on the tank bund, abetting the footpath as it stands now. The temple priest who was then around forty years old used to sit next to the idol of Sri Hanumanji and offer 'tulsi thirtham' as Prasad to the devotees who will have to be standing in the footpath only. The main idol of Sri Anjaneya was about two and half feet in height. Behind the Anjaneya vigraha one could see a big hall. I could remember only this much about this temple. The shilpa of Sri Anjaneya was of an 'ardha shila' type.
This time around when I went to the temple, it had a 'garbhagraham' with a corridor around the garbhagraham for making pradakshanam of the deity. I noticed that the main idol was bigger in size, when compared to my recollection of the same dating back to 1954/55.
On enquiry with the priest of the temple I was given to understand that he is the third generation priest of the temple. When I asked about the smaller Sri Anjaneya Swamy vigraha which was installed earlier, he told me that his father while renovating and expanding the temple was given a divine direction to install a new vigraha and accordingly a new vigraha which was bigger in size than the earlier one was intalled as per the agama sastras. The old vigraha is also kept inside the garbhagraham and is still being worshipped.
Sri Anjaneya
All though the idol of Sri Anjaneya Swamy is an 'ardha shila' type the embossing is so vivid that it almost resembles that of a purna shila. The idol, almost five feet tall, is facing the Eastern direction and is seen as if walking towards North. His left lotus foot is adorned by a nupuram and thandai in the front. His right lotus foot is seen slightly raised from the ground. The bracelet adorns His left wrist and He is seen holding the stem of sowgandika flower. The flower which is seen above His left shoulder is in a 'ready to blossom' state. He is wearing suitable ornaments on His bosom. With His raised right hand showing 'Abaya mudra' He showers confidence on His devotees. The tail of the Lord is raised above His head with a curved end which is adorned by a small beautiful bell. Lord is wearing ear-studs and His kesam is neatly tied. Small crown adorns His head. The eyes of the Lord are bright and effuses compassion.
---
Experience
A darshan of the Lord is bound to remove fear in the minds of the devotees and ring in all that stands for success besides cleansing the mind of all negatives and evils. Take His call, which is beckoning you all.
Ed [August 2014]
SWAGATHAM
Welcome to the pages on Son of Wind God Vayu Lord Anjaneya Swami -Vayusuthan.
The intention of this site is to propagate the glory of Lord Anjaneya [Hanuman].
Though the intention of this site is to propagate the glory of Lord Anjaneya [Hanuman], kindly note that no material appearing in these pages could be reproduced in any manner without explicit permission from vayusutha.in
SRI HANUMAN
SRI HANUMAN THINKS DIFFERENTLY, THINKS FAST, THINKS AHEAD AND ACTS FOR SURE.
Our salutations to this Hanuman who always brings subham - everything that is good - for His devotees and eliminates the bad and the evil. He removes even the traces of bad thoughts and deeds from His devotees. i.e He makes them pure in words, thought and deed.