Sri Anjaneya Swamy of Sri Venugopala Swamy Temple
11th Cross, Malleswaram, Bangaluru
gk kaushik
Expansion of Bangalore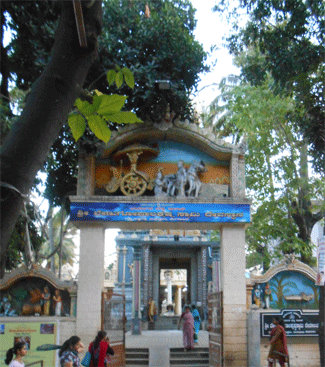 Bangalore founded by Sri Kempe Gowda was a well planned city with many tanks for uninterrupted supply of water to the city. All artisans were accommodated with in the city and were allotted a particular location within the planned city which was fortified. These locations were known as 'pete' and many of the locations in the original Bangalore are even today known by their old name like cottonpete, balepete etc.
When British came to Bangalore they developed the area presently known as Cantonment. But with population expanding both these areas were outgrown and the need for finding new extensions was felt. Sprawling new extensions were planned and executed. The first such extension was Chamarajpet, laid out in 1892. Then Malleswaram, Basavanagudi, Visveswarapuram, Seshadripuram, Shankarpuram etc., were developed as extensions during the first two decades of the twentieth century.
Malleswaram
Malleswaram is a part of the beautiful city 'Bangalore'. The genesis of the name Malleswaram is from Kadu Malleswara Temple [Kadu in Kannada means forest]. In the mid 17th century the swayamboo Lingam was identified on the hill top in the once forest area by the then ruler Venkoji (Ekoji). Venkoji - Chatrapati Sivaji's stepbrother - was on a visit to this place.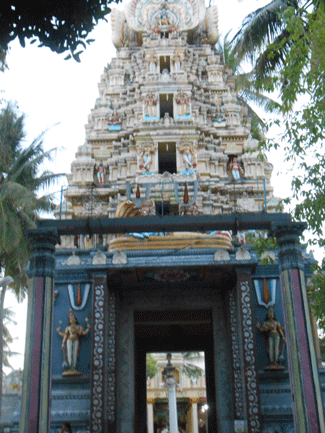 At that time, this was a part of the territory which he ruled. Venkoji consecrated the deity, built a temple for the deity and named the deity as Sri Mallekarjuna Swamy. In later years the people called deity as 'Sri Kadu Malleswara'. Kadu Mallikarjunaswamy temple located in Malleswaram, is one of the oldest temples in the city. The temple was built on top a hillock. It has its main entrance on the East, on Temple road. A flight of 40 steps leads to the temple.
My memory of Malleswaram
We lived here in this wonderful place in the early fifties along with our parents. Initially we stayed in Temple road and then moved to West Park Street. At that time, Temple road extended between Eighth cross and Kadu Mallikarjunaswamy temple. Now, the road extends beyond the temple and upto 16th cross. Further, now we have more than one temple road – 2,3,4,5 etc., due to expansion of the locality.
The broad majestically laid out steps which lead to the main entrance of the temple from Temple road was a wonderful sight during my days at Malleswaram. Me and my friends used to go to Sankey tank for swim and bath during day time by scaling over and climbing down the hillock housing the temple. Many peepal trees covered the entire area keeping it cool. There were many sardarjis with long beard who were living nearby and were carpenters by profession. They worked on long logs etc., under those cool tree shades.
A well planned area with grids of roads called main roads covering South to North and cross roads running from East to West constitute Malleswaram. Present Public Library at Sampige Road used to be a vegetable market those days. Between East Park Street and West Park Street extending from Eighth cross up to Eleventh cross there were many Temples and a play ground [presently it is a well maintained park]. My activity in the evening hours was confined to playing in the play ground and going to these temples.
[See also: 1.'Vayusutha ya Namo Namaha' 2.'Sri Raghavendra Mutt Malleswaram' ].
My Evening activity
Those days we were given the freedom of going out alone and playing in the play ground without any parental escort – quite unlike these days. As a boy of five years I used to come to the play ground adjacent to the Ganesa Temple on the hillock. Playing till dusk and then start thinking of returning home and before returning to home we used to visit any one of the temple as a matter of routine. Anjaneya sannidhis in Sri Raghavendra Mutt, Sri Venugopala Swamy temple and Ganesa temple on the top of the hillock were our favourite places of worship. Anjaneya idols of these temples are well engraved in my mind and thinking of them had given me lot of courage in my life.
Revisit to Malleswaram
After a long time I visited Malleswaram, recently. At the first, I went to see the house where we lived and found that nothing had changed in the house except that a big building had come up in the open ground which was there in the front of the house. Next I went to see the house in the West Park Road and found nothing had changed except that a first floor had been built in the front portion of the house. Earlier we use to come to the open terrace of this house from our first floor portion and watch the activities around Malleswaram Post Office [this was housed opposite to Krishnan temple where now a big school has come up] and Sri Krishnar kovil.
The post office opposite to this temple is now shifted to East park Road opposite to Ganesha temple. There used to be two post boxes - one for local another for rest of India. Post cards were main means of communication those days. I remember visiting this post office the very next day of its inauguration along with my mother and next door aunt.
Sri Venugopala Swamy Temple -
Sri Hanuman sannidhi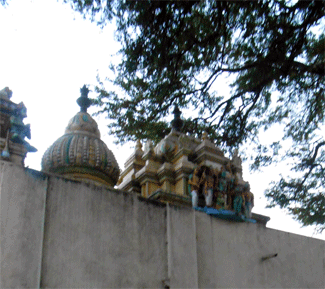 Sri Venugopala Swamy temple we used to visit during Margazi month in the morning hours for 'Thirupavai' and also for hot 'Milagu Pongal' those days. The temple has not changed much except that it is more colorful these days. This time around when I visited Sri Venugopala Swamy Temple which is more popular as 'Krishnar Kovil', I noticed that new gopurams – other than the main one - have come up on the other three sides also. The architecture of these gopurams resembles the famous Vijayanagar architecture of Hampi. Instead of granite stone work it is cement finsished [see Kanchipuram Sanjeevirayan temple]. Adjacent to Sri Hanuman sannidhi, sannidhis for Sri Kodhandaramar and Sri Sudharshana Alwar have come up.
I used to see Sri Hanuman sannidhi from my house at West Park Road itself, although only backside of the sannidhi will be visible. The mere thought of Sri Hanuman inside the sannidhi would inspire me. Since the compound wall has been raised and more trees have been grown now, one may not be able to see the vimanam of Sri Anjaneya from West Park Street. A new entrance to the temple has been made from West Park Street.
Note on Sri Anjaneya,
from the official web site of this temple:
i) Sri Venugopala Krishnaswamy is the the main deity – Moolavaru. The lovely divine idol with flute held in both palms was being worshiped in Tirukadalur popularly known as Rajarajendra Chaturvedi MangaLa in Tamilnadu and was receiving aaradhane since 997 AD (the year on consecration).
ii) Sri Veera Anjaneyaswamy murthy: This idol was brought from a small shrine in Narayana Katte (Sanyasi Katte), since the shrine went into ruins there. This deity was been being worshiped for over two hundred years before the murthy was relocated at Krishnan temple premises.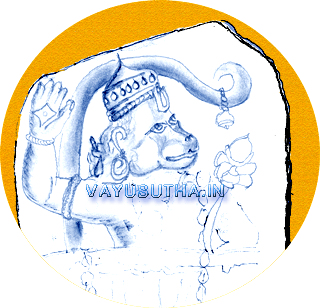 iii) The inaguration of the building of the main shrine, consecration mahotsava of the divine murthys (divya murthys) and the consecration of Sri Veera Anjaneya Swamy in a separate sannidhi were performed on 22nd August 1902. It is worth noting that on the very same day Maharaja Nalvadi Sri Krishnaraja Wodeyar of Mysore was also crowned.
Sri Anjaneya Swamy
This time when I visited the temple Sri Anjaneya Swamy was in 'rajatha kavacham' and half the portion of the deity had been covered with his dothi/veshti. Sri Anjaneya Swamy's eyes were decorated with American stone studded eyes matching the 'rajatha kavacham'. The main vigraham was fully covered with these decorations. The description given below is from my memory and I had improvised the same as a sketch and present it here.
Sri Hanuman of this temple is seen facing east and walking towards North. The deity may be around three feet tall. Lord's right hand is raised giving blessings by way of showing 'abaya mudra'. In His left hand He is holding 'sowgandhika' flower. The flower which is in full bloom is seen above His left shoulder. He is wearing ornaments which adore His bosom. Lord's tail is raised and passes behind His head. The curved end of the tail is adorned by a small bell.
His eyes are glowing and looks straight which is very attractive and captivating. This 'kadaksham' of the Lord is bound to enslave the devotee.
---
Experience
It will be a great experience for the devotee to visit this temple and have dharshan of Lord Hanuman. It is for certain that the devotee will regain his self esteem and be proud of being a devotee of Sri Hanuman.
Ed [June 2014]