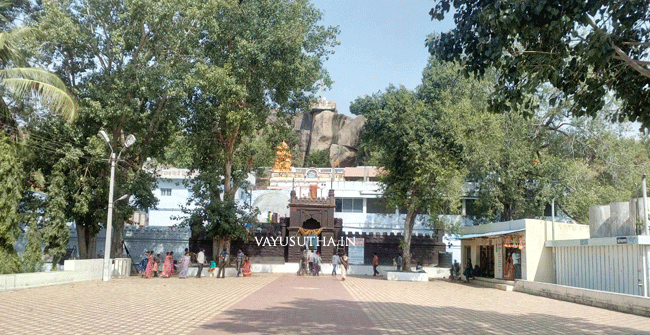 Sarangapur Hanuman Temple, Sarangapur, Nizamabad district, Telangana
Sri D.Srihari, Postal Department, Vijayawada
photo courtesy: Sri D.Srihari, Postal Department, Vijayawada.
Sri Samarth Ramadas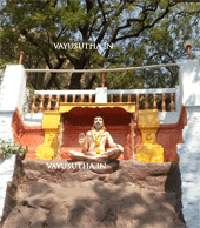 Saint Shri Samarth Ramdas was born in 1608 A.D. He was born on the auspicious day of Ramnavmi in the village Jaamb of Marathwada. He was the second son to the pious couple Suryaji Panth and Renuka Bai. His parents named him Narayan. He deserted his family and went to Nashik so that he could avoid marriage.
He was just thirteen year of age when he came across the place where 'Nandini' Rivulet confluence with River Godavari. The place named Takli was considered sacred by many as many sadhus used to meditate in this holy place. In the year 1621, on sukla saptami [radha saptami] of Magh month of Hindu lunar calendar, he started his meditation on Sri Rama at this holy place. People started recognizing him as Sri Ramadas because of his devotion to Sri Rama and Sri Maruti.
For more details read "Brief Biography of Sri Samarth Ramadas" in our web site.
First mutt of Samarth at Takli
After spending twelve years in Takli and meditating upon Sri Rama he had many followers who were devoted towards his teaching of Sri RamBhakti. While interacting with residents, he understood the sufferings and needs of people. He realized that it is imperative to to reorient people towards the Sanadhana dharma of the land. This could be accomplished by Bhakti towards Sri Rama that could bring about the desired changes. In order to muster the confidence and alertness, prayers to Sri Maruti is a must. Hence, Maruti diety was established at Takli. This lead to development of the first Mutt of Samarth at Takli. . In order to understand the true sufferings of people, he decided to travel across the Bharat Varsh and interact with them in person.
For more details on his stay at Takli read "Gomay-Maruti – Sri Samarth Ramdas Mutt, Takli, Nashik, Maharashtra" in our web site.
Journey towards change
In the year 1632, he left Takli to start his spiritual journey. He journeyed for twelve years throughout Bharat varsh, observing the people. He found that frequent floods and famines had lead to great suffering of the people. In addition, he observed that wanton and indiscriminate attacks by Muslim rulers had destroyed the society. Based on his experiences he wrote two books, Asmani Sultani and Parachakraniroopan. These are the only two books in Indian Saint Literature that describe the situation of Bharat Varsh during those years.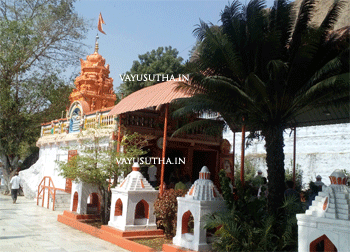 He started his journey from Takli and went to Karaveera kshetra [Kolhapur] to offer his prayers to Sri Ambaji Bhawani. Subsequently, he went to Brahmagiri the starting point of River Gadavari. Then he journeyed for some distance along the length of river Godavari. One such place where Swami Samath Ramadas had visited belongs to the current Nizamabad district of Telangana. This place was known as Indur. This name originated from king Indradatta who had flourished in this region during those years. Sri Samarth Ramadas had stayed in a place called Bhodan in the Indur region.
Bhodan
Bodhan was previously known as Eka Chakrapuram. This fertile land displayed rich culture and heritage and had many temples. When Samarth Ramadas visited this place, it was under the rule of Nizam. There was no rain for last few years in this region thus making people's life miserable. Few people from the nearby village named Sarangapur which is few miles away from Bodhan visited Swami Ramadas and informed him of the acute hardship they were facing in their village. After hearing them, Samarth decided to visit the village. He installed Sri Maruti in Bhodan and established a mutt at Bhodan under his disciple Uddahav.
Sarangapur village near Bhodan
Sarangpur village near Bhodan had rocky land. Owing to lack of rain, all the lakes and tanks in and around the village had driedup. There was severe drought in the village and people could not cultivate any crop in their lands. Since there were no crops grown, no tax could be collected. Hence, the ruler Nizam ordered all the Brahmins in the area to pray for rains and threatened that if it did not rain he would impose lifelong imprisonment on them. All the Brahmins stood in the dried lake for days together praying all the while, but there was no sign of rain.
Sri Samarth's prayer to bring rain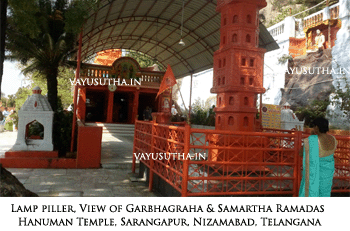 When Sri Samarth visited the village and saw the plight of the people, he decided to save the people and offered his prayers to Sri Rama. He curved the outline of Sri Maruti on the rock there and then covered the carving with his sacred cloth. He asked the assembled Brahmins to offer their prayer to Sri Maruti. After a while when he took his cloth away, the outline carved by Sri Samarth had by then turned into a beautiful sculpture of Hanuman!
When the prayers were continuing it started raining. After a while it started raining torrentially. It is needless to say that the people of the village were thrilled and overwhimed with joy.
Sri Samarth had also subsequently established Bada Sri Rama temple in the fort nearby and presently it is known as "Quilla Ramalayam".
Sarangapur Sri Hanuman temple
Today the temple is very well maintained and environment is beautiful with all greenary around. On both sides of the path way leading to the entrance, a well maintained garden welcomes the devotee. In one of the garden, statue of Sri Samarth Ramadas had been etsablished. The entrance to the temple is magnificient and looks like an entrance of a Fort. With the huge and big rocks on the background it looks mesmerising. On entering the main gate entrance, diety of Sri Maruti is on the left side. Devotees can have dharshan of the vimanam of the main temple from here itself. There are two fleets of steps in front that leads the Devotee to the main temple which is around eighty feet above. When one climbs up this fleet of stairs, a huge lamp pillar welcomes the devotees. Earlier, oil lamps were lit in this pillar but this practice is no more followed. On both sides of this lamp pillar, Tulsi plant is placed in a stand. On the right side of this pillar, deity of Sri Samartha ramadas has been kept on a high rock platform.
Just opposite this lamp pillar, one can see a sixteen pillered hall situated about twenty feet away. Main deity of Sri Maruti is present in this 16 pillared mandapam. The arch above the mandapam has a Sri Rama parivar in mortar mould - stucco figure. The end of this mandapam makes the Garbhagraham. The pandit can enter the Garbhagraham through the side entrance. Devotee can have clear dharshan of the Sri Maruti from the lamp piller onwards.
Sarangapur Sri Hanuman
While the Garbhagraham is facing west, Sri Hanuman is seen facing southwards. Lords' left leg is seen raised and folded in such that lord is ready for a quick step to help the devotee. The left lotus foot is seen raised above the ground. The right lotus foot of the Lord is seen firm on the ground. In His left arm Lord is holding mace ['ghada']. His right arm is raised above and with the closed palm holding a 'chapla' [an instrument used during Bhajan]. His tail is raised just above His right hand. If keenly observed, Lord seems to be in a joys mood chanting Sri Rama tharaka mantram and enjoying Ramanamamrutham [Rama-nama-amurtham]. The glow in His eyes and the slighly opened mouth and raised sharp ears are all indicating that he is immersed in "Ramanamtha-nishyantha-kanDam".
---
Experience
The village Sarangpur offers a conducive relaxed atmosphere optimal for offering prayers to Lord Maruti. This gives deovtees a joy of immense pleasure. Following darshan of Sri Maruti at Sarangpur, one is sure to feel tremendous satisfaction.
Ed [October 2016]
SWAGATHAM
Welcome to the pages on Son of Wind God Vayu Lord Anjaneya Swami -Vayusuthan.
The intention of this site is to propagate the glory of Lord Anjaneya [Hanuman].
Though the intention of this site is to propagate the glory of Lord Anjaneya [Hanuman], kindly note that no material appearing in these pages could be reproduced in any manner without explicit permission from vayusutha.in
SRI HANUMAN
SRI HANUMAN THINKS DIFFERENTLY, THINKS FAST, THINKS AHEAD AND ACTS FOR SURE.
Our salutations to this Hanuman who always brings subham - everything that is good - for His devotees and eliminates the bad and the evil. He removes even the traces of bad thoughts and deeds from His devotees. i.e He makes them pure in words, thought and deed.