Sri Vyasaraja pradeshta Hanuman
Sri Beechupally Anjaneya Temple, Beechupally
Itikyal Mandal, Mahbubnagar District, Telangana
mohan rao *
Beechupally
Beechupally Village situated on the bank of river Krishna is in Itikyal Mandal in Mahbubnagar District of Telangana State. It belongs to Telangana region. It is located 87 KM towards South from District head quarters Mahbubnagar and 186 KM from State capital Hyderabad.
One can reach either Gadwal or Kurnool by train and take APRTC bus to Beechupally. All major trains stop in these two places.
National highway (NH7) passes through this place. The sacred confluence [Sangam] of Rivers Krishna and Thungabadra takes place here, making Beechupally a holy place.
Beechupally Today
The road bridge built in 1950s on NH 7 had helped connecting Telangana and Rayalaseema with rest of the country in a grand manner. Today many ghats along the river had been built and pushkara snanam is organised every twelfth year in a grand scale and lakhes of devotees take part in the event. The shrines along the rivers were also revamped to the convenience of the devotees to have uninterrupted dharshan.
Beechupally during Ancient time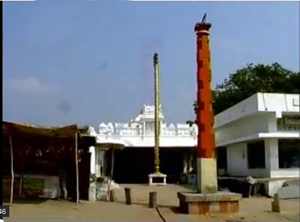 The place was a dense forest without much inhabitants and the sage Kanva choose this holy place to do penance. During Fifteenth centaury Sri Vyasaraja, the Rajaguru of Sri Krishna Devaraya of Vijayanagar dynasty happens to pass through this holy place. He along with his disciples camped at this place for some time and the Sri Guru felt the holiness of this place. He thought it would be befitting to install a Sri Hanuman deity at this holy place where Maharishi Kanva had done penance.
History of the Temple
Installation of Deity
Sri Vyasaraja wanted to transform his thought to practice and got a beautiful deity of Sri Anjaneya [Hanuman] made. He will be moving and leaving this place in few days. And in his mind the question of who should be performing the pooja after he had left was foremost in his thought.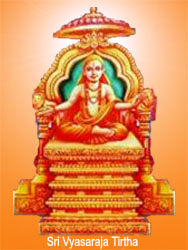 That night in his dream Lord Sri Anjaneya appeared and gave him the solution for this. The Deity of Lord Sri Anjaneya was installed by Sri Vyasaraja on an auspicious day. The next morning when Sri Vyasaraja woke up, he saw a young tribal boy offering prayers to Lord Anjaneya installed by him on previous day.
Why the place is named Beechupally
Lord Anjaneya had ordained Sri Vyasaraja that the first person who offers prayer next day of installation should to nominated as archaka of the deity here. As instructed by Lord Anjaneya, Sri Vyasaraja nominated the young boy named 'Beechupally' belonging to 'Boya' tribe as Archaka of the Lord Anjaneya from then on. From then onwards he became the Archaka and till today persons belonging to Boya Tribe are the archakas of the temple. The village itself was named 'Beechupally' after the first Boya tribe Archaka, and the Lord as 'Beechupally rayudu'.
Temple for Beechupally rayudu
A small shrine was built about two hundred years ago by Gadwal kings. A Siva temple was also built in the premises, during the same period.
Since the course of the River had changed over years the shrines of both Lord Anjaneya and Lord Siva were only two hundred meters away from the bank of the River. During the monsoon the River use to swell and some years enter the Lord Siva temple. In the recent past the both the temples were renovated and the river banks were strengthened with good ghats.
A temple for Lord Rama was also built in the area in 1992.
Temple Complex today
The temple is situated on the banks of Krishna River which is dhakshana vahini. A massive tall arch welcomes one to the Lord Beechupally Rayadu. The temple is south facing.
There is a dwaja stamba made of stone which is older and there is also newly erected wooden dwaja stamba covered with brass. As one enters the main temple on the left there is a platform in which a lingam 'Maheshwara' is present and by His side Parvati Ma is also present. Rama Lakshman Sita Hanuman vigraha made of marble stone is also present nearby. Near this there is a foot print of Sri Hanuman. Then one enters an open space and then a mukha mandapam in two parts.
Beechupally rayudu
In the main garbhagraha which is facing south Sri Beechupally rayudu, the presiding deity is seen walking eastwards. The mighty looking Sri Anjaneya is seen with Sri Rama parivara in the background. The monolith artha shila deity of eight feet tall is mesmerising and stunning to look at especially when arti is performed.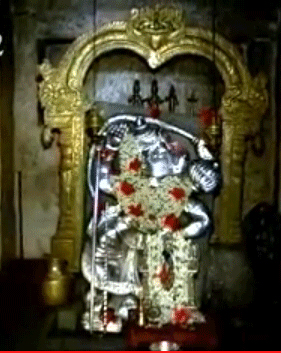 Both His lotus feet are adorning with kolusu, thanda. He is wearing koupeenam and the long tail is seen raised above His head with a small bell in end. His left hand is resting on the hip and at the same time holding 'gadhaautham'. His right hand is showing 'Abaya' mudra, giving protection to His devotees. He is wearing ornaments around His neck which is resting in His broad boosom. His ears are seen wearing 'kuntalam'. His eyes are glowing with compassion bestowing blessings to the devotees.
There is a 'uthsava vigraham' of Lord Anjaneya Swamy in the garbagraham.
Festivals of the temple
Akupuja and Panchamrut abishekaham are conducted daily and is very popular among the devotees. Hanuman jayanthi in the month of Margasira and Narasimha Jayanti in Visakha are celebrated in this kshetra in grand manner.
Sri Beechupally Anjaneya Swamy is the family deity for many in the surrounding area. Regularly people from near by places in Andhra and Karnataka visit this kshetra to have dharshan of the Lord. Many devotees prefer to perform their marriage in this holy place. There are many devotees who come just to do meditation in this kshetra for it is calm and peaceful surrounding. Vibhudi prasadham of Lord is very powerful and it protects devotees from all evil forces and 'doshas'.
---
Experience
Come visit is holy place, take a snanam in river Krishna have dharshan of Lord Beechupally rayudu. Spend some days in this calm surrounding and cleanse your mind, get fresh.
Ed [July 2014]
Telangana was born on Monday the
2nd June 2014 as India's 29th state of India.

- This article is carried in this web site to
commemorate this occasion
*The author is an officer working in PSU bank
SWAGATHAM
Welcome to the pages on Son of Wind God Vayu Lord Anjaneya Swami -Vayusuthan.
The intention of this site is to propagate the glory of Lord Anjaneya [Hanuman].
Though the intention of this site is to propagate the glory of Lord Anjaneya [Hanuman], kindly note that no material appearing in these pages could be reproduced in any manner without explicit permission from vayusutha.in
SRI HANUMAN
SRI HANUMAN THINKS DIFFERENTLY, THINKS FAST, THINKS AHEAD AND ACTS FOR SURE.
Our salutations to this Hanuman who always brings subham - everything that is good - for His devotees and eliminates the bad and the evil. He removes even the traces of bad thoughts and deeds from His devotees. i.e He makes them pure in words, thought and deed.