SWAGATHAM

Welcome to the pages on Son of Wind God Vayu Lord Anjaneya Swami -Vayusuthan.
The intention of this site is to propagate the glory of Lord Anjaneya [Hanuman].
Though the intention of this site is to propagate the glory of Lord Anjaneya [Hanuman], kindly note that no material appearing in these pages could be reproduced in any manner without explicit permission from vayusutha.in

SRI HANUMAN THINKS DIFFERENTLY, THINKS FAST, THINKS AHEAD AND ACTS FOR SURE.
Our salutations to this Hanuman who always brings subham - everything that is good - for His devotees and eliminates the bad and the evil. He removes even the traces of bad thoughts and deeds from His devotees. i.e He makes them pure in words, thought and deed.
KUNCHITAGARA SRI ANJANEYA SWAMY TEMPLE
KILLARI ROAD :: BANGALURU
gk kaushik
Bangaluru petes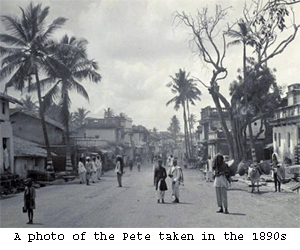 Pic. Courtesy :wikipedia.org

Kempe Gowda, a feudatory of the Vijayanagara Empire, was the founder of Bangaluru. He was a visionary and had built the new capital city with forethought. He plans for the city included providing water bodies in the form of large lakes that can provide water supply to the city. He had earmarked areas for trade and named them after the nature of business carried out there at. For example - Aralepete stood for cotton trade, Akki pete for rice, Balepete for bangles, Kumbarapete for potteries etc. Areas for residences were demarked, depending on the communities and castes to which the people belonged, to make living easier for everyone. With these well laid out city plans, Kempegowda shifted the capital from Yelahanka, to Bangalore in 1539 AD.
Killari Road and Kunchitigara pete
Killari Road located in Balepete runs from Balepete Main road in west to Avenue Road in east. The locality between BVK Iyengar road and Balepete main road was known as Kunchitagara pete. This place gets the name Kunchitigara pete because Kunchitiga Vokkaligas were the original domiciled community of this location. Kunchitigas were predominantly agriculturists and some were traders of agricultural products. But today the whole area is known by the name Balepete.
Kunchitagara pete Sri Anjaneya Temple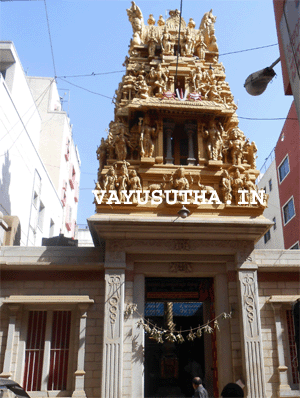 There is a big temple for Sri Anjaneya Swamy, located in Killari Road - west of BVK Iyangar road crossing in Kunchitigara pete. This Hanuman temple is known as "Kunchitigara Sri Anjaneya Swamy'. The temple is south facing and has a three tier raja gopuram right on the Killari road itself. As one enters through the raja gopuram, the dwaja stamba covered with ornamental brass work is seen. Walking past the dwaja stamba, and the main mandapam- hall- which is fairly big, one can enter the sanctum santorum. Dharshan of Sri Anjaneya Swamy can be had even while standing on the main hall.
The pillars of the hall has Panchamuka, Yoga, Veera Anjaneya forms embossed on them. On the left side of the mantapam, is the sannadhi for Sri Rama parivar, with the 'uttsava murtis' housed nearby. There is a eight feet wide path – called prakaram - around the 'Garbhagraham' for offering pradhakshanams to the main deity.
The Garbhagraham has a well decorated door with extensive wood sculpting done on it. The arch – forming the outer parameters of the main door of the Garbhagraham- is covered with silver plate work in which good art work has been done. Embossed there on are different poses of Sri Anjaneya Swamy - each one telling a story of its own and is eye catching. Thus the overall beauty of the entrance to the sanctum itself is very pleasing to one's eyes.
Kunchatigara Anjaneya
The idol of Lord Sri Anjaneya Swamy of this temple is about six feet tall made of hard granite stone, showing the Lord in a walking posture and is of 'ardha shila' type. South facing Lord is seen as if he is walking Eastward with His left lotus foot in the front. His right lotus foot is firmly on the ground. With the big tow of His right leg, He keeps crushed 'Akshaiya Kumara' [son of Ravana – Ravana's dynasty's first victim of Sri Hanuman]. Both his calves are deocrated with the ornaments. He wears his usual dress – dhothi in "kacham" holding firmly to his thighs. His waist is adorned with decorative belt like ornament. His Left hand is holding the stem of sowgandika flower together with a bunch of leaves. The flower which is in 'yet to blossom' state is seen above His left shoulder. With His raised right hand showing 'abaya mudra' He showers blessings on His devotees. Bracelet in the wrists and keyuram in the forearms adorn both His hands. He is seen wearing three garlands, of which one has a pendant. On His shoulders rests the 'uttariyam' – the upper garment. The tail of the Lord is raised above His head. It has a curved end which is adorned by a small beautiful bell. The Lord is wearing ear-studs and His kesam is neatly tied. With His bright brilliant eyes He oozes compassion.
Experience
Come to this kshetra and pray to the Lord to get blessed and to get wishes fulfilled.