Mukhya Praana [Anjaneya] Temple, Triplicane, Chennai, Tamilnadu
sri b nagarajan avl.,
Consecration of Sri Mukhya Praana
Until a score and a half of years, Hanumantha Rayan Kovil Street, of Triplicane i.e. Tiruvallikeni Chennai remained a citadel for Madhwa brahmins and went by name of Agrahaaram. Sri Sri Sathyasandharu (1783-1794), 25th Pontiff of Sri Uttaradhi Mutt (after Sri Madhvacharya), consecrated, for the benefit of Madhwas in Agraharam in 1794, idol of Sri Mukhya Praana (Jagadguru) in a sanctum sanctorum measuring nine feet by seven feet. With the generous donation of additional space by people adjacent to the temple, now houses the concourse and a two feet path around of circumambulation.
Features of vigraha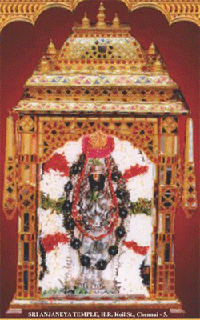 The idol is nineteen inches tall made of hard granite stone in standing posture with right leg stretching an inch in front of left. With folded hands held near bosom with bracelets and tendon ornaments, He wearing Kaupeenam, tucking mace resting on left clavicle and inside of left upper arm, ear-studs and a small crown overhead stands for humility, servitude, celibacy, renunciation, strength of character and a figure to be meditated upon.
For the mortals, folded hands denote helplessness and that nothing could be achieved by themselves and for this humble servant, God is the Master. He alone can extend adequate protection, welcoming the tormented soul to His fold with unbounded affection.
Renovation of the temple in 1910
There are no records as to how the temple was maintained in subsequent years. Patronage extended by public then, remained silent. Sri Sri Sathyajnana Theertharu (37th in lineage) of Sri Uttaradhi Mutt, directed one local Madhwa supervisor (Sri Sathyananda Ramachar) to supervise and oversee renovation of this small temple. After renovation, Samprokohana was performed by His Holiness in 1910.
Sri Rama Association and functions of the temple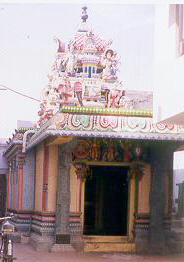 Again in 1976, a facelift was given to the temple by Sri Rama Association (Estd. 1943) meeting the whole expenses. This Association, celebrates annual Sri Rama Navami Mahotsav, drafting erudite and reputed scholars from outside Tamilnadu, who give scintillating and masterly discourses during the nine day period, which includes Bhajans (Dasarapadas) daily after discourses. Note worthy item being Dharmopanayanam for poor boys on Sri Rama Navami day. Besides this a grand procession of Sri Rama's portrait, is taken out along the four mada streets of the famous Sri Parthasarathi Swami Temple. Besides Sri Rama Navami, Navaratri, Hanumad Jayanthi, Akshaiah Triteeya etc., are the days when people congregate in large number and volunteer their services.
Kumbabhishekam
The old capola, which was leaking and dust of mortar dropping from ceiling of sanctum sanctorum, was pulled down and a new capola of thirteen feet height, was raised with multi colour idols adoring all sides in accordance with tradition. Now concourse, inside walls of temple, floor on prakara are in laid with glazed granite slabs. Ashtabandana Kumbabhishekam of this renovated temple was performed by the presiding pontiff (42nd in lineage) of Sri Uttaradhi Mutt Sri Sri Sathyaatma Theertharu on 23.01.2000 after due conduct of poorvaanga rites according to Aagama Saastras. During the process the inside of sanctum sanctorum was left untouched to keep up and reminds its antiquity.
Devotees in and around, visit this temple daily and pray. Everyone will have something to tell about his/her experience with the temple.
Mukhya Praana is sustainer of life (life breath). One who sits in the concourse of this temple and meditates feels elated and rejuvenated.
|| Mukhya Praanantargata Sitapati Sri Ramachandra preeyataam ||
---
Experience
A visit to this temple in the evening hours and sitting on a meditation in the presence of the Mukhya Pranna is an experience that you will cherish.
author is a renowned author on Madwa philosophy
this article is a blessing to us from him
Ed [22.10.2001]
SWAGATHAM
Welcome to the pages on Son of Wind God Vayu Lord Anjaneya Swami -Vayusuthan.
The intention of this site is to propagate the glory of Lord Anjaneya [Hanuman].
Though the intention of this site is to propagate the glory of Lord Anjaneya [Hanuman], kindly note that no material appearing in these pages could be reproduced in any manner without explicit permission from vayusutha.in
SRI HANUMAN
SRI HANUMAN THINKS DIFFERENTLY, THINKS FAST, THINKS AHEAD AND ACTS FOR SURE.
Our salutations to this Hanuman who always brings subham - everything that is good - for His devotees and eliminates the bad and the evil. He removes even the traces of bad thoughts and deeds from His devotees. i.e He makes them pure in words, thought and deed.