Sri Karanja Anjaneya of Sri Karanja Narasimha temple
Ahobilam, Karnool, Andhra Pradesh
gk kaushik
Ahobilam
Ahobilam is located in Karnool district of Andhra Pradesh in the hills known as Garudadri of the Eastern Ghats and is about 400 KM northwest of Chennai.
The place is famous for the nine shrines for Lord Narasimha located within a radius of five kilo meters. Ahobilam is known in two parts. The lower plain of the hill is known as Diguvu Ahobilam i.e. Lower Ahobilam where the temple of Sri Prahalada Varadhan [another name for Lord Narasimha] is located. The second part is known as Eguvu Ahobilam or Upper Ahobilam where the nine shrines of Lord Narasimha are located. While it may be easy to reach the lower Ahobilam by road, the upper Ahobilam is in Garudadri mountain range and the difficult terrain is to be covered only by trekking.
Significance of Ahobilam
Ahobilam is a part of Eastern Ghats. It is believed that the Eastern Ghats forms a picturesque divinity of great serpent Sri Adisesha with its hood at Tirumala, its middle at Ahobilam and its tail- end portion at Srisailam. Therefore all these three places are considered most sacred and in Tirumala we have abode of Sri Venkateswara, at Ahobilam that of Lord Nava Narasimha and at Srisailam Lord Maligarjuna.
Ahobilam: The name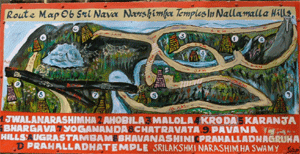 Devas after the dharshan of Lord Vishnu in the fierce form of Lord Narasimha when slaying the demon king Hiranyakasipu were wonder struck and exclaimed "ho! What strength" – Ahobalam in Sanskrit [Aho is exclamation Balam means strength]. Later it became Ahobilam. A variant to this is that Sri Garuda undertook the penance to see Lord Vishnu as Lord Narasimha in a cave and had dharshan of Lord; hence the entire place came to be known as Ahobilam. Aho is an exclamation word. Bhilam (bhilam means cave). It is equivalent of 'oh the mighty cave' and thus aho-bhilam of lord Narasimha swamy.
Nava Narasimha kshetras of Ahobilam
There are nine kshetras in Ahobilam where Lord Sri Narasimha gives dharshan to the devotees in different form. The Nine Narasimhasthalas are :- 1. Jwala Narasimha 2. Ahobila Narasimha 3. Malola Narasimha 4. Kroda Narasimha 5. Karanja Narasimha 6. Bhargava Narasimha 7. Yogananda Narasimha 8. Kshatravata Narasimha and 9. Pavana or holy Narasimha.
Sri Karanja Narasimha kshetra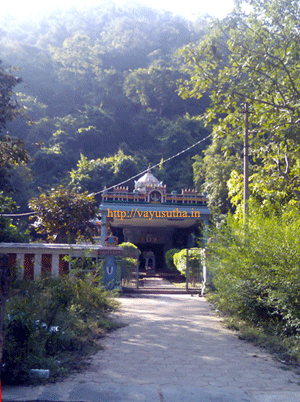 Sri Karanja Narasimha kshetra is seen as the fifth kshetra and is unique in many ways. As you travel from lower Ahobilam towards Upper Ahobilam one would come to the place where Sri Kaaranja Narasimha is. The shrine is situated at a distance of one kilometre from the Upper Ahobilam, six kilometres from lower Abhobilam and one furlong from the road leading to Lower Ahobilam. The place gets its name Kaaranja', as it is in the midst of forest of Pungai (Honge) tree and 'kaaranja' in sanskrit is 'pungu' in Telugu and 'pungai' in Tamil. The image of the deity is installed in the forest which is full of this tree, called 'Kaaranja Vruksham'. Sri Narasimha of this place thus came to be known as one who resides in the forest of Kaaranja tree – Sri Karanja Narasimha. The temple set on a picturesque backdrop with Garudathri Mountain and is very pleasing to the eyes. It is located on the banks of Papa-nashini River that presents an added beauty to the atmosphere and calms one's mind.
Sri Karanja Narasimha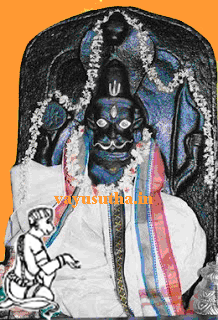 Mythologically Karanja Sri Narasimha was worshipped by Sri Kapila Rishi to ward off the curse given by Sri Durvasa Rishi. Sri Narasimha has taken a unique form in this kshetra. The Lord is in Padmasana under a tree called Punga (Honge) tree with 'chadur bhuja' [four armed]. The Lord is seen with a bow and arrows [which are normally seen with Sri Rama] in His left upper hand, the right upper hand holds 'Sri Sudershanam', lower hands are showing 'abhaya' mudra. Lord has 'tri_nethra' and Sri Adi Shesha with one head covering the Lord as 'Shatri'. It is interesting to note that Lord had taken this form in this Kshetra to appear as Sri Rama, to give dharshan to Sri Anjaneya.
Sri Karanja Anjaneya Sannadhi
The sannadhi of the Lord Sri Narashima is facing the Bhavanashini River with Garudathri Maountain in the background. Sri Garudalwar is facing the Lord. After offering prayers to Sri Garudalwar one can see another sannadhi on the left side. This sannadhi houses Sri Anjaneya. Sri Anjaneya of this kshetra is known by the name Karanja Anjaneya. Sri Anjaneya had penanced here to have dharshan of Sri Narasimha as he had not seen the Lord in this form. Since Sri Anjaneya would like to see Sri Rama in every form of Lord Vishnu, Lord Sri Narasimha gave dharshan to Sri Anjaneya as Sri Narasimha as well as Sri Rama in this unique form here in this kshetra.
Sri Karanja Anjaneya
Sri Anjaneya of this kshetra is seen turned facing Lord Karanji Sri Narasimha with folded hands. He has a tuft and this long hair is tied up very neatly. On his two sides one could see the Chanku [conch] and the Chakra [wheel -Sudershana]. This imprint had come to Sri Anjaneya when Sri Rama had embraced him. His eyes are glowing with brilliance at the sight of the unique Sri Rama in Sri Narashima. His lotus feet are wearing Thandai and are seen walking towards Karanja Sri Narasimha.
---
Experience
Have dharshan of Karanja Sri Anjaneya who had penanced to give us the unique form of Karanja Sri Narasimha. He can bestow all unique blessings on us.
[Ed December 2012]
Revised Feb.2019
SWAGATHAM
Welcome to the pages on Son of Wind God Vayu Lord Anjaneya Swami -Vayusuthan.
The intention of this site is to propagate the glory of Lord Anjaneya [Hanuman].
Though the intention of this site is to propagate the glory of Lord Anjaneya [Hanuman], kindly note that no material appearing in these pages could be reproduced in any manner without explicit permission from vayusutha.in
SRI HANUMAN
SRI HANUMAN THINKS DIFFERENTLY, THINKS FAST, THINKS AHEAD AND ACTS FOR SURE.
Our salutations to this Hanuman who always brings subham - everything that is good - for His devotees and eliminates the bad and the evil. He removes even the traces of bad thoughts and deeds from His devotees. i.e He makes them pure in words, thought and deed.