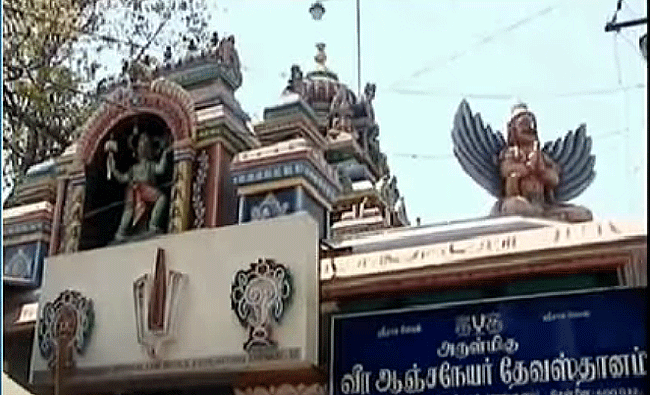 Sri Veera Anjaneya Temple, MKN Road
Mankulam [Mangulam], Guindy, Chennai
gk kaushik
Guindy
For long period Guindy was the entry point to the Madras city [Chennai]. The entry point to the city of Madras was guarded by men who had swords or bayonet [katti- கத்தி in Tamil] in their hand. Thus the sword wielding patrolling [para- பாரா] guards brought the name to this point as 'Kathipara'. Today Kathipara junction had acquired a unique position in traffic to and from Chennai city, nictitating construction of an over bridge of great magnitude. The point is part of the place called Guindy.
Alandur
Guindy is a part of the place called Alandur. Alandur [ஆலந்தூர்-Tamil] got its name since there were lots of water bodies there. [All ஆல் in Tamil நீர்/வெள்ளம் water bodies in English] It was a great place to live with big lake and many water tanks in the area. There is place called Maduvankarai in the area which goes to prove there were lots of water bodies. Till around forty years back the big lake was in use.
Gate way to Chennaipattanam
Travelers whoever comes to Chennai those days had to come via pulicat, Tondiarpettai in North, from Poonamallee in south west via Guindy or Aminijikarai. Many of the travelers use to avoid pulicat which was under control of protégées. The traders who had to do business in grocery had to move their products from production places like Arcot Kanchipuram Chengulpet preferred to move via Guindy only. In the course of time Alandur had become a great business center for the groceries. Therefore it is no wonder that Guindy became an important entry point to the city of Chennaipattanam.
Displacement of people and deity
In those days when country was in turmoil and the people were compelled to change their faith, many displacements took place. People looked for safer settlements and took shelter in safe place. Such people took along with them the vigraha of their deity. There were many incidents in which vigraha from temples of Arcot and Kanchipuram got shifted.
Mangamma Kulam of Alandur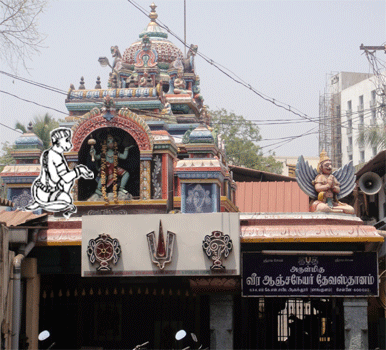 During these period a group of 'Biragis' [ascetic pilgrim from North India] from north of India who had come to Chennai had camped in Guindy near a pond called 'Mangamma Kulam'. They had carried with them the deity of Sri Hanuman which they were worshipping. These pilgrims had kept Sri Hanuman vigraha in their camp and daily prayers were conducted by them as per their custom. Slowly the locals who were settled near the tank got attracted towards Sri Hanuman brought by the biragis. They also started joining the prayers offered to Sri Anjaneya.
Biragis and Lord Hanuman deity
As 'Biragis' were a migrating community , their group decided to move out of their camp near 'Mangamma Kulam' in Guindy. But by the time people around 'Mangamma Kulam' who were accustomed to the worship of Sri Hanuman were very reluctant to let their favorite deity go along with biragis. But biragis by their custom wanted to move out of the camp since they had already stayed in this place for a prolonged period. Owing to local people's wishes, biragis decided to offer the vigraha of Sri Hanuman to them for their worship.
Sri Veera Anjaneya Temple today
Sri Hanuman installed by those biragis continued to be worshiped by the locals thereon. In the course of time, Sri Hanuman was also called as 'Sri Veera Anjaneyar'and the Mangamma kulam had changed to Mankulam. However, the sanctity of Sri Veera Anjaneya continued to attract people from far off places.
Location of the Temple
The temple can be seen from the main M K N Road, the road adjacent to Guindy railway station in the GST road. MKN road can be located on the left side when one moves from Guindy railway station to about 200 meters towards Kathipara junction. When one moves about 200 meters in MKN road, on the right side one can see a bus stand. Sri Veera Anjaneya Temple is located adjacent to this bus stand. However, entrance to this temple is through a small road next to the bus stand. Today the temple is managed by the Hindu Religious and Charitable Endowments Department of Tamilnadu Government. The temple of Sri Anjaneya is surrounded by the scrap dealers who deal with the rejects from the nearby industrial area.
Description of the deity: Sri Veera Anjaneya
Sri Veera Anjaneya of this temple is seen facing west and He is seen walking towards south. His lotus feet are adorned with Nupuram and his ankle with Thandai. Lords right hand is seen in 'abhya' mudhra. His left hand is resting on his hip and at the same time holding the gahamadhana pushpa which is seen raised upto his left shoulder. The deity is adorned with 'kankana' in the wrist and 'keruram' in the upper arm. Lord's tail can be seen rising around his right hand with a beautiful bell tied atits end. His yagyopaveetham adds glory to his body. He is seen wearing two garlands around his neck withhis kesam seen tied. Lord's eyes are showering all compassion on the devotee through his direct dristi, mesmerising the devotee. He is a sight of glory and compassion put together.
Sri Vyasaraja and Sri Veera Anjaneya
Sri Veera Anjaneya of this temple has all the lakshanas of Sri Hanuman vigrahas installed by Sri Vyasaraja. The bell in end of the tail, skika, gadhamadhana pushpa all indicates the vigraha could have been one of the vigrahas installed by Sri Vyasaraja. The kshetra from were the biragis have brought this vigraha is not known, but there is a possibility of this having come from one such kshetra Sri Vyasaraja had visited. Sri Veera Anjaneya has been present here in Mangamma kulam [Mankulam/ Mangulam] for the last two hundred years or so.
---
Experience
In this kshetra the yathurmuki Lord facing the devotee, with both the eyes blesses whatever righteous thing the devotee deserves.
[Ed : June 2012]
SWAGATHAM
Welcome to the pages on Son of Wind God Vayu Lord Anjaneya Swami -Vayusuthan.
The intention of this site is to propagate the glory of Lord Anjaneya [Hanuman].
Though the intention of this site is to propagate the glory of Lord Anjaneya [Hanuman], kindly note that no material appearing in these pages could be reproduced in any manner without explicit permission from vayusutha.in
SRI HANUMAN
SRI HANUMAN THINKS DIFFERENTLY, THINKS FAST, THINKS AHEAD AND ACTS FOR SURE.
Our salutations to this Hanuman who always brings subham - everything that is good - for His devotees and eliminates the bad and the evil. He removes even the traces of bad thoughts and deeds from His devotees. i.e He makes them pure in words, thought and deed.