Jakhoo hill Hanuman temple, Simla, Himachal Pradesh
sardar ps dara
Seven Hills
When thinking of seven hills one will remember Tirupathi down south the abode of Lord Balaji. In this congregation of seven hills, namely Sheshatri, Vedadri, Garudadri, Anjanadri, Vrishabhadri, Narayanadri, Venkatadri ("Adri" in Sanskrit means a hill), the seventh peak "Venkatadri" is the abode of Lord Balaji. One of the hill is named "Anjanadri" dedicated to Mata Anjana Devi mother of Lord Anjaneya. It is said that it is here Anjana Devi, wife of Vanara chieftain Kesari had undertaken the penance chanting the name of Lord Maheswara. Mata Anjana Devi was rewarded by Lord Maheswara by grant of a blessing to her, that she will bear a child with "ruthra-amsa" through Kesari. Thus Mata Anjana Devi was blessed with Anjaneya as her son. There are variations to this version. But even in those variations, penance undertaken in this hill by Anjana Devi has a mention. Therefore the hill was named "Anjanadri".
Simla the Seven Hills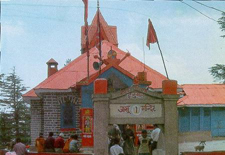 One may be aware of Simla the present capital of Himachal Predesh, which was once the summer capital of India. This place holds the earth's only 'urban forest'. Simla where an enormous amount of history and heritage has been distilled, is also a congregation of seven hills. One of the hill is dedicated to Kamana Devi and is called 'Prospect hill'. Highest of seven hills at 2455 meters, Jakhoo hill towers over Simla, and seen as crown of the beautiful Simla. There is a small and beautiful temple on the top of the hill, placing itself as a Ruby in the crown. 1.5 Km climb to the hill top starts from Ridge.
Ruby in the crown Temple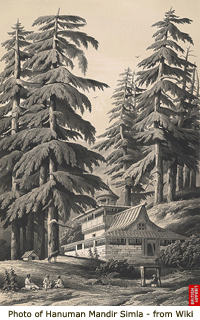 The temple, which is seen as ruby in the crown, is dedicated to Lord Hanuman. Once on the top of the hill near the temple, one will be greeted by numerous monkeys - vanaras. They will be playing tricks on the visitors to get the 'prasad' from the visitors. Like taking away one of the sandals, taking away visitors spectacles, keeping away the handbag etc., but with no harm done for the 'prasad' offered by visitors the articles are returned.
Legend
There are three incidents attributed to this spot becoming place of worship. This dense forested hill top (even now it is dense forested) was seen by Lord Hanuman, who was then flying through the sky searching for the sanjivini plant, the herb required to cure Laxman who lay mortally wounded on the battlefield in Sri Lanka. Thinking that the sanjivinibooti could be found here he stopped over here.
A variation declares that one of his sandals fell at this spot while he was on his way to Himalayas in search of sanjivini plant.
Another variation declares why flying through the sky searchin for sanjivini plant, he saw Yaaku sage on Jakhoo Mountain in penance .This place gets its name Jakhoo/Jakhu after this sage. To get more details about sanjivini from the sage, Lord Hanuman landed here. The force of Lords landing in Jakhoo mountain which earlier was much taller, a portion of which sunk into earth.
Hanuman Temple of Jakhoo Hill
This place of worship is existing from time immemorial, earliest known being when British identified Annandale early nineteenth century for development as a summer town. A permanent structured temple was initially constructed in this place of worship in the year 1837. The present temple building was built during the year 1920 in tune with the architecture prevailing in Himachal Pradesh.
Recently, the world's tallest Lord Hanuman statue was installed at Jakhoo temple, Shimla on November 04, 2010 in the presence of Himachal Pradesh Honorable Chief Minister, Sri Prem Kumar Dhumal, Sri. Nikhil Nanda, Ms. Shweta Nanda and Bollywood star Abhishek Bachchan. The Hanuman statue constructed by Naresh Kumar Verma of Pilani, Rajasthan, weighs 1500 tonnes and it took almost 2 years to complete the statue. The idol can be seen from any part of the city.
This Hanuman temple is situated in the beautiful surrounding and peaceful atmosphere far away from the madding crowd. The breeze passing through will make forget ones worldly worries, thanking Lord Vayu father of Lord Hanuman. One can meditate for hours here bringing peace to one's mind.
---
Experience
Any visitor to this summer place Simla comes to see this temple. If one visits this temple with devotion and love one is sure to gain lot of peace of mind. Sunrises and sunsets witnessed from this vantage spot are spectacular enough to become a lifelong memory, especially during the monsoons.
author is a police officer in Chandigarh
Ed [07.06.2001]
additional information Ed [13.01.2002]
revised information Ed [September 2012]
SWAGATHAM
Welcome to the pages on Son of Wind God Vayu Lord Anjaneya Swami -Vayusuthan.
The intention of this site is to propagate the glory of Lord Anjaneya [Hanuman].
Though the intention of this site is to propagate the glory of Lord Anjaneya [Hanuman], kindly note that no material appearing in these pages could be reproduced in any manner without explicit permission from vayusutha.in
SRI HANUMAN
SRI HANUMAN THINKS DIFFERENTLY, THINKS FAST, THINKS AHEAD AND ACTS FOR SURE.
Our salutations to this Hanuman who always brings subham - everything that is good - for His devotees and eliminates the bad and the evil. He removes even the traces of bad thoughts and deeds from His devotees. i.e He makes them pure in words, thought and deed.