Sri Hanuman Temple at Mantralaya, Andhra
dr. kausalya, bengaluru
पूज्याय राघवेंद्राय सत्यधर्मग्ताय च ।
भजतां कल्पवृक्षाय नमतां कामधेनवे ॥
Pujya Sri Raghavendra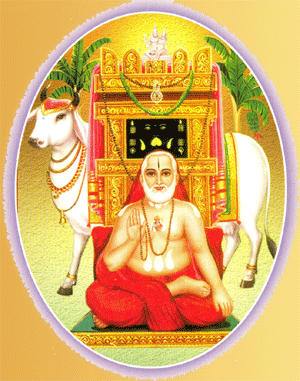 It is a popular belief; Pujya Sri Raghavendra is the reincarnation of Sankukarna, Prahlada, Bahlika, Vyasaraja tirtha in order. In his previous incarnation Pujya Sri Raghavendra was Sri Vyasaraja who had established 732 shrines for Lord Anjaneya and had personally worshiped Lord Venkateswara. It is no wonder that Pujya Sri Raghavendra was named Venkatanatha [purvashrama nama] in this incarnation and a devotee of Lord Venkateswara. Readers may kindly read the brief biography of Pujya Sri Raghavendra in our Hanumath Devotees section.
Sri Raghavendra Brindavan
Saints who practice dwaitha philosophy choose a scared place of their choice to relieve themselves from this mortal coil and obtain jeevamukti. In the scared place a Brinda plant (Tulasi) is planted and the place is worshiped for invoking the blessings of the Saint. Pujya Sri Raghavendra had choosen a spot on the bank of river Thungabadra for his Brindavan. The place where Sri Guru chose to take his samadhi is in the village known by the name Manchale. This village was then gifted by Sri Venkkanna who was the Diwan of Adoni. The reason for insisting upon this particular village by Sri Guru has a legend.
Legend: Why village Manchale
After settling down for the village Manchale, Guru Raghavendra sought permission of the village deity Manchalamma for his mission. As an ardent devotee of Sri Vekateswara Perumal he desired to build a temple for Lord Venkatesa Perumal of Tirupathi in the village of Manchale. With the help of Diwan Venkanna the work progressed very fast in the village of Manchale and Guru Raghavendra performed various yagyas and placed (pradistha) Lord Venkatesa idol in the temple. When Diwan Venkanna repeatedly asked Guru Raghavendra as to why he chose this particular village, he asked Diwan to excavate a particular place. There Diwan found a homa kundam (scared places square in shape where ritual fire is ignited and scarifies are offered to God). A siva linga [Sri Rudra] was also found.
Legend: Why particular spot in Manchale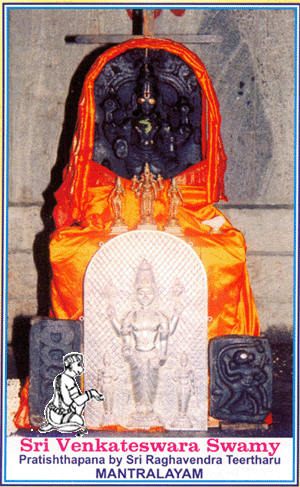 Guru Raghavendra was born as Bhaktha Prahaladha during Krida Yuga (period). And had performed various yagyas in this particular place and got full blessings of Lord Narayana. During Dwavabhara Yuga, Arjuna who was on victory journey in connection with rajasuya yagya, could not win over the local cheifton Anusalva. It is because of the reason that Anusalva was standing in this scared place and waging the war against Arjuna. Only after Anusalva was moved out of this scared spot he could be conquered by Arjuna. Such is the mahima of this place that Guru Raghavendra had chosen this place for his Brindavan because of the significance and sanctity of the spot.
Brindavan
Guru Raghavendra after choosing the spot for the Brindavan told his followers how his brindavan should be built. He chose a big black rock that was on the bank of river Thungabadra to be brought to Manthralaya. He had the vision through MoolaRama whom he worshiped everyday, that rock had been sanctified by Sri Rama during his search of Sri Sita. The sacred rock had been used for making the Brindavan.
Before entering the Brindavan in Manchale, Guru Raghavendra decided to seek the permission of Manchalamma, the presiding deity of Manchale. Accordingly, he went to her temple and prayed to her. As wished by her, he promised to bestow his blessings to the devotees only after they had first visited her temple.
Entering Brindavan
On the day chosen (Virodhikruth Samvatsara Shravana krishna paksha dwitiya - 1671 A.D.), thousands of people had congregated in Manchale to see this rare event of a person entering a Brindavan alive. Guru first performed his daily pooja to the Moola Rama and then addressed his disciples.
Guru then took his veena and started to sing the famous song,"Indu Enege Govinda" set in Bhairavi raga. Just like in his previous avatara as Vyasaraja, in this avatara also the blue darling of Brindavan in the form of an icon danced to the melodies of His darling who was going to enter the Brindavan. For some time he was in meditation, shining with a rare brilliance. His hands stopped moving the japamala. That was the sign and his disciples started arranging slabs upto his head. As per Guru's earlier instructions they placed a copper box containing one thousand two hundred saligramas. Then they placed the covering slab over it and filled it with earth. Thus Guru left his mortal coil to enter the eternal blesses.
Temple of Lord Hanuman
The sacred rock sanctified by Sri Rama had been used for making the Brindavan. As devotee of Lord Hanuman, (in his both incarnation as Sri Vyasaraja and Guru Ragavendra) he wished that a portion of the rock after making the brindavan be used for sculpturing a vigraha for Lord Anjaneya. It is even more important to note that the rock sanctified by Sri Rama himself is used for vigraha of Lord Anjaneya. The Vigraha thus made is now established opposite to the moola Brindavan.
Outside Lord Hanuman temple on one side we can also see a Siva Lingam alongside the stone used for sandal paste. This is the Siva lingam [Sri Rudra] that was found during excavating the spot for Guru Raghavendra's Brindavan, and had been worshiped by Sri Prahlada [Guru Raghavendras' earlier incornation]. One can notice there is small ardha shila vigraha of Lord Hanuman on the back of Lord Siva.
Lord Hanuman of Mantralaya
Sri Hanuman in kshetra is in ardha shila form and around seven feet in height. Lord is seen with 'abhya mudra' through His right hand. His left hand is seen resting on the left hip and holding a sowgandhika flower. The neatly combed sika of the Lord is tied in a knot above His head. The tail of the Lord is seen raised above His head in a three fourth of a circle. And the end of the tail is seen bent inward with a small bell tied. His lotus feet wears a nupuram and the ankle a thandai. His wrist has kankanam and arms keauram. His chest is adorned with a mala and His neck a necklace. Bright kuntalam adds beauty to His ears. Lord is seen with 'kora pal'. Glowing eyes of the Lord adds immense pleasure to the devotee.
---
Experience
Come to this kshetra to seek the blessings of Sri Guru Ragavendra – the living saint and also to seek the blessings of Lord Hanuman [sanctified by Sri Rama himself] who is alive in the rock. A visit to this kshetra will carry the blessings of both the Guru and Lord Anjaneya.
[Ed : Febuary 2012]
SWAGATHAM
Welcome to the pages on Son of Wind God Vayu Lord Anjaneya Swami -Vayusuthan.
The intention of this site is to propagate the glory of Lord Anjaneya [Hanuman].
Though the intention of this site is to propagate the glory of Lord Anjaneya [Hanuman], kindly note that no material appearing in these pages could be reproduced in any manner without explicit permission from vayusutha.in
SRI HANUMAN
SRI HANUMAN THINKS DIFFERENTLY, THINKS FAST, THINKS AHEAD AND ACTS FOR SURE.
Our salutations to this Hanuman who always brings subham - everything that is good - for His devotees and eliminates the bad and the evil. He removes even the traces of bad thoughts and deeds from His devotees. i.e He makes them pure in words, thought and deed.