Bhadra Maruti temple , Khuldabad, Maharastra
gk kaushik
Bhadra Maruti
Khuldabad is located in the Aurangabad District of Maharashtra- the region popularly known as Maratwada. Khuldabad was known as Bhadravati earlier and it was during Mugals's rule the place was renamed as Khuldabad. 'Khuldabad' in Parsi means 'entrance to heaven'. Bhadravati means 'a sacred place'. Both these names, by themselves, give us an idea about the greatness of this place. Maratwada has the distinction of having three of the twelve 'Joythir Lingams' of the country. Other distinction of the Aurangabad district is the world famous Ellora caves where sculptures of all the three major beliefs of the country - namely Jain, Buddh and Hindu find a place prominently. The other famous place of the District is is Ajanta caves, where paintings of distinction are found.
Unique Sri Hanuman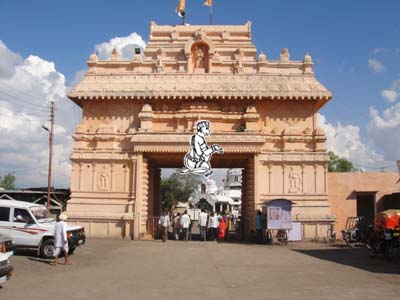 Besides the above features of the area, there is a well known temple for Sri Maruti [Hanuman] located very near to the Ellora caves. The temple is just four Kms from the Ellora caves. The Lord of this temple Sri Hanuman is known as Sri Bhadra Maruti. This murthi is one of the few Maruti murthis to be found in a reclined posture. The unique posture with which Sri Hanumanji is seen here has an interesting episode, behind it.
Legend
The place Bhadravati was once ruled by a noble king named Bhadrasena, who was an ardent devotee of Sri Rama. He admired Sri Rama as a sacred and a pure God and worshipped Him as 'Bhadra'. He constructed a tank for the temple housing Sri Rama, and called it Bhadrakund. He used to take bath here before he offered his prayers to Sri Ramabhadra. He was blessed with a beautiful daughter and he named her Bhadra. The town came to be known as Bhadravati.
Rajarishi Bhadrasena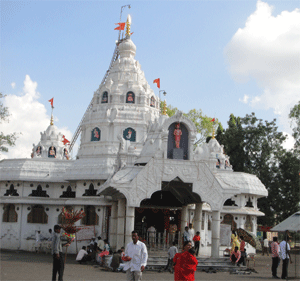 The king was good in music and his devotion to his Lord was shown in the songs he had composed on Him. He used to sing songs in praise of his Lord Sri Rama in a melodious voice. His singing used to mesmerize the entire place and virtually every one present there will feel the presence of Sri Rama in their heart. Though he was righteous ruler, he was not attached to the throne he was occupying. Because of his detachment towards worldly matters and attachment towards Sri Rama, his subjects called him as 'Rajarishi Bhadrasena'. The singing of Ram Bhajan used to continue from morning till evening and on some occasions it used to continue for days together.
Sri Ram Bhakt Hanuman
Yatra yatra raghunatha keerthanam, thathra thathra krithamstha kanchalim. No wonder that Sri Hanumanji – a pure Rambakth - was attracted by the sweet and melodious voice with which King Bhadrasena was singing in praise of Sri Rama. He followed the voice and descended on Bhadravati kshetra. He found Sri Bhadrasena singing those melodies, out of devotion from the bottom of his heart. Sri Hanuman was absolutely thrilled by the song, and was wonder struck at the Rama bhakti of the singer. The singing had its effect on the entire region. The birds will stop flying and listen to the mesmerising songs. The branches of trees will not move and will also listen to the song.
Sri Maruti's BhAvasamadhi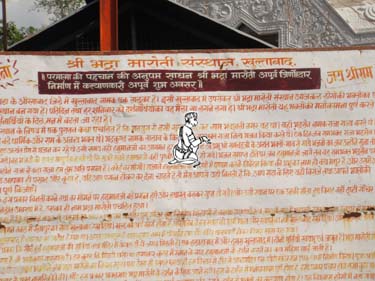 As Sri Maruti was listening to the song for a long time, he without his knowledge took a reclining posture – called 'BhAvasamadhi' [BhAvasamadhi is a yogic posture]. When Rajarishi Bhadrasena slowly came out of the trance –during which he was one with Sri Rama - he realised that Sri Hanuman was near him in 'BhAvaSamadhi'. Rajarishi Bhadrasena was taken a back when he saw Sri Maruti in close quarters. He fell at the feet of the Lord Maruti with all reverence. Lord Maruti's BhAvasamadhi got disturbed. Sri Hanuman got up and said "Oh! Rajarishi Bhadrasena I am immensely pleased with your Rama Bakthi. I shall try to get the darshan of Sri Rama for you. I shall be pleased to do the same for a real Ramabakth. What more do you want? You may spell your wishes".
Wishes of Rajarishi Bhadrasena
With all humility Raja said "Oh Prabhu! You yourself is Sri Rama for me, since you have Sri Rama's blessings. Your dharshan by itself was possible because of the Rama's blessings. When you are pleased I am immensely blessed. Oh Prabhu! It will be even more pleasing if you could kindly remain in the 'BhAvasamadi' and bestow your blessing to the devotees who comes to this kshetra. Bless the kanyas with righteous 'varan', other with all 'sriyas'.
Sri Hanumanji blessed the Rajarishi Bhadrasena and as per the wishes of Raja the Lord Sri Hanumanji even today is seen in 'BhAvaSamadhi' blessing the devotees with all Mangalam.
---
Experience
Take time to visit this holy place and carry home the blessings of BhAvaSamadhi Bhadra Maruti [Hanuman].
[ed.Jan 2011 Hanumath Jayanti
SWAGATHAM
Welcome to the pages on Son of Wind God Vayu Lord Anjaneya Swami -Vayusuthan.
The intention of this site is to propagate the glory of Lord Anjaneya [Hanuman].
Though the intention of this site is to propagate the glory of Lord Anjaneya [Hanuman], kindly note that no material appearing in these pages could be reproduced in any manner without explicit permission from vayusutha.in
SRI HANUMAN
SRI HANUMAN THINKS DIFFERENTLY, THINKS FAST, THINKS AHEAD AND ACTS FOR SURE.
Our salutations to this Hanuman who always brings subham - everything that is good - for His devotees and eliminates the bad and the evil. He removes even the traces of bad thoughts and deeds from His devotees. i.e He makes them pure in words, thought and deed.