Sankata Mochan Hanuman of Sri Dudhadhari Temple
Raipur, Chhhattisgarh
sri subramanya swamy
Chhattisgarh
Thirty six in Hindi is Chhattis, garh is fort, house etc, and hence the region which had thirty six forts was known as Chhattisgarh. This region which was part of Madhya Pradesh was curved out and a new state in the name of Chhattisgarh with Raipur as capital of the state was formed on 1st November 2000. Though it a common belief that there are thirty six forts but there are forty eight forts in the region. This region has its historical importance and was part of Kosal. It was under Mourya Kingdom and also Haihaya Kings. But the name of Chhattisgarh is not given in any record or inscription and it is more probable that the name is a corruption of Chedishgarh, meaning the forts of the lord of Chedi.
Raipur
The city was once capital of Haihaya Kings, who were controlling the traditional forts of the Chattisgarh. Even today one can see the ruins of the old site and ruins of fort in the southern part of the city. It is believed that the King Ramachandra of Kalchuri dynasty has founded the city after his son Brahmdeo Rai as "Raipur" and subsequently his son made it the capital of his kingdom. There are historians who opine Brahmdeo Rai had established this city in his name and shifted his capital from Khalwatika (now Khallari). The traditional importance was never lost for the city when it was attached to Central Province during Raj or Madhya Pradesh after independence. Today it had regained the glory of the Capital of a State.
Temples in Raipur
Though there are many temples today in the city of Raipur, the most revered by many are Jagannath, Mahamaya, Vivekananda Ashram, Dudhadhari temple, Dudhadhari Matt, Balaji Mandir, Sankatmochan Hanuman, Ram Panchayatan and Vir Hanuman temples. Out of these last six temples are centered on the ancient and most revered Dudhadhari Mutt.
The name Dudhadhari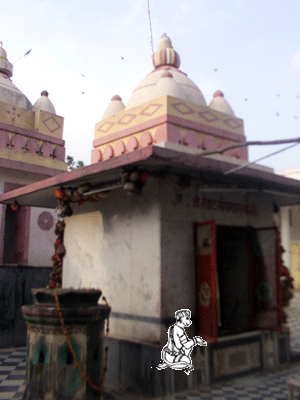 There lived a mahant by name Swami Balbhadra Das who was an ardent devotee of Lord Hanuman. He was worshiping a swayambu Hanuman. He will offer milk as prasand to Hanumanji and the prasand he used to drink. As per the lore a cow by name "Surhi" will visit the Mahant daily and offer her milk for Lord Hanuman. In the course of time Mahant Swami Balbhadra Das was taking that milk only as food, hence he was called "Dudh-Ahari".
Balaji Mandir
Mahant Swami Balbhara Das had great following. The king of his time Sri Raghu Raoji Bhosle, ruler of Nagpur region under whose jurisdiction the Raipur fell was an ardent follower of Mahant Swami Balbhara Dasji. The king was a great devotee of Sri Vishnu and wanted to build a temple for Sri Balaji at Raipur. He expressed his desire to Mahantji and as per advice of Mahantji it was decided to build the temple in the vicinity of Dudhadhari Mutt. An elegant temple for Sri Balaji was built in the year 1610 A.D. in the site near the place where Mahant Swami Balbhara Das was living. Walls are adorned with beautiful painting from the life Sri Rama. Even today we can see the well preserved paintings. Presently there are some saligrams which are in the place of worship in the Mandir.
Sankata Mochan Hanuman
Few days after building of the Sri Balaji temple just behind to the sannathi of Hanuman worshiped by Mahant Dudhadhari a miracle happened. Sri Hanuman who is an adorent Rambaktha just turned His face to see Sri Balaji [Vishnu- Sri Rama] while his body remained the same way. Therefore this temple is unique that the temple doorway and stairway do not face in the same direction as is the case of most temples. While the doors are facing towards south [towards Sri Balaji], the stairs are facing north. One can see this unique ancient Hanuman even today in the same posture. The Hanuman of this temple who had been worshipped by Swami Dudhadhari is named Sankata Mochan Hanuman, for He fences the ordeals faced by the devotees.
Rampanchayatan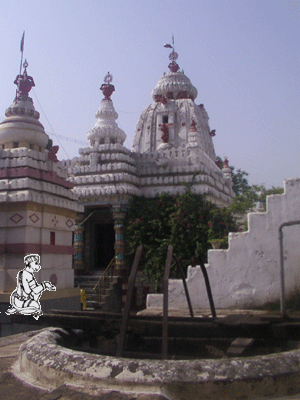 Just besides the Sri Balaji temple a beautiful temple for Sri Ram parivar had been built by Sri Jagannath Sav, twenty years after establishment of Sri Balaji temple. Originally the statues of Sri Rama, Sita ma, Bharat, Lakshmana, Shatrugan, made of wood were installed in the temple. Since the temple had five members of Sri Ram parivar, the temple got the name Sri Rampanchayatan. In the year 1922 this temple under went renovation and the main wooden statues were replaced with that of marble statues. It is note worthy that the statues of Sri Rama and Baratha are black in color. The walls of this temple adorn beautifully curved scenes in stones depicting stories from two great epics of India, Ramayan and Mahabarath.
Veer Hanuman
Sri Ram parivar is incomplete without Sri Hanuman. A small temple for Hanuman depicting Him as Veer Hanuman was built in front of Rampanchayatan temple. Veer Hanuman is holing Sanjivi Parvat in His left hand and on the right one is holding mace. He is seen crushing Ahhi Ravana with His feet, depicting the story of killing of Ahhi Ravana after the Rama- Ravana war.
Brindavan of Sri Dudhadhari
Sri Balbhadra Das had worshipped Lord Hanuman though out his life and was instrumental for establishment of Sri Balaji Temple at Raipur. He had just milk for living in this world and served his king and people alike, blessing them and mitigating their ordeals. He had left us with a treasure in Sankata Mochan Hanuman. He had left his mortal body, but still it believed that seeking his and his Sankata Mochan Hanuman's blessing one can over come any amount of pressure and distress. The place where he left this world a Brindavan had been made. Even today devotees throng this Brindavan seeking the blessings of Mahant. Even today one can see some of the articles used by the great Mahant kept near the Brindavan.
---
Experience
The great saint Sri Dudhadhari and his mentor Sri Sankata Mochan Hanuman are waiting to bestow on us power to overcome any amount of pressure and distress. Let us visit seeking their blessings.
[Ed. February 2009]
SWAGATHAM
Welcome to the pages on Son of Wind God Vayu Lord Anjaneya Swami -Vayusuthan.
The intention of this site is to propagate the glory of Lord Anjaneya [Hanuman].
Though the intention of this site is to propagate the glory of Lord Anjaneya [Hanuman], kindly note that no material appearing in these pages could be reproduced in any manner without explicit permission from vayusutha.in
SRI HANUMAN
SRI HANUMAN THINKS DIFFERENTLY, THINKS FAST, THINKS AHEAD AND ACTS FOR SURE.
Our salutations to this Hanuman who always brings subham - everything that is good - for His devotees and eliminates the bad and the evil. He removes even the traces of bad thoughts and deeds from His devotees. i.e He makes them pure in words, thought and deed.