Sri Vyasaraja pradeshta Hanuman
Sri Veera Anjaneya Swamy Temple
Gandi, Cuddapah Dist, Andhra
gk kaushik
Cuddapah alias Kadapa
Cuddapah had derived its name from the word 'Gaddapa' which means entrance or doorway in Telugu. To have the dharshan and blessings of Lord Venkateswara of Sri Sheashatrishyla, Cuddapah was the entrance and hence known as Devuni Caddapah, later came to be known as Cuddapah.
Palakonda hills
Near Cuddapah there is village Vempalle. Papagni river passes through the hills of Palakonda near this village Vempalle. There are two version of legend which says as to why the range of hills is known as Palakonda. In the first version, Shepherds from Nellor District use to grace their cows in the foot hills, since people can get milk from them the hills came to be known as Palakonda. The second version says that the water of the river is white in color like milk since it originates from the Nandi hills (Nandi is the sacred divine cow). Range of hills derived the name 'Palakonda' from this, since Pala means milk and konda means hills in Telugu.
River Papagni
The river Papagni which originates from Nandi hills, passes through Cuddapah Chitoor, Ananthapuram and enters Raichote taluk, and it merges with Penagni river presently known now as Pennar near Kamalapuram in Cuddapah Dist.
It is interesting to know as to how the river Papagni got its name. This region was once dense forest and there lived the tribes known as Chenchu. The innocent Chenchu tribal head was once killed by the king. The king was affected with leprosy for this sin and could not get rid of this even after best medication. He went on pilgrimage to many kshetras, but to vain. He was then given divine direction to take bath in the sacred river in Gandi kshetra. It was further said since Sri Vayudeva had done penance in the valley; the place and the river are sacred. Accordingly the king took bath in the river and offered his prayers daily to get rid of his sin and succeeded in getting rid of his sins and illness. Since the sins had been turned into ashes the river got its name Papagni. Papa means sin and agni means fire.
Gandi Kshetra
The range of Palakonda makes a small valley with Marellamadaka village as entrance. Marellamadaka is a little village situated at the entrance of the gorge through which the Papagni pierces the Palakonda rage of hills.
The valley like place is popularly known as 'Gandi', meaning a narrow valley with a running river in Telugu. The river Papagni wends it's through the Palakonda hills which are about 200 feet in height and emerges in the plains of Cuddapah region. In Gandi kshetra the river Papagni enters north-east from between hills and flows from south towards north.
Sri Ramakrishna Anandha Swamy of Boomanandha Ashram had given the name Gandi kshetram to this place.
Sri Anjaneya at Gandi Kshetra
On the right bank is the temple of Veera Anjaneya situated in serine atmosphere presenting a picturesque scene. The legend of how the temple of Lord Anjaneya had come to being here is very interesting.
During the Ramayana period Sri Vayudeva was on mediation here. Sri Rama had passed through this place while going southwards in search of Sri Sitadevi. While Sri Vayudeva wanted Sri Rama to stay here as his host, Sri Rama had told that he will accept his hospitality on his way back to Ayodhya from Lanka.
On hearing of Sri Rama's victory over Ravana in Lanka, Sri Vayudeva had prepared this place to welcome him and flung a wreath (festoon) of golden flowers across the ravine through which the conqueror should pass on his way northwards to Ayodhya.
Sri Rama's drawing
At the earnest request of Sri Vayudeva, Sri Rama halted here with his troops. Sri Anjaneya had then gone northwards for informing Sri Bharatha about return of Sri Rama. Sri Rama thinking about Sri Anjaneya, before leaving this palace had impressed the mark of figure of Sri Anjaneya with his arrow on a rock. Before he could complete the figure Sri Rama had left for Ayodhya. The figure of Lord Anjaneya is complete in all respect except the little finger of lord's left hand.
Incomplete figure of Sri Anjaneya and Sri Vyasaraja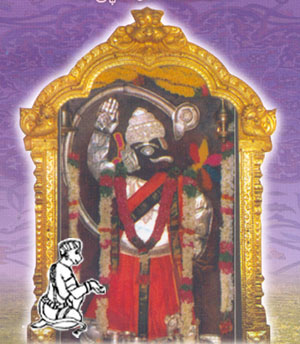 The figure of Sri Anjaneya drawn in a thin line by Sri Ram was sculptured by Sri Vyasaraja. The blooming figure of the Lord as we see today is the contribution by Sri Vyasaraja, as a blessing from Sri Rama himself. An interesting thing happened during the time when Sri Vyasaraja had sculptured the figure. As a true Hanumath devotee Sri Vyasaraja wanted the figure of Sri Anjaneya complete and had sculptured the little finger of left hand also. To the astonishment of the great saint the little finger broke and blood started oozing. The great Hanumath devotee then understood the true intention of Sri Rama Bakth, and left the figure as drawn by Sri Rama. On a sacred and auspicious day 22.04.1447, Sri Anjaneya was consecrated by Sri Vyasaraja in this kshetra.
Sir Thomas Manro and Gandi Kshetra
The golden flowers arranged in the thoranam form by Sri Vayudeva for welcoming the victories Sri Rama are true and could be visible between the two hills. Even in this Kaliyuga it was visible for those who had faith on Lord. It is believed that those who had done their karma during this janma in full and truly are blessed to see the golden thoranam during their last days. It is also believed that for those who had the dharshan of this golden festoon are free from rebirth.
It is in record that Sir Thomas Manro the District Collector of Cuddapah was one of the blessed to have seen the golden festoon (Bangaru thoranam) during his last visit to "Gandi". It has been recorded in the Madras District Gazetter Cuddaph District Vol I - Chapter I - Page 3 and Chapter XV - Page 217 dated 01.10.1914.
Temple of Sri Anjaneya at Gandi Kshetra
Swami Vasanthaacharyalu, follower of Sri Madwa cult had constructed the temple for Lord Sri Anjaneya in this kshetra and brought the glory of the Lord of kshetra to the lime light. An odorant devotee of Lord Anjaneya he later came to be known as Udgavi Gandi Acharya. As a mark of respect for this saint an idol of the Acharya was installed by the Cuddapah Madwa Sangam in the temple on the right-side of the main hall. Even today the Prasadam offered to Sri Anjaneya is next taken to Swami Vasanthacharyalu and offered before distribution to the public.
Lord Anjaneya of Gandi Kshetra
The Lord of this kshetra is seen a thejasvi as bright as raising sun. His pingaksham - eyes are bright and radiating. He is holding lotus in one hand and with the other He gives abhaya sign - do not fear - to His devotees. Lord here is seen as a figure who will guide His devotee with valor, nirbhaya and hence victory. In every inch of the Lord one could see and feel the valor.
Location of the Temple
The temple is located in Andhra Pradesh, Cuddapah (kadapa) Dist, Chakrayapetta mandal, Veerannagattupalle village. Place is popularly known as Gandi kshetram and is about seven kilo meters from Vempalle village in Rayachote Road. Buses are available from Rayachote and also Vempalle.
Poojas in the Temple
Daily poojas are performed in the temple all days from 6 AM to 2 PM and then from 5 PM to 8 PM. During the Sravana month of lunar calendar special poojas are conducted. On every Saturday there is special bhajans by the devotees in the angkan of the temple. There will be vedic chanting daily morning and evening. Akku (betal leaf) mala and vadamala is considered divine here in this temple.
---
Experience
A visit to this Gandi Kshetra, Lord Anjaneya will bestow you power to over come your fear and inspiration to conquer and victorious.
[Ed. November 2007]
SWAGATHAM
Welcome to the pages on Son of Wind God Vayu Lord Anjaneya Swami -Vayusuthan.
The intention of this site is to propagate the glory of Lord Anjaneya [Hanuman].
Though the intention of this site is to propagate the glory of Lord Anjaneya [Hanuman], kindly note that no material appearing in these pages could be reproduced in any manner without explicit permission from vayusutha.in
SRI HANUMAN
SRI HANUMAN THINKS DIFFERENTLY, THINKS FAST, THINKS AHEAD AND ACTS FOR SURE.
Our salutations to this Hanuman who always brings subham - everything that is good - for His devotees and eliminates the bad and the evil. He removes even the traces of bad thoughts and deeds from His devotees. i.e He makes them pure in words, thought and deed.