Sri Hanuman Temple, Hanuman Dhara
Chitrakoot, Utter Pradesh
rangan anand, delhi
Chitrakoot
Chitrakoot is a holy place famous both for its natural scenery and its spiritual elevation and has its own identity. Sri Valmiki in his work Sri Ramayanam had talked about the beauty and holiness of the place. There is extensive description about the place and the saints who were living in the region.Sri Valmiki had composed Sri Ramayanam even before the birth of Sri Rama.Therefore the place is famous and holy even before Sri Rama had set his lotus feet here. Valmiki speaks about the glory of this place through the words of saint Bhardwaja and Sri Rama is advised to make this place his abode during the period of his exile.
Ramghat
When the region was suffering of drought, Sati Anusuya wife of the saint Atri undertook an intensive austerity and brought the river Mandakini down to the earth making this region flourish with greenery and forests. Sri Rama and Sita Devi had spent time in the ashram of saint Atri and Anusuya, and had taken bath in the river Mandakini. The ghats where Sri Rama, Sri Sita used to take bath in the river is now known as Ramghat and Sita ghat respectively.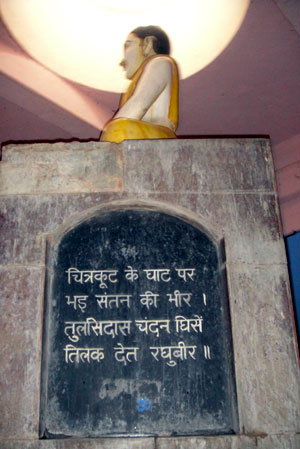 Ramghat is a holy place since it was here that Sri Rama had performed the last rites to his father. Today Ramghat is a place where people gather during the evening to perform the arti to the river Mandakini. Ramghat is today remembered for Tulsidas also.
Tulsidas, Hanuman, Chitrakoot
Sadhus and saints spent time by reciting Ramayana and retelling Rama katha in the banks of Mandakini. Many devotees after taking bath in the holy river will have their forehead decorated with tilak applied by these holy men. It is considered an honor to have the tilak as prasad from these holy men.
Tulsidas, the saintly poet had spent part of his life here in Chitrakoot carving to have dharshan of his beloved Lord Sri Rama. It was in the bank of Mandakini at Ramghat Tulsidas used to sit and recite the Ramayana and apply tilak to the devotees who would come to him. Since Sri Hanuman had promised that he will have dharshan of Sri Rama here,he had full faith and waited.
One day the great thing – his dream of having dharshan of Sri Rama was fulfilled. It was in the bank of Mandakini that two youth came to Tulsidas and asked for tilak to be applied in their forehead. Tulsidas gladly agreed and looked at their face which was so glowing that he forgets himself. The youth said "Oh! Saint what you are looking at! Let me apply the chandan for myself" and applied chandan on his forehead and also on the forehead of Tulsidas. Sri Hanuman who was looking at this scene sang thus:
चित्रकूट के घाट पर भई संतन की भीर |
तुलसीदास चन्दन घिसें तिलक देत रघुबीर ||
Tulsidas was immensely happy on this occasion, rejoiced the event and reveled. Such is this holy place which is connected with Sri Rama from time immemorial.
Sri Hanuman Dhara
Not faraway from this holy place Ramghat is another holy place called Sri Hanuman Dhara which is connected with Sri Hanuman. This place is about four kilometers to the east of Ramghat and is situated on the peak of mountain. A stream of cool and clear water originating from somewhere in the mountain flows on the tail of the deity of Hanuman which is naturally formed. The deity of Sri Hanuman is in a naturally formed cave. The best thing about the stream is that it vanishes after falling in the kunt ten feet below the cave.
Sri Hanuman of Hanuman Dhara
Wherever glory of Sri Rama is sung, Sri Hanuman is present there with [anantha] tears in his eyes. Chitrakoot is a place where many saints and sadhus always recite the glory of Sri Rama. This is how Sri Hanuman had come to visit Chitrakoot. Whenever Sri Rama katha is being recited here and when the scene of Sri Hanuman burning Lanka is narrated, Sri Hanuman's tail will have a sensation. It is believed that to cool his tail Sri Hanuman dwelling in this place has a natural cool stream falling on his tail.
---
Experience
From the mountain top of "Sri Hanuman Dara" one can see the whole of Chitrakoot which is mesmerising. The cool dharshan of Sri Hanuman at Hanuman Dara is bound to cool our thoughts and our memory pleasant.
Ed [July 2013]
SWAGATHAM
Welcome to the pages on Son of Wind God Vayu Lord Anjaneya Swami -Vayusuthan.
The intention of this site is to propagate the glory of Lord Anjaneya [Hanuman].
Though the intention of this site is to propagate the glory of Lord Anjaneya [Hanuman], kindly note that no material appearing in these pages could be reproduced in any manner without explicit permission from vayusutha.in
SRI HANUMAN
SRI HANUMAN THINKS DIFFERENTLY, THINKS FAST, THINKS AHEAD AND ACTS FOR SURE.
Our salutations to this Hanuman who always brings subham - everything that is good - for His devotees and eliminates the bad and the evil. He removes even the traces of bad thoughts and deeds from His devotees. i.e He makes them pure in words, thought and deed.