Bhidbhanjan Hanuman Mandir, Harni, Vadodara [Baroda], Gujarat
sri subramanya swamy
Baroda and Vadodara
Baroda is situated on the banks of the river Vishwamitri (whose name is derived from the great saint Rishi Vishwamitra). The city was once called Chandanavati after its ruler Raja Chandan. The city had also another name "Virakshetra" or "Virawati" the abode of brave. Then it was known as Vadpatraka since the place had planty of banyan trees on the banks of river Viswamitri. Then it was Wadodará, which according to tradition is a corrupt form of the Sanskrit word Vatodar means 'in the heart of the banyan tree'. But early English travelers and merchants mention the town as Brodera, and it is from this that the name Baroda is derived. In 1974, the official name of the city was changed to Vadodara.
It is located southeast of Ahmedabad, 139 km from the state capital, Gandhinagar. It is the administrative headquarters of Vadodara District. Both the railway line and national highway connecting Delhi and Mumbai, passes through Vadodara.
Sanskari Nagari – Cultural town
Vadodara has a rich historical background. The place was almost under the Hindu rulers except for a short period during which Delhi Sultans were controlling the administration. Since the cultural traditions were almost undisturbed the district is referred to as Sanskari Nagari. Since the region was under the influence of Chalukyas and Marathas for a long time, the region has many devotees of Sri Hanuman.
Bhidbhanjan Hanuman temple of Harni
There are many temples for Sri Hanuman in this city and many of them are ancient and more than a hundred years old. Harni Hanuman temple is one of the oldest Hanuman temples in Vadodara and has a very interesting legend. The temple is located north-east of Vadodara on the Harni road and is nearer to the Vadodara airport, Harni tank and Motnath Mahadev temple. It is equally interesting to know why Hanuman of this temple got the name 'Bhidbhanjan'.
LEGEND
Hirankashpu of Harni
This place once was a forest full of banyan trees and most suitable for meditation and tapas. Many ascetic people and Rishis have spent quiet time at this place to gain peace and have dharshan of the Brahman. But unfortunately the place was under the control of a wicked king by name Hirankashpu (not Sri Krishna's uncle). As a practice the king used to harass the rishis and saints who had taken to penance and meditation in this region. But the rishis were hopeful of a solution to this and continued their practice of penance. Once Sri Rama, Sita, Lakshman along with Sri Hanuman was on a visit to this place, and the rishis took the opportunity to brief Sri Rama about the harassment met out to them by Hirankashpu. They also requested for a solution to this problem so that they continue to meditate in this peaceful place.
Hirankashpu pinned by Sri Hanuman
Sri Rama ordered Lakshmana and Hanuman to destroy Hirankashpu. Both these warriors fought with vigor the demon king, but there was no sight of the end. When the battle was not coming to end Sri Rama asked Hanuman to continue the fight with more vigor and take the virat roop at the appropriate time. The battle continued, on the fourteenth day Hanuman assumed vishwa roop and flung the demon king to the ground, pinned him down to the ground with His right foot. With Lord Hanuman's right foot on him, the wicked powers of Hirankashpu started melting down.
Wishes of Sri Rama
Lord Rama had ordained Hanuman to remain in that position, for it was the only way to subdue the demon & break his power. As a symbol of acceptance of the command Hanuman is seen placed His right hand over His head. It is believed that Hanuman has been here ever since.
Bhid Bhanjan Maruti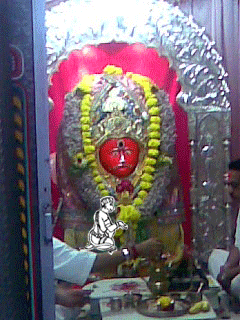 Lord Rama then prophesied that Hanuman will forego his 'vanara' features and will assume the 'nara' [human] form as the people will offer prayers to Him for saving the saints, sadhus of this place. He will have the power to vanquish the trouble of the people who offer their prayers to Him at this place. Sri Maruti who had destroyed the troubles of saints and sadhus of this place will be worshipped as Bhid [trouble] Bhanjan [destroyer] Maruti. Sri Hanuman image in this temple has a mustache, beard and other human facial features as per Sri Rama's blessings.
Temple for Bhid Bhanjan Maruti at Harni
Over the time the place was covered by jungles with scores of Arni trees giving the name Harni to this place. [There is another version saying that this place got the name Harni because of the demon king Hirankashpu.] In later years under one of the trees a strange image of a very unconventional Hanuman was found and people began worshipping it. In the north Vishvamitri and Surya River flows. As Sri Maruti had freed the saints and sadhus from the troubling Hirankashpu, Harni Hanuman is renowned as Bhid Bhanjan Maruti.
Ancient temple
Over a period a beautiful temple was built for Sri Maruti. Structure of Harni Hanuman Temple is quite different from other modern Indian temples. The roof of the temple is Dome-shaped in a Mugal style tomb. It is believed that this could have been done so to give a deceptive look of a tomb, in order to distract the invaders who were against the idol worship. Such sculptural symbols are found in this temple is itself a proof that this temple is an ancient temple in this region.
Mela at this ancient Mandir
The temple no doubt attracts huge number of devotees from all over Bharat. During Tuesdays and Saturdays it draws more devotees, and especially during Saturdays of "Sravan" month the devotees throng the temple. During this time festive mood will prevail and huge mela is held here. The Chadurdasi [14th day after waning or waxing moon] day before Diwali is considered most auspicious day for sadhana and siddhi. Devotees visit this temple on that day to achieve their goal. If this Chadurdasi happens to a Saturday then it is even more auspicious for offer of prayers to Sri Maruti who is a destroyer of all evils a Bhid Bhanjan Maruti He is.
Location of the Mandir
This ancient Sri Hanuman Mandir of Vadodara is located in Harni. Sri Bhidbhanjan Hanuman temple is located north-east of Vadodara on the Harni road and is nearer to the Vadodara airport, Harni tank and Motnath Mahadev temple.
---
Experience
Visit this ancient temple and have dharshan of the 'vAnarANAmadhISam' [ वानराणामधीशम् ]in 'nara roopa' and get all the negativity off from you. Come out pure in mind to perform deeds of life.
Ed [April 2013]
Revised [April 2019]
SWAGATHAM
Welcome to the pages on Son of Wind God Vayu Lord Anjaneya Swami -Vayusuthan.
The intention of this site is to propagate the glory of Lord Anjaneya [Hanuman].
Though the intention of this site is to propagate the glory of Lord Anjaneya [Hanuman], kindly note that no material appearing in these pages could be reproduced in any manner without explicit permission from vayusutha.in
SRI HANUMAN
SRI HANUMAN THINKS DIFFERENTLY, THINKS FAST, THINKS AHEAD AND ACTS FOR SURE.
Our salutations to this Hanuman who always brings subham - everything that is good - for His devotees and eliminates the bad and the evil. He removes even the traces of bad thoughts and deeds from His devotees. i.e He makes them pure in words, thought and deed.