Sri Vyasaraja pradeshta Hanuman
Sri Dasaanjaneya Swami Temple
Machavaram, Vijayawada, Andhra Pradesh
ssm rao, vijayawada
Andhra Pradesh and Anjaneya
It will not be an exaggeration to state that there is no village in Andhra Pradesh without a Hanuman temple, especially after the reigns of Vijayanagara samrajya spreading its wings throughout the present Andhra Pradesh. Here Anjaneya Swami is popular as Hanumanthudu or Anjaneyalu.
Guru Sri Vyasatheerthulu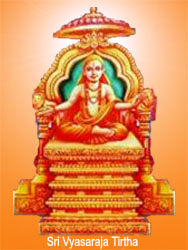 The Vijayanagara samrajya was under the rule of Saluva dynasty, later Saluvas were defeated, making way for the Thaulavs to rule the samrajya. During 1509, Krishnadevaraya become the emperor of Vijayanagara samrajya. But during the Saluvas rule and also during Thaulavs regin,Sri Vyasatheerthulu a devotee of Vishnu and a Hanumathupasakadu was the Guru of the kings. Sri Vyasatheerthulu was spreading Hanumat Bhakti and spirituality. He had also installed ["pradishta"] many Hanuman idols and constructed temples whenever he was directed.
His Visit to Machavaram
As Sri Vyasatheerthulu was touring along with his disciples on foot, they halted at Indra Kiladri and relaxing. Lord Maruti appeared in the form of vanara and got them up and gave indication to follow him. They all did so and crossed over mountains and forests and reached the present place of Machavaram. Lord Maruti in vanara form asked Sri Vyasatheerthulu to construct a temple at that place and to install the Anjaneya vigraham (idol) with Sankh and Chakra on the either side of the idol. After having directed so Lord Maruti proceeded towards northern direction reciting Ramanamam and disappeared. As directed by Lord Maruti, Sri Vyasatheerthulu initiated temple construction and left for another village.
Rediscovery of the Vigraha
In subsequent to fall of Vijayanagera samrajya and power going to others, many temples were fallen pray and were ruined including many Anjaneya temples constructed by Sri Vyasatheerthulu. About one hundred and fifty years ago, a contractor Sri Dunna Veeraswamy Naidu was constructing Eluru – Vijayawada road. During that time Lord Anjaneya gave him a divine direction by appearing in his dream to excavate the idol from a particular place. Sri Naidu proceeded to the site indicated by Lord Anjaneya in his dream, with his laborers for digging work. A small excellent divine idol form with Sindhoora decoration was excavated from the very same place where a peepal tree was existing. He had arranged for a thatched shed then and there for facilitating the darshan to devotees. Earlier to temple construction the peepal tree was providing pleasant shelter at the place and that very same tree is still alive and could be seen.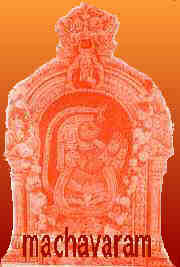 From then onwards the Lord Anjaneya of this kshethra had been fulfilling the desires of the devotees with his blessings.
Sri Dasaanjaneya
Sri Dasa Anjaneya vigraha is about two to three feet tall and a ardha shila in nature. Sri Dasa Anjaneya is seen here as a Dasa, sitting on His kneels in fornt of Sri Rama. While his both the hands are seen folded with the palms joint in 'anjali' offering 'pranams' to His Lord. His bright kundalam is big in size and daziling. He is seen wearing beautiful ornaments in His arms, chest and legs. His 'yagyopavetham' with three strings of thread is seen brightly. His tulf is seen flowing / waving in the slow breeze. As typical of Sri Vyasaraja pradishta the Lords tail is seen raised above the head and has a bell tied in the fag end.
Festivals
This sthala puranam has not been inscribed on any standard form but only being told by elders since good olden days. This temple is under Endowment Department of AP Government.
Dhanurmasam and Hanumath Jayanti are the main festivals celebrated in this temple. Aku (betel leaf) pooja is performed with great reverence. Devotees from around Vijayawada throng for darshan, especially on Tuesday.
The temple is located 6 km from Central bus stand of Vijayawada, and 5 km from Vijayawada Railway Station.
Under inspiration of the Lord Anjaneya many devotees had made many slokas including a panchavimsati, in praise of Sri Dasaanjaneya Swami of this kshethra.
machavara vasa sathakoti manmatha vilasaa
kasari putra hanumantha keerthimantha ||
---
Experience
Though Lord Anjaneya's murthi(idol) of the kshethra is small, kirthi is great, and a visit to this kshethra can bring peace, love and lot of inspiration.
[ed.04.04.02]
SWAGATHAM
Welcome to the pages on Son of Wind God Vayu Lord Anjaneya Swami -Vayusuthan.
The intention of this site is to propagate the glory of Lord Anjaneya [Hanuman].
Though the intention of this site is to propagate the glory of Lord Anjaneya [Hanuman], kindly note that no material appearing in these pages could be reproduced in any manner without explicit permission from vayusutha.in
SRI HANUMAN
SRI HANUMAN THINKS DIFFERENTLY, THINKS FAST, THINKS AHEAD AND ACTS FOR SURE.
Our salutations to this Hanuman who always brings subham - everything that is good - for His devotees and eliminates the bad and the evil. He removes even the traces of bad thoughts and deeds from His devotees. i.e He makes them pure in words, thought and deed.