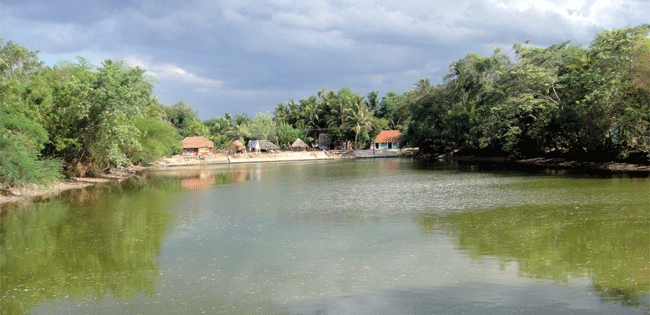 Sri Anjaneya temple, Poovanur, Needamangalam Taluk
Tiruvarur Dist, Tamil Nadu
gk kaushik
Sri Anjaneya temple of Poovanur
Poovanur is a beautiful village on the bank of Pamini River and located 8 Kms from Mannargudi and 3 Kms from Needamangalam on the Mannargudi - Kumbakonam route. This place has a unique temple for Sri Anjaneya built by Sri Bagavannama Bodhendrar, who propagated the importance of Sri Ramanama.
Jagadguru Bodhendra Swamigal
He was born to Sri Kesava Pandurangan and Suguna of Mandala Mishra Agraharam in Kanchipuram. He was born to this couple after prayers and with the blessings of the then Acharya of Sri Kamakoti peetam Sri Sri H H Vishwadikendhra Saraswathi. The boy was named Purushothaman and after the performance of upananyanam the boy was left in the mutt for study of Veda. While he had completed his studies at the age of around eighteen he was awaiting upadesa of Bhramavidhya from Sri Acharya himself. Sri Acharya was on yatra at Kasipuri then. Purushothaman desired to meet his Acharya at Kasipuri for this and proceeded from Kanchipuram accompanied by his friend and fellow student Gyanashakaran. It was a long journey those days and the friends had agreed on decision to the effect that if something happens to either of them the other should perform the death ceremony and then give up his life in the Ganges. Half the way down Gyanashakaran died and Purushothaman performed the last rites for him and proceeded further.
After reaching Kasipuri and meeting his Acharya, Purushothaman narrated the events and sought permission to give up his life. God had willed otherwise. Sri Acharya had told him that since entering 'sanyasa ashram' was like having a new birth, he can take sanyasa which will suffice the promise made to his friend and at the same time he can serve the mankind by living as sanyasi. Thus Purushothaman was initiated into sanyasa and given the name 'Bodhendrar'.
Bagavannama Sri Bodhendra Swamigal
Sri Bodhendrar succeeds his Acharya H H Sri Sri Vishwadikendhra Saraswathi as head of Sri Kanchi Sri Kamakoti mutt. Sri Bodhendrar had a firm belief that chanting of Sri Rama's name itself can give salvation [moksha]; therefore he propagated the glory of reciting the Nama sangeerthanam. He handed over the affairs of the mutt to his successor H H Sri Adyathma Prakasar and fully devoted himself in Nama sangeerthanam. Since there were Acharyas who had headed this mutt with the same name, Sri Bodhendrar came to be known as "Bagavannama Bodhendrar". He attained mukthi in the year 1692 [Projothpathi, Patrapatha masa, Poornamasa] at the place called Govindapuram near Thiruvidaimaruthur and Kumbakonam in Thanjavur District of Tamil Nadu. Even now one can hear the Rama Nama in the Govindapuram Adhishtanam during the silent nights.
Poovanur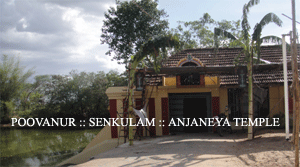 Poovanur is located 8 Kms from Mannargudi and 3 Kms from Needamangalam on the Mannargudi - Kumbakonam route. The place was once a garden [van] of 'punnai' flowers hence came to be known 'Punnai Poo vana oor' [புன்னை+பூ+வன+ஊர்] in due course Poovanur [பூவனூர்]. The village is located on the banks of Pamini River which branches off from Vennaru also known as Venni which in turn is a tributary of river Kaveri.
Siva Temple of Poovanur
"Poovanur puguvaar vinai pogumae", sang Saint Appar in the Thevaram ("enter Poovanur for warding off past Karma"). Glory of Lord Shiva of this kshetram had been sung by Thirugnanasambhandar also. The presiding deity is Lord Pushpavananathar, also known as Sri Chaturanga Vallabhanathar. Goddess Parvati, in the dual form of Sri Karpagavalli and Sri Rajarajeswari, has two sannidhis, which is a unique feature here. The sannidhi for Sri Chamundeswari is near the flag mast, close to the entrance of the temple. This kshetram is known for curing all illness due to venomous or poisonous bites of insects.
Sri Jatamuniswarar and ant hill
In this flower bed kshetra known as Poovanur there is a huge tank which had full of red lotus flowers, hence known as 'senkulam'. Just west of this tank there was a huge ant hill near which Sri Jatamuniswarar along with his disciples were present. Sri Jatamuniswarar is ubiquitous and due to this fact His presence is felt near the ant hill. It was not then known that He was guarding the Saligrama vigrahas [idols] of Sri Kothanda Ramar, Sri Sita Devi, Sri Lakshmanar and Sri Anjaneyar kept below the ant hill.
Jagadguru Bodhendra Swamigal at Parampur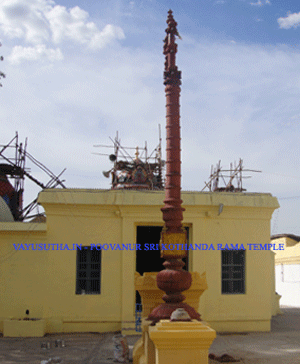 Jagadguru Bodhendra Swamigal peetathipati of Sri Kanchi Sri Kamakoti peetam was then camping at Parampur near Poovanur. Sri Bodhendra Swamigal is known for his Sri Ramanama Sidhantham. He had a divine direction by Sri Rama stating that he is waiting for his visit for long and asked the Sri Bodhendra Swamigal to build a temple for Him and had indicated His where about.
Sri Acharya visits Poovanur
As per the divine direction of Sri Rama, Sri Bodhendra Swamigal along with his disciples visited Poovanur. Sri Swamigal located the senkulam and saw that on the west of the tank the ant hill being guarded by Sri Jatamuniswarar. Sri Swamigal saw this and could not locate the exact place of Sri Rama, he returned to his camp at Parampur. On the same night Sri Jatamuniswarar came in the dream of Sri Swamigal and informed that he is guarding the Vigrahas of his Lord. The Vigrahas of his Lord are just below the ant hill and asked Sri Bodhendra Swamigal to bring them out and install them in the temple as per the wishes of Sri Rama.
Jatamuniswarar had also stated that since Sri Rama is his guru, where ever Sri Rama is installed he should also be installed nearby. After the main pooja to his Guru Sri Rama he should be offered the next pooja.
Temple for Sri Kothanda Ramar
Sri Bodhendra Swamigal next day again visited Poovanur and as per the divine direction. The Saligrama vigrahas of Sri Kothanda Ramar, Sri Sita Devi, Sri Lakshmanar and Sri Anjaneyar were excavated from below the ant hill on the banks of Senkulam tank. Proper temple was planned in the near-by place and the idols of Sri Kothanda Ramar, Sri Sita Devi, and Sri Lakshmanar were installed near the tank facing south. Sri Jatamuniswarar was installed in the same complex, since he is ubiquitous there is no idol for him, and his presence can be felt in the vicinity of the temple complex.
Temple for Sri Anjaneya
Sri Bodhendra Swamigal has installed a saligrama vigraha of Sri Anjaneya and sanctified the spot in the banks of Senkulam tank where Sri Rama and parivara vigrahas were excavated from. The temple was built for Saligrama Sri Anjaneya.
Sri Anjaneya
Lord is seen here in unique standing posture. Both his legs are at ease with his left leg slightly bent forward. In His lotus feet Lord is wearing 'Thandai' [hallow ancklet] and 'nupuram' [decorative chain]. The folded hands of Lord are placed above the chest. The beauty of this Saligrama Anjaneya cannot be described in words. One must visit the temple to know and feel the presence of Lord.
Uniqueness of this temple
The temple is unique in many ways firstly it is built in the same spot where Sri Anjaneya was with Sri Rama for many years penancing before exposing Himself to the world. Secondly this temple was built by Bagavannama Bodhendrar a great devotee of Sri Rama for greatest Sri Rama devotee. Thirdly the vigraha of Sri Anjaneya is made of saligrama a rare fossil stone. Forthy the temple is in the bank of a vast tank with red lotus flowers. Fifthly this ancient temple is exclusively for the Rama baktha Sri Anjaneya.
---
Experience
Visit this temple and sit on a meditation in the evening time. The lotus feet of the Lord will come into focus without you asking for it. Feel the Rama bakthi in you is enhanced and return as determined person to pursue only the Dharmic ways in your life.
Ed [March 2013]
Revised April2019
SWAGATHAM
Welcome to the pages on Son of Wind God Vayu Lord Anjaneya Swami -Vayusuthan.
The intention of this site is to propagate the glory of Lord Anjaneya [Hanuman].
Though the intention of this site is to propagate the glory of Lord Anjaneya [Hanuman], kindly note that no material appearing in these pages could be reproduced in any manner without explicit permission from vayusutha.in
SRI HANUMAN
SRI HANUMAN THINKS DIFFERENTLY, THINKS FAST, THINKS AHEAD AND ACTS FOR SURE.
Our salutations to this Hanuman who always brings subham - everything that is good - for His devotees and eliminates the bad and the evil. He removes even the traces of bad thoughts and deeds from His devotees. i.e He makes them pure in words, thought and deed.