Sri Hanuman Ghari – Panch Pandav kila, Naimisharanya, Uttar Pradesh
B Sowmiya
Naimisharanya
Naimisharanya is a holy forest which is located in the present day Nimsar situated along the Gomti River in Sitapur district of Uttar Pradesh, India. The place is frequently mentioned in Puranic literature as well as both the Ramayana and the Mahabharata. There are many legends devoted to this holy place. One of the legends says that ancient sages went to Brahma to know the best suitable place to penance. Brahma made a ring from darba grass, rolled it down and asked the sages to perform penance at the place where the ring stops. The ring stopped in a quite place amid the forest along River Gomati presently known as Naimisaranya. The sages performed penance and at the end of it, Vishnu appeared to the sages and accepted their offerings. It is that the Naimisharanya forest still has Vishnu and all sages as trees. Thus Naimisaranya with the Chakra Theertham as pivotal point is considered holy.
Ramayana, Mahabharata and Naimisharanya
This place is famous for many temples including Naimishnath Devaraja temple dedicated to Vishnu and is one of the Divya Desams. According to the Vaishnava cult the temples where the Azhvars [Alwars] have sung in praise of the main deity is known as Divya Desam. The temple is counted as one of the eight temples of Vishnu that self-manifested and is classified as Swayamvyaktha Kshetra. This place finds mention in epics Ramayana, Mahabharata at different events in different versions.
There is temple in this holy place known as "Sri Hanuman Ghari – panch pandav kila" with Sri Hanuman as main deity, legend of which relates to both Sri Ramayana and Sri Mahabharata.
Sri Hanuman and Panch Pandav
After the Mahabharata war, the five brothers meditated on Sri Maha Vishnu to get rid of the sins accrued due to killing of their other half brothers. Panch Pandavs were advised by rishis to go to Naimisharanya for this purpose. After long meditation, they could not get the desired result and were disappointed. They were then adviced by the elders to invoke Lord Hanuman and take blessings from Him and then meditate upon Maha Vishnu.
Pandavas then meditated upon Sri Hanuman and had dharshan of the Lord Hanuman carrying Sri Rama, Lakshmana and Ahiravan the half brother of Ravana trample under His foot. Panch Pandavs took the blessings of Lord Hanuman and then meditated upon Lord Maha Vishnu and got rid of the sins accrued due to killings brothers during the war.
Sri Hanuman Ghari – Panch Pandav kila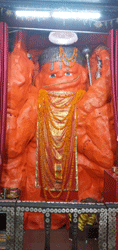 The place where Panch Pandavs had meditated upon Sri Hanuman and had dharshan of the Lord had built a temple for Lord Hanuman. Today this temple is known as "Sri Hanuman Ghari – Panch Pandav kila". There are three holy places known by the name "Sri Hanuman Ghari". At Prayagraj where the confluence [Sangam] of the rivers Ganga, Yamuna and Saraswati takes, there Lord Sri Hanuman is seen in reclined position. [Readers may like see the legend of this temple "Sri Bade Hanuman Mandir, Prayagraj" in our site.] At Ayodhya Hanuman Ghari Lord is seen in sitting posture. [Readers may like see the legend of this temple "Sri Hanuman Garhi, Ayodhya" in our site.] Here at Naimisaranya, Lord Sri Hanuman is seen in the standing posture.
Legend of Ahiravan
Ahiravan half brother of Ravana was king of patal lok [nether world] and his death is told in Krittivasi Ramayana. During the Ram-Ravan yud at Lanka, at one stage Ravana had lost all great warriors of his side and was afraid of loosing the war. He approaches his brother Ahiravan for helping him win the war against Rama. He reluctantly agrees to help Ravana.
Put to trap by Ravana, Ahiravan vows to offer Sri Rama and Lakshmana as a human sacrifice to his deity Mahamaya. Accordingly they device a plot and kidnaps Sri Rama and Lakshmana from the war field and brings them to Patal lok. With the help of Vibhishana, Sri Hanuman goes to Patal lok and kills Ahiravan. Thereby He rescues Sri Rama and Sri Lakshmana and bring back the brothers on His shoulders from Patal lok to the war field.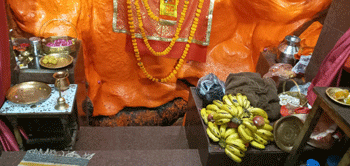 Above is the brief narration of Ahiravan and for full description the event kindly see "Sri Hanuman Dandi Temple, Bet / Beyt Dwarka".
Sri Hanuman of Naimisaranya
Sri Hanuman of this kshetra is facing south, in standing position. The huge magnificent and imposing posture of Sri Hanuman is treat to the eyes of the devotees. The statue of the Lord may be of twelve feet in height. Lord is seen holding Sri Rama on His left shoulder and Sri Lakshmana on His right shoulder. Ahiravana is seen trample under His foot.
---
Experience
Kshetra Naimisaranya is a place everybody chooses to undertake meditation from time immemorial. A visit to this temple and meditating upon the Lord is bound to energize the devotee with the power of righteousness.
Ed: May 2022
SWAGATHAM
Welcome to the pages on Son of Wind God Vayu Lord Anjaneya Swami -Vayusuthan.
The intention of this site is to propagate the glory of Lord Anjaneya [Hanuman].
Though the intention of this site is to propagate the glory of Lord Anjaneya [Hanuman], kindly note that no material appearing in these pages could be reproduced in any manner without explicit permission from vayusutha.in
SRI HANUMAN
SRI HANUMAN THINKS DIFFERENTLY, THINKS FAST, THINKS AHEAD AND ACTS FOR SURE.
Our salutations to this Hanuman who always brings subham - everything that is good - for His devotees and eliminates the bad and the evil. He removes even the traces of bad thoughts and deeds from His devotees. i.e He makes them pure in words, thought and deed.