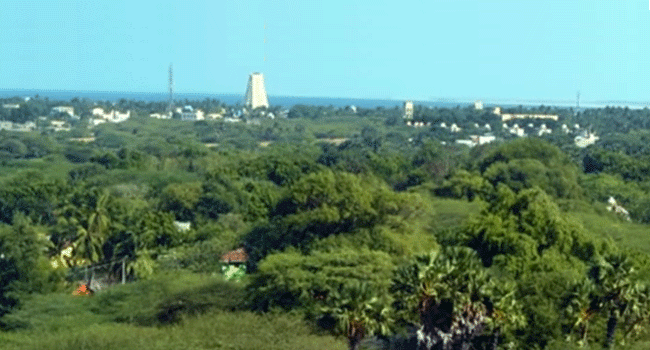 Sakshi Hanuman Temple, Gandhamadana Parvat, Rameswaram, Tamil Nadu
gk kaushik
Sri Jambavan
Many years ago I met a high ranking bank official in a satsangh. I was mentioning about a relative of mine who had by then retired from service from a different bank. "Ho! I know him well and he is Jambavan in 'foreign exchange and credit appraisal'. The expression 'Jambavan' used here has a different meaning than the expression 'guru' in modern usage. While guru denotes 'an expert' 'an skilled, experience', where in 'Jambavan' denotes 'exemplary' 'who inspires' 'who motivates'. This usage is based on an incident that took place in Ramayana. Jambavan, one of the 'Cheeranjeevi', [ever living] is the Brahma putra. He was there at the ocean's churning and had circumambulated Vamana many times while he gained the three worlds from Mahabali. He was in kishkindha as ruksha raja in Ramayana, and was also seen along with Krishna in Mahabharata.
Sri Jambavan inspires Sri Hanuman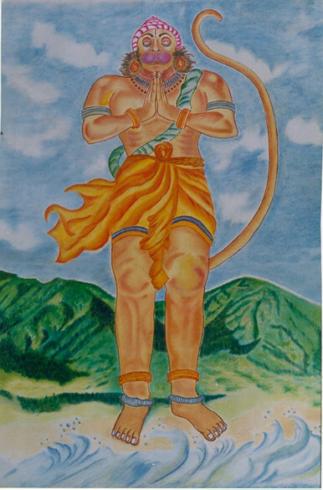 In Ramayana, when monkeys headed by Angata went on a search of Sri Sita in south direction, at one point of time they lost hope of finding Sri Sita. Then they met Sampaati who told about Ravana taking Sri Sita Ma to Lanka. Then the enthused monkeys continued their journey in the southern direction, as directed by Sampaati. When they came to the end of the land and faced the sea, none in the army could think of crossing the sea and going to Lanka. They were stuck with a hurdle as to how and who would be able to cross this vast ocean and find Sri Sita at Lanka.
Jambavan who is the most respected, knowledgeable and eldest in the army called Sri Hanuman and told him about his birth, his childhood and how he flew in the sky to catch the Sun thinking it to be a red fruit. Jambhavan in detail explained the events to Hanuman. Hanuman had fainted when he was struck by vajrayudha and all devadas came and gave him various boons. With this invincible blessing, Hanuman used to tease the sages in an amusing manner but without any bad intention. In order to get rid of this discomfort the sages were forced to curse Hanuman that he will not remember his might on his own unless others reminds him about his might. Having narrated about all this, Jambavan inspires Hanuman and comforted him that as he is son of Vayu he will be able to fly this length and cross the ocean.
Sri Hanuman crosses the ocean
With the inspiration of Sri Jambavan and Sri Rama's mission in mind Sri Hanuman went up the Mahindra parvat to leaps across the ocean. The word 'sa-leelam' meaning 'playfully' is used for describing the leap he took. He playfully i.e., without much effort crossed the ocean to reach Lanka.
He came across three hurdles while crossing the ocean. First the golden mountain named Mynaka asked him to take rest for a while at his place and it was turned down by Hanuman as he had a duty towards Sri Rama. Secondly, the obligation, Surasa the demon, expressed was duly executed by Hanuman cleverly. Thirdly, Simhika the demon who can capture objects from their shadow itself was obstructing his path. Hanuman overpowered her by his wit and killed her. Thus he crossed the ocean overcoming all the three hurdles and landed in Lanka. One has to overcome desire [represented by Mynaka] greed [represented by Surasa] and jealousy [represented by Simhika] to achieve any righteous goal.
Sri Hanuman in Lanka
Sri Hanuman entered Lanka putting his left foot forward, over powered Lankini the chief guard of Lanka, looked for Sita Devi at all places and found her in Asoka vana. Thinking of Sri Rama, Sita was seen wearing the same cloths amidst rakshasis. She was about to give-up her life and was portraying a picture of pity. Unable to bear the sight of Sita Ma, Hanuman took a miniature form/ appearance, eulogizing Rama in sweet tone. Thus attracting her attention he told her about himself and narrated how he had come to Lanka. As corroboratable evidence he showed the ring of Sri Rama and took the 'chutamani' of Devi as evidence for having seen her. In a quest to see Ravana and give him the message of Sri Rama, he destroyed the Asoka garden so that he would be produced in front of Ravana.
Sri Hanuman meets Ravana
He was produced before Ravana but before that he had killed many important members of Ravana's army, including Akshaya Kumar, son of Ravana. Although he had a boon from Brahma that he will not be restrained by Brahmastra he surrendered when Inderjit flashed Brahmastra on him. He was produced before Ravana, who did not heed to the advice of Hanuman to leave Sita Ma free from captivity. Ravana got wild on this and ordered to put fire on Hanuman's tail. Hanuman took an entour of Lanka with the fire on his tail resulting in burning of Lanka.
Sri Hanuman returns
Hanuman on a second thought of his act of burning Lanka was wondering as to what would have happened to Sita Ma. He went back to her and found out that she was safe. He was unaware that on hearing that fire had been put on his tail, it was Sita Ma who had prayed to Agni dev not to hurt and burn him. On seeing Sita Ma safe and having accomplished the mission entrusted by Sugriva and Sri Rama, he took leave of Sita Ma and took a leap from the lamba parvat and returned to the north shore.
Sri Hanuman meets Sri Jambavan and Sri Angata
Sri Hanuman took a leap over the sea from Mahindra parvat to travel southwards to Lanka. Jambavan, Angata and other vanaras had seen him leap from the parvat and were waiting for his return with the good news of having seen Sita Ma. After having seen Sita Ma at Lanka Hanuman took a leap from lamba parvat towards north. He landed near Mahindra parvat to meet his associates who had accompanied him in this mission. The anxious vanaras who heard the sound of Hanuman's coming could not control their enthusiasm and started making big sounds. They were sure from the speed and sound that Hanuman was producing, that the mission had been accomplished. They had become restless and edgy to hear the good great news from Vayusutha: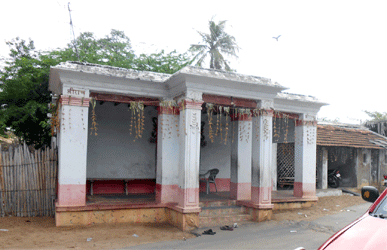 When he landed he was surrounded by all the vanaras along with Jambavan, the great and Angata, the vanara prince. Hanuman announced briefly "seen Sita" [दृष्टा सीतेति] [valmiki 5.57.35]. The joy saw no bound; everyone was over thrilled on hearing the news and was raveling in elation. Hanuman thus became the witness of having seen Sita Devi at Lanka and the first person to inject the hope of rescuing Sita Ma to everyone on Sri Rama's side.
Sri Hanuman Sakshi
The place where Hanuman first announced "dRuShtA sItA" and gave hope to all the vanaras is near Mahindra parvat locally known as Gandhamadana parvat. This is the tallest peak on Pamban Island which lies in the Palk Strait between mainland India and Sri Lanka. It is from here where Sri Hanuman had taken the leap over the ocean. This is where he had landed on coming back from Lanka. It is here where he had met all the vanara sena who were waiting for the good news. This is the place from where Rama had a view of Lanka before deciding to build a bridge.
Gandhamadana Parvat is situated three km to the north of Sri Ramanatha Swamy temple. There is a two storied hall, where Rama's feet are found as an imprint on a chakra (wheel).The temple had been built on the top of this parvat with Sri Rama-patham in the Gharbhagraha. The temple was built during Nayaks period. Devotees can have a fantastic Arial view of Rameswaram and Dhanushkodi from the second floor of this temple.
Sakshi Hanuman Temple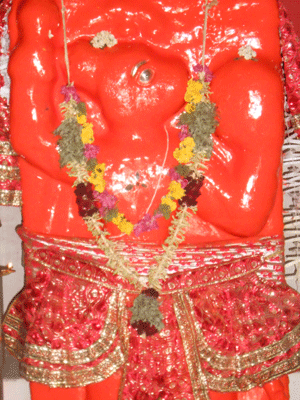 Just three hundred meters from this temple is a small temple where Sri Hanuman named 'Sakshi Hanuman' is worshipped. The temple is east facing and is simple in structure. First a verandah is seen and then the hall which is also gharbhagraha of the temple can be seen. It houses the main deity, Sri Sakshi Hanuman.Sri Hanuman's moortham, made of granite stone, is in 'ardha shila' format and is facing east.. The moortham is covered with sindooram, a traditional vermilion red paste. Sri Balakrishna vigraha is also seen here, which was brought here from Danuskodi.
Sri Sakshi Hanuman
Sri Sakshi Hanuman is seen walking northward with His left foot forward. 'Thandai' is seen in His both feet. By His side a piece of tree is seen which probably represents the weapon He had used during His first visit to Lanka. Near His knee an ornament can be seen. He is wearing 'kaupeenam' in the waist.the Broad chest and shoulders are showing His valor. In both His hands He is wearing Kankan. His left arm is holding a stone-boulder and with His right hand He blesses devotees by showing 'abhya mudra'. The kesha of the Lord is neatly bundled and seen as tuft [shika]. The tail of the Lord is seen above His head with slight inward curve and a bell is seen in the end of the tail. His bright calm looking eyes are mesmerising.
---
Experience
A Visit to this kshetra and dharshan of the Lord is bound to give confidence to achieve even the 'impossible' task. His 'mantra' which tells us that there is no better weapon than following the path of 'dharma' and chanting 'Rama' is surely felt here.
Ed: March 2022
SWAGATHAM
Welcome to the pages on Son of Wind God Vayu Lord Anjaneya Swami -Vayusuthan.
The intention of this site is to propagate the glory of Lord Anjaneya [Hanuman].
Though the intention of this site is to propagate the glory of Lord Anjaneya [Hanuman], kindly note that no material appearing in these pages could be reproduced in any manner without explicit permission from vayusutha.in
SRI HANUMAN
SRI HANUMAN THINKS DIFFERENTLY, THINKS FAST, THINKS AHEAD AND ACTS FOR SURE.
Our salutations to this Hanuman who always brings subham - everything that is good - for His devotees and eliminates the bad and the evil. He removes even the traces of bad thoughts and deeds from His devotees. i.e He makes them pure in words, thought and deed.