Sri Anjaneya, Kotai Perumal Kovil, Tirupattur, Tamil Nadu
gk kaushik
Tirupattur
Tirupattur is an ancient town of Tamilnadu. It is located on the Bangalore-Chennai main train route. Jolarpet junction is around eight kilometers from this town. Since the revenue from this place was high, way back in the British era, this place was considered Revenue circle. Even during Chola rule, it was known for the productivity and this area was known as "Sri Madhava Chaturvedi Mangalam". It was covered under as "Nigarili Chola Mandalam" during their rule. From the inscriptions so far surveyed by Archaeological Survey of India in Tirupattur, it is estimated that this town is more than 1600 years old. Recently in the year 2019 new district named Tirupattur had been formed with Tirupattur as its district headquarters by trifurcating Vellore district. Tirupattur District now consists of two Revenue Divisions, Tirupathur and Vaniyambadi, and four taluks, Tirupattur, Natrampalli, Vaniyambadi, and Ambur.
Name Tirupattur
The name Tirupattur means a group of ten villages/small towns. There exists a village called Aathiyur (Aathi means Beginning) in the southern fringes of the Town and Kodiyur (Kodi means End) in the northern fringes of the town indicating how this place had come to be known as "Tirupattur".
This place was under different rulers and known earlier by other names like Sri Madhava Chaturvedi Mangalam, Veera Narayana Chaturvedi Mangalam, Tiruperur and Brahmapuram (Brahmeeswaram). There is a second version which says that present name "Tirupattur" might have got derived from "Tiruperur".
Fort in Tirupattur
Around 800 years ago, there existed a fort in the eastern part of the town. It is not known who first constructed the fort and as to when it was demolished. But even today a huge area abutting a huge lake is known as fort area. Since the town had been under the rule of Vijayanagara Dynasty (Hoysalas), it is believed the fort would have come up during their period of rule. The nearby places like Ambur etc. was war prone area during eighteenth century. Atthe end of eighteenth century British had consolidated their hold in this region. British initiated steps to demolish all forts. In all probability during this time the fort could have been demolished.
The Mysorean army under Hyder Ali set off on its fresh round of campaigning against British at Vaniyambadi in the beginning of November 1767. The main army marched towards Vaniyambadi while another detachment had been sent earlier in the direction of Tirupattur. For some time Tirupattur was under the rule of Mysore also.
Kotai Kovil
As mentioned earlier this territory was under the rule of Cholas, Vijayanagara samrajya, Mysore kingdom etc. Both in Tirupattur and Ambur many temples for various Deities were built by these emperors during their regime. Even today there exist some of these temples built by them. Of such ancient temples that are well known in Tirupattur are Gajendra Varadharaja temple and Brahmapureeswarar both of which are located in fort area. Hence the first one is known as "Kotai Perumal Kovil" and the second as "Kotai Iswaran Kovil".
Kotai Perumal temple has Gajendra Varadharaja and His consort Perundevi Thaayar as the main deities. The processional deity is known as – Manathuku iniyaan. Other deities of the temple are Garudalwar, Namalwar, Lakshmi Narayanan, Venugopalan and Veera Anjaneya.
Kotai Iswaran temple has Brahmapureeswarar and His consort Tirupurasundari as the main deities. Srichakra is installed in the peedam of the Goddess Tirupurasundari which is unique to this temple.
Both these temples are very ancient temples of this town. Since stone inscription of Rajaraja Chola is found to mention about this temple, it is more than thousand years old.
Kotai Perumal Kovil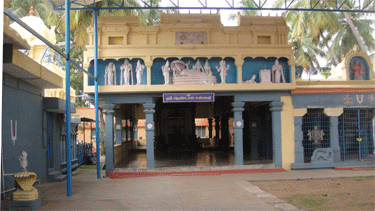 The temple is facing east. There is a huge dwaja stambam in front of the temple. Three tier rajagopuram welcomes the devotees. Firstly there are three sannidhis for Sri Lakshmi Narayanan, Sri Venugopalan and Veera Anjaneya are seen in a row facing east. The sannidhi for the main deity of Sri Gajendra Varadhan is behind facing west. The sanctum sanctorum for the main deity had come up first followed by rest of the sannidhis. Sri Varadharaja along with concerts Sridevi and Bhoodevi are seen in the sanctum. Brighu and Markandeya maharishis for whom Sri Varadaraja had given dharshan are also seen in the sanctum.
Legend of this temple Sri Mahavishnu had saved Gajendra from the clutches of crocodile and given salvation to Gajendra at this kshetra. The main deity is hence known as Gajendra Varadaraja Perumal. Sages Markandeya and Brigu had made penance here and had the divya dharshan of Lord Mahavishnu. The scene depicting "Gajendra Moksham" had been carved in one of the pillars constructed during Nayaks' period.
The deities are installed as per 'pancepara pradishta' and poojas in this kshetra is conducted as per vaikhanasa agama. This temple is an 'abhimana kshetra'of 'Divya desam' Sri Parthasarathy Swami temple located in Chennai.
Anjaneya worship
This town had a fort and under the rule of Hoysalas, Vijayanagara and Mysore dynasty. All these rulers are devotees of Sri Anjaneya. All these rulers had seen Sri Anjaneya as the protector of their boundaries. It was a practice to build a temple for Sri Anjaneya at the boundaries of each village. For every fort, the rulers had built a temple for Anjaneya. The worship of Sri Anjaneya was at peak during their time. Therefore it is no wonder that this town had many separate temples for Sri Anjaneya and special sannidhi for Sri Anjaneya in other temples. One such separate sannidhi is found in this temple for Sri Anjaneya who is known by the name Sri Veera Anjaneya. No sooner the devotee enters the temple through rajagopuram three sannidhis are seen as mentioned earlier. The northern most sannidhi is Sri Veera Anjaneya sannidhi.
Sri Veera Anjaneya
The murtham of the Lord in standing pose is made of hard granite and is of eight feet in height. The deity is sculpted with 'prabhavalli' on a single stone in the embossed style known as 'ardha shila'.
Lotus feet of the Lord seen stepping northward has nupur and thandai. His strong calf muscle and sturdy thigh reflects His physical strength. Lord as a brahmachari is wearing loin cloth [kaupeenam]. Tail is seen raised and goes above His head and since the tail is long, it ends like a coil. He is holding the stem of Saugandhika flower in His left hand gracefully near His left hip. The yet to bloom flower is seen above the left shoulder. Right hand of the Lord is seen raised and showing 'abhaya mudra', bestowing fearlessness to the devotees. He is wearing kangan in his both wrists and angad also known as keyuram in the upper arm. In His broad chest He is wearing two broad mala with pendent and another thin long mala. Close to neck there is a necklace. The yagyopaveet is seen across his chest. He is wearing Kundal in His ears which are touching the shoulders. His kesam is combed neatly, plaited and held tightly by a knot. In the upper portion of the ears 'karna pushpam' is seen. The elegant nose of the Lord is attractive and makes the cheeks more gorgeous. The puffy cheeks are glowing making His eye more attractive. The brilliant eyes of the Lord glows with compassion thus bestowing benevolence to His devotees.
---
Experience
Dharshan of Sri Perumal of this kshetra who liberated the king of elephants from worries and gave moksha and dharshan of His devotee Sri Anjaneya who welcomes the His devotees to this kshetra is sure to make the devotee free of all fears of this world and liberate from all worries.
Ed: February 2022
SWAGATHAM
Welcome to the pages on Son of Wind God Vayu Lord Anjaneya Swami -Vayusuthan.
The intention of this site is to propagate the glory of Lord Anjaneya [Hanuman].
Though the intention of this site is to propagate the glory of Lord Anjaneya [Hanuman], kindly note that no material appearing in these pages could be reproduced in any manner without explicit permission from vayusutha.in
SRI HANUMAN
SRI HANUMAN THINKS DIFFERENTLY, THINKS FAST, THINKS AHEAD AND ACTS FOR SURE.
Our salutations to this Hanuman who always brings subham - everything that is good - for His devotees and eliminates the bad and the evil. He removes even the traces of bad thoughts and deeds from His devotees. i.e He makes them pure in words, thought and deed.