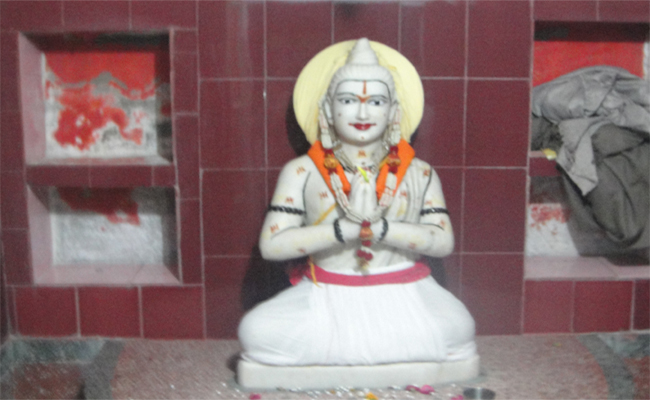 Sri Hanuman Temple, Bharat Hanuman Milan Mandir, Bharatkund, Nandigram, U.P.
gk kaushik
Valmiki Ramayana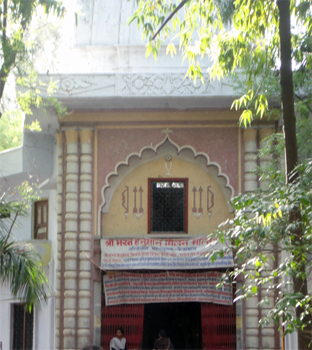 Short narration of the entire Ramayana is told in Bala Kanto's first chapter of Valmiki Ramayan. All important events that took place in the life of Sri Rama is covered in this chapter. The hundred slokas contained in this chapter is popularly known as "Samkshepa Ramayanam" and regularly recited by many Sri Rama devotees daily. This is in the form of a conversation between Sages Valmiki and Narada. The first eighteen slokas narrates the virtues of Sri Rama. The last ten slokas tells about the boons that are bestowed on devotees.
Pitru vakya paripalana
Sri Rama goes on exile to forest in order to honor the promise made by his father Dasaratha to mother Kaikeyi. Sri Bharata was to made prince instead of Sri Rama as per the wishes of Kaikeyi. Sri Sita and Sri Lakshmana accompany Sri Rama to the forest. They proceed to the forest in the absence of Sri Bharata. Dasaratha dies out of grief. When Sri Bharata returns to Ayodhya, he was not prepared to accept the kingdom since he says it is due only to Sri Rama.
Sri Bharata meets Sri Rama
He goes to forest in search of Sri Rama along with the three queens and other elders so as to convince Sri Rama to accept the kingdom and return to Ayodhya.
He requests Sri Rama to return to Ayodhya and accept the kingdom. Sri Rama the righteous sights dharma and convinces Sri Bharata that he will not be able to accept the kingdom without completing the fourteen years of exile. Sri Bharata finally accepts the valuable points made by Sri Rama persuading him to return to the capital. Sri Rama hands over his sandals to Sri Bharata as symbol of authority for ruling the kingdom.
Although disappointed in his mission to take Sri Rama back, Sri Bharata worshipped the sandals of Sri Rama and ruled the kingdom from Nandigrama, awaiting his return.
Sri Rama's return from exile
Having won the war against Ravana and securing Sita from Lanka, Sri Rama obtained a boon from the devatas (who had come to see him) to revive the lifes of all monkeys who had fallen in the battle. . He set out for Ayodhya accompanied by friends in the pushpaka Vimana (aerial car). Sri Rama who was a delight of all whose strength lies in truth went to the hermitage of Bharadwaja and sent Sri Hanuman to Sri Bharata as to inform about his returning to Ayodhya. He had further instructed him to ascertain the mood, mind and perception of Sri Bharata, and return quickly, before Sri Rama had not gone for a long distance towards Ayodhya.
Sri Hanuman meets Sri Bharata
Sri Hanuman saw Sri Bharata at Nandigram the place away from Ayodhya where he was stationed, administrating the kingdom on behalf of Sri Rama. Hanuaman saw Sri Bharata, living in a hermitage, with the bark trees and the skin of a black antelope wrapped round his waist, looking miserable and emaciated, wearing matted locks on his head, his limbs coated with dirt, afflicted through separation from Rama his elder brother, subsisting on roots and fruits, with his senses subdued, engaged in austerities, protecting virtue, , and well disciplined. His thoughts were fixed on the supreme spirit, with a splendour equalling that of a Brahmanical sage, ruling the earth after placing the wooden sandals before him, protecting the people from all peril and attended by the upright ministers, priests and by clever troop-commanders, all clad in saffron robes.
Sri Bharata embracing Sri Hanuman
With joined palms in salutation, Sri Hanuman informed him about all that happened to Sri Rama, and requested him to relinquish the dreadful anguish. Within a while, he will be meeting Rama, the elder brother. Having killed Ravana and got back Sita, Rama is returning with his mighty friends, his purpose duly accomplished.
On hearing the words of Sri Hanuman, Sri Bharata the son of Kaikeyi, felt delighted and sank all at once to the ground as he fainted out of sheer joy.
Soon he got up from the swoon and within a while regaining his consciousness, embracing Sri Hanuman with eagerness, the illustrious Sri Bharata bathed him with copious tear-drops born of delight and as such, other than those born of anguish.
Nandigram
This event that took place at Nandigram located on Sultanpur road, and is fifteen km from Ayodhya. It is also known as Bharatkund today. This is the place from where Sri Bharata ruled Ayodhya, worshiping the sandals of Sri Rama as representative of Sri Rama the king. It is the place Sri Hanuman met Sri Bharata and informed him about the good news of Sri Rama's home coming.. Today it is a simple village with a pond and few temples. Not all Sri Rama devotees who visits Ayodhya visits this place where from Sri Rama had ruled even while in exile in the forest.
Sri Bharat Hanuman Milan Mandir
There are few places in this village marked as "Sri Bharat Thapo sthal" and "Sri Bharat Milan Mandir" "Sri Ram Janaki mandir" etc., all claiming to be "Pracheen". There is a mandir on the banks of Bharat kund known by the name "Sri Bharat Hanuman Milan Mandir".
The serene atmosphere of the village and greenery all around makes the devotee takes to those time when pious Sri Bharata would have meditated upon Sri Rama's return from exile, discharging the duty of administrating the kingdom on behalf of Sri Rama with utmost devotion.
The main sannidhi of this temple has Sri Bharata embracing Sri Hanuman vigraha made of white marble. On the side of this one can see a small sannidhi for Sri Hanuman. There is another shrine for Sri Hanuman and there is a sannidhi for Sri Bharata in the complex. Separate sannidhi for "Sri Rama Paduka". Separate sannidhi for Sri Rama parivar is also in the complex.
---
Experience
A visit to this place and to this temple is sure to give pious thinking and utmost responsibility in discharging ones duty.
Ed: August 2021
SWAGATHAM
Welcome to the pages on Son of Wind God Vayu Lord Anjaneya Swami -Vayusuthan.
The intention of this site is to propagate the glory of Lord Anjaneya [Hanuman].
Though the intention of this site is to propagate the glory of Lord Anjaneya [Hanuman], kindly note that no material appearing in these pages could be reproduced in any manner without explicit permission from vayusutha.in
SRI HANUMAN
SRI HANUMAN THINKS DIFFERENTLY, THINKS FAST, THINKS AHEAD AND ACTS FOR SURE.
Our salutations to this Hanuman who always brings subham - everything that is good - for His devotees and eliminates the bad and the evil. He removes even the traces of bad thoughts and deeds from His devotees. i.e He makes them pure in words, thought and deed.