Sri Anjaneya Temple, Vennai Thazi Mandap, Mannargudi, T Nadu
gk kaushik
Mannar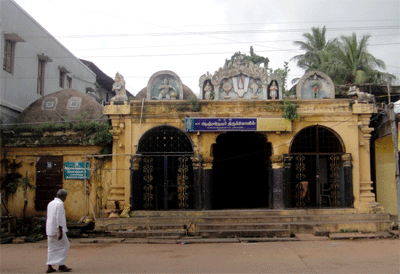 The word 'Mannar' is found to be used in south India widely in context with Lord Sri Krishna. Especially the place or the deity where the main deity of the temple is Sri Rajagopala Swamy, that place's name is found in connection with this word. The word is used in context where Lord Sri Krishnan embraces the cow with his one hand and a cane whip on the other hand as 'Vetraikapani' [वेत्रैकपाणि]. Although Sri Krishna is a shepherd associated with cows, He is also known for the royal look and majesty, hence called Raja Gopalan.
The word 'Mannar' in Tamil means enemy or foe in accordance to 'chudamani nigandu'. But the word 'mannanar' as per abitaana chinthamani means Lord of Veera Narayanapuram, the Lord of Kattu Mannargudi. In all probability the word 'Mannanar' used for denoting Lord Maha Vishnu has in due course become as "Mannar'.
In Sri Villiputhur, the main deity is known as 'Ranga Mannar'. In MannarKovil near Azwar kurichi in Tirunelveli district, the deity is Sri Rajagopala Swamy. Tirunelveli Pallayamkottai Sri Rajagopala Swamy is known as "Azagiya Mannar". In Tirunelveli, Vijayanarayanam, there is temple for Sri Rajagopala Swamy known as "Azagiya Mannar". From all this we can infer that the word is connected with Gopalan, also known as Sri Rajagopalan.
Mannargudi
Mannargudi town of Tiruvarur is the largest town of the district and fourth largest in the Delta region. Mannargudi was founded as an agraharam village by the Medieval Cholas during the 7th century. The town was subsequently ruled by various dynasties including the Chola, Vijayanagar Empire, Delhi Sultanate, Thanjavur Nayaks, Thanjavur Marathas and the British Empire. Mannargudi is known for the Rajagopalaswamy temple. This kshetra is known as Raja Mannargudi in order to differentiate from Kattu Mannargudi.
Sri Rajagopala Swamy Temple of Mannargudi
Vedaranyam is known for its beautiful lamps, Thiruvarur is known for its beautiful chariot, Thiruvidaimarudur is known for its beautiful streets, and Mannargudi is known for its beautiful walls. Those beautiful walls are that of the Rajagopalaswamy Temple, located in Mannargudi, the Rajathi Raja Chaturvedi Mangalam.
The temple was first constructed by Kulothunga Chola I (1070-1125 A.D.), with bricks and mortar. The place Mannargudi is termed Sri Rajathi Raja Chathurvedhi Mangalam and the town started to grow around the temple. Successive kings of the Chola Empire, Rajaraja Chola III, Rajendra Chola III and kings of Thanjavur Nayaks, Achyuta Deva Raya expanded the temple. The history of Mannargudi in centered around the the Rajagoplaswamy temple.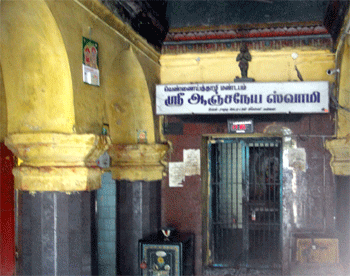 Before entering the Rajagopuram which is facing east, there is a Garuda Sthamba, a monolithic pillar, 50ft tall in the forefront with a miniature Garuda shrine on the top. It is one of the main attractions of the temple. The temple has a large Rajagopuram facing east. The main Garbhagraham is located axial to the Rajagopuram, the dwaja sthambha, and series of pillared halls. The image of the presiding deity Sri Rajagopala Swamy is in a seated posture with Sathyabhama and Rukmini on either of his sides. The temple complex has 16 gopurams, 7 prakarams, 24 shrines, seven mandapams and nine sacred theerthams. The utsava (processional deity) bronze figure is from the Chola period. The temple tank is called Haridra Nadhi and is on an area of 23 acres, making it one of the largest temple tanks in India. The shrine of Hemabhujavalli (Sengamalathayar in Tamil) is located in the second precinct around the sanctum. The temple has a thousand pillared hall.
Vennai Thazhi Festival of the temple
Eighteen days major festival Brahmotsavam is celebrated during the month of Panguni [solar calendar]. While each day is special for one or other reasons the car festival is a major attraction. There is another festival which attracts the devotee equally is 'navaneetha sevai" or more popularly "Vennai Thazhi" festival. This unique festival for Sri Rajagopala Swamy is celebrated in this temple on the previous day to car festival. On the sixteenth day of Brahmotsavam Swami will travel in a palanquin from the temple to a separate mandap which is around two kilo meters away. Swami is dressed as a child who is holding a pot full of butter in His left hand and taking the fresh butter from the pot with His right hand. Swami is in crawling posture and therefore devotee can have dharshan of both His charanavindam. Devotees participate in this festival in large number by offering fresh butter to Gopalan and to have dharshan of His charanam.
The procession ends up in a mandap known as "Vennai Thazhi Mandapam". Throughout the route devotees offer butter to Gopalan and have dharshan of His Lotus feet. Once at the mandapam Swami will reside there and in the evening He comes back to the temple on "Equestrian vahanam" – horse back dressed as Raja-king.
Vennai Thazhi Mandapam as Sri Anjaneya Temple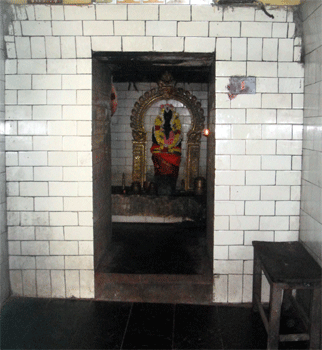 This mandap is constructed in typical Thajavur style with huge big pillars. The façade has three decorative arches and the center one has changu, chakram and tiruman, flags by two maharishis Gopilar, Gopralayar. There are two more arches, one on right with "vennai thazhi" Krishnan and on the left has Anjaneya figures. In the mid of this huge mandapam there is a sannidhi for Sri Anjaneya. Devotees can make parikrama of the sannidhi as there is a wide path of circumambulation. Lord Anjaneya of this temple attracts large number of devotees, especially on Saturday.
Sri Anjaneya
The murtham is of about five and half feet in height. Sri Anjaneya is facing east and is seen in standing posture as Bhaktha Anjaneya. Lord's lotus feet are adorned with hollow anklet known as "Thandai" and a decorated chain anklet known as "nupur". Near His knee an ornament is seen. He is wearing dhoti in 'kacham' style and His strong thighs are seen. His dothi is held by another cloth around His waist. Folded hands held near bosom with palms together in Anjali mudra. He is wearing 'Kankan' in His wriest and 'keyur' [also known as 'angad'] in upper arm. Two chains with beads and yagnopaveetham are seen on His bosom. In His long ears He is wearing kundalam. Long eyebrow enhances the beauty of bright eyes further. Neatly combed kesam which runs behind His back and the long tail with the coiled end near His feet are not visible to the devotees.
---
Experience
Sri Vidhya Rajagopala Swamy, who is seen as Sri Rama dressed in stark, on the fifth day of brahmotsava celebration, honors Sri Anjaneya by His visit with butter all over His body as 'Navaneetha choran' on the fifteenth day of brahmotsavam. Sri Anjaneya of 'vennai thazhi mandapam' is no less a lover of butter. Both will bless the devotees with 'navaneetham' a symbol of devotion to the Lord.
Ed: December 2020
SWAGATHAM
Welcome to the pages on Son of Wind God Vayu Lord Anjaneya Swami -Vayusuthan.
The intention of this site is to propagate the glory of Lord Anjaneya [Hanuman].
Though the intention of this site is to propagate the glory of Lord Anjaneya [Hanuman], kindly note that no material appearing in these pages could be reproduced in any manner without explicit permission from vayusutha.in
SRI HANUMAN
SRI HANUMAN THINKS DIFFERENTLY, THINKS FAST, THINKS AHEAD AND ACTS FOR SURE.
Our salutations to this Hanuman who always brings subham - everything that is good - for His devotees and eliminates the bad and the evil. He removes even the traces of bad thoughts and deeds from His devotees. i.e He makes them pure in words, thought and deed.