Sri Anjaneya, Sitarama Anjaneya Mataalayam, behind alankar theater, Madurai, Tamil Nadu.
gk kaushik
Saurashtra :
Saurashtra peninsula is bound on the south and south-west by the Arabian Sea, on the north-west by the Gulf of Kutch and on the east by the Gulf of Khambhat. The term Saurashtra is derived from Sanskrit term "Saurashtra" which means 'a good state'. The earlier name was Kathiawad, the land of Kathis, who are believed to be the early inhabitants of this region.
The Saurashtra region has a wide variation due to its topographic conditions. The soil of this region is varied and rocky. Except for some small pockets of Junagadh, Rajkot and Bhavnagar districts, the remaining part of the region is deficient in rainfall. Due to this particular climate and relief, different types of soils are found in the Saurashtra region. The leading crops of Saurashtra are cotton, jowar, bajra, wheat, oilseeds (Such as groundnut caster seeds, seasum) paddy, sugarcane, gram, udad, mag, barley and chana. Black and Alluvial soil cover major part of the region and is conducive for groundnut and cotton growing. Both Groundnut and cotton grown in this region were special because of the soil condition. Cotton grown here was suitable for making thinner threads more or less like that of a silk.
This region remained as Saurashtra state after independence, but during state reorganisation this region merged with Bombay and finally into Gujarat.
Saurashtra Language:
Today this language which is spoken in these regions is still preserved by the people who had been driven out of the region as an aftermath when Mohamed of Ghazini attacked the area of Somnath in Kathiawar for more than 17 times between 1000 and 1027 AD. As the region was plundered of all its wealth, the people started migrating to other places in search of work. Whichever kingdom was offering patronage to them they felt safe in moving over to that country. Thereby they continued to travel throughout India.
The best portion of this migrating community was they continued to speak their language. After traveling and settling at some place they were forced to leave the place and look for a peaceful place, since at that time the invasion of Islamic forces continued from north. After establishment of Vijayanagar Samrajya with Hampi as its capital, peace prevailed in south. The Saurashtrans who started their journey from their region finally started settling in south India. Their seven hundred years of travel history is traced with the help of their language today.
Saurashtrans of Madurai:
Saurashtrans who started their journey around thousand years back from their region had undergone tremendous turmoil in their lives and was forced to take-up a profession for their livelihood. As many of them are good at the art of making fine yarn and dyeing of cloth and to continue their journey, many of them choose upon weaving and making silk thread and fine cotton yarn. After leaving their region they were known as weaving community and today they are called "patnulkarar" meaning "Silk thread people". Because of the fine craftsmanship they possessed, royals gave them patronage. Thus they found support of Royals of Madurai and the community settled in Madurai in large numbers.
They have been maintaining a good number of temples at various places they had settled, so also at Madurai. We will try to locate the temples for Sri Anjaneya maintained by this community at Madurai.
Sri Sitarama Anjaneya Temple:
A simple and beautiful temple in Mahalingam servai lane, behind Alankar Theater is one of the old temples built initially for Sri Anjaneya in Madurai and maintained by Saurashtrans.
Legend of the temple:
The dvaita philosophy of Sri Madhvacharya was practiced and accepted by many during the regime of rulers of Vijayanagar. With the influence and practice of this philosophy, the saints and scholars of this faith travelled to many places preaching the Dvaita philosophy. There were many organisations called Madhva mutts who had taken upon them the practice and preaching of dvaita philosophy. One such mutt is Sri Madhava Theertha Mutt with their headquarters at Thambhalli near Kolar. The mutt is known as Sri Madhava Theertha mutt or Tambihalli mutt or Masjjigehalli mutt. This mutt was founded by Sri Madhuhari Theertha. Sri Rama Madhava Theertha was 13th Pontiff of this mutt for twenty years from 1720. During one of his vijaya yatra he had visited Madurai. During his stay in Madurai the Saurashtra Brahmins of Madurai were initiated into the Madhva Deeksha by the visiting Guru.
On this great occasion Sri Rama Madhava Theertha of Sri Madhava Theertha Mutt had consecrated Sri Mukhya prana [Sri Anjaneya]. Although the exact date of consecration of Sri Anjaneya is not known, as the Pontiff could have visited anytime between 1720 and 1740, it could be safely said that the temple is at least two hundred and eighty years old. Sri Anjaneya of this temple continues to be worshiped by the Saurashtra Brahmin followers of the mutt from the consecration of the deity.
Maintenance of the Temple:
Followers of the Sri Madhava Theertha Mutt of Madurai formed a unit and named it as Madurai Vedaathyayana Sabha in the year 1924. The Sabha takes care of all the needs of the Saurashtra Brahmins in addition to maintaining the temple of Sri Anjaneya consecrated by Sri Rama Madhava Theertha.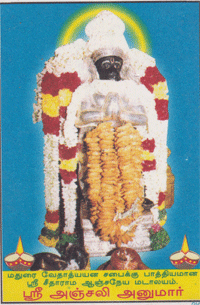 Today the temple has separate sannidhi for Sri Sita Rama Lakshmana, Sri Santhana Krishnan, Sri Vidhya Ganapathi, and Sri Ayappa apart from Sri Anjaneya in the main Garbhagraham. There is a separate Sannidhi for the great Saurashtra saint Sri Natana Gopala Nayaki Swamigal. Samprokshanam for the newly constructed sannidhi and swarna kalasa abishekam was conducted as per the Vedic rules on 4th of February 2001.
Sri Anjaneya Swami
Sri Anjaneya Swami of this kshetra is in standing posture. He has His right leg placed an inch forward than the left. His hands are in Anjali mudra. Lord is wearing Thandai [anklet] on both His lotus feet. Robust calf muscle and strong thighs of the Lord are startling to look at. Lord is wearing loincloth [kaupeenam] over which He is wearing waist cloth. His bosom is beautified by the ornaments He is wearing, a necklace close to neck and a two threaded mala. The sacred thread [yogyopaveedam] is seen flowing across His left shoulder and boosam. The ear ring He is wearing is just touching His shoulders. On the top of the ear Lord is seen wearing 'karna-pushpam'. Neatly tied hair is held properly by an ornament which also look like a small crown. Lords eyes are looking towards His devotee with love, care and compassion.
---
Experience
One look at the deity standing on a high pedestal brings peace and passion to the devotee and elevate him and his thoughts to new high is for sure.
Ed: May 2020
SWAGATHAM
Welcome to the pages on Son of Wind God Vayu Lord Anjaneya Swami -Vayusuthan.
The intention of this site is to propagate the glory of Lord Anjaneya [Hanuman].
Though the intention of this site is to propagate the glory of Lord Anjaneya [Hanuman], kindly note that no material appearing in these pages could be reproduced in any manner without explicit permission from vayusutha.in
SRI HANUMAN
SRI HANUMAN THINKS DIFFERENTLY, THINKS FAST, THINKS AHEAD AND ACTS FOR SURE.
Our salutations to this Hanuman who always brings subham - everything that is good - for His devotees and eliminates the bad and the evil. He removes even the traces of bad thoughts and deeds from His devotees. i.e He makes them pure in words, thought and deed.