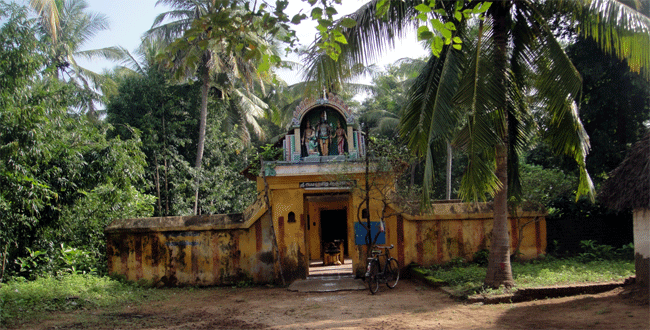 Abhaya hasta Sri Anjaneya Temple, Tirukodikaval
Thanjavur District, Tamil Nadu.
gk kaushik
The river Kaveri
The river, Jeevanadhi Kaveri, originates in Kodagu, Karnataka. The place where the river originates is known as Tala Kaveri. After traveling around three hundred eighty five KM, the river reaches Tamil Nadu at Hogenakkal near Mettur.
From Hogenakkal upto Bhavani the river runs southwards. The river Bhavani which originates south west of Otty in the Nelgiri hill range amalgamates with Kaveri at the place called Bhavani. From there onwards the course of the river is eastwards and Noyyal and Amaravati rivers also amalgamates with Kaveri. She becomes broader and the flow of the river is so majestic that the sight of it will make one spell bound. Near Tiruchirappalli Kaveri splits into two and the broader portion of the river assumes the name "Kollidam". Kaveri and Kollidam continue their journey. While Kollidam River runs parallel to Kaveri upto Kabisthalam, from thereon it changes its course and joins the Bay of Bengal east of Chidambaram. Kaveri continues its journey through Kumbakonam, Thirukodikaval, and Mayavaram and then enters Bay of Bengal at Poompuhar.
These rivers make the Thanjavur delta region rich and fertile that this delta is known as the "rice bowl of south India".
Sacred Place
In sanadhana dharma all rivers are worshiped and are considered as sacred. While all rivers are sacred, Ganga and Kaveri are worshipped as the most sacred rivers. Any river that takes a northward course at a particular place, then that particular place or location is treated as the most sacred kshethram. In the case of Ganga, Varanasi is the place where Ganga takes a northward course hence it is celebrated as the most sacred place. In the case of Kaveri there is a kshetram "Thirukodikaval" where the River Kaveri takes a northward turn.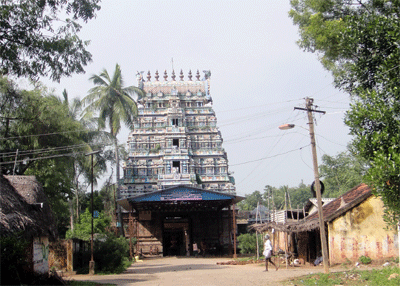 Thirukodikaval
This place is known for the famous Tiru Kodiswarar Temple. The temple is located on the banks of Kaveri which takes a northward turn from here. The main deity of this temple Sri Kodiswarar had been sung by Nayanmargal Appar and Sambandar.
The temple for Sri Kodiswarar was built by Pallava king Nandivarman during 750 AD. The brick work of this temple had been reconstructed as stone structure by Sembiyan Mahadevi, the mother of Uttama Chola in 979. The greatest service she had done is to reestablish all the inscriptions right from 750 AD to that day. The inscriptions thus reestablished by her had thrown lot of lights on the history of that period. These temple inscriptions are a treasure for the Archeologists and historians.
Name significance
Tiri-koti means three crores. There are three crore "Mantras" [chanting the incantation] and each mantra has a deva. These three crore devas were very proud of their power. In arrogance they even challanged Maharishi Durvasa that without their power nothing will fructify. In the course of war of words Maharishi Durvasa cursed these three crores devas. To redeem from the curse acquired by them they were asked to pray to Lord Siva on the bank of "uttravahini" Kaveri. They located this kshetra where Kaveri is taking northward course and worshiped Siva here.
Since three crore Devas had prayed here to Lord Siva and got rid of the curse the deity is known and worshiped as "Kodiswara". The kshetram got the name Tri-Kodi-Ka which at latter days came to be known as "ThiruKodikaval".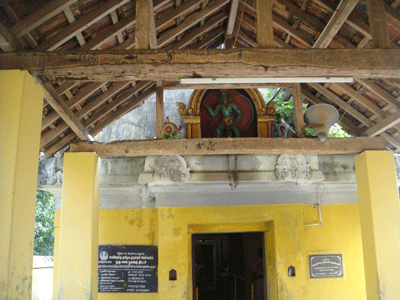 Village of Vedacharyas and exponents
This kshetra is where devas of Mantras got liberated from their proud, curse, and sins. Hence the pundits who are scholars of Veda had made this village as their dwelling place. The rulers who were the patrons of Veda also helped considerably towards this goal. It is noteworthy that during Thanjavur Nayak's rule and especially during Achuthappa Nayak and Raghunatha Nayak's regime many Vedic scholars and musicologists were patronized. Many scholars during this era with the patronisation of Govinda Dikshita, a minister of these two rulers, had come and settled in Thirukodikaval.
Agraharam and temple
Thus the Agraharam of Thirukodikaval was a center of learning of Veda and Music. As every agraharam had a temple of its own, Thirukodikaval also had one. It is a temple for Sri Anjaneya who is a 'nava-vyakarna pandit' and an exponent of music [see 'Hanumath veena' in our site]. It is natural that these scholars of Veda and Music chose Sri Anjaneya as deity for their worship.
Temple of Sri Anjaneya
The temple for Sri Anjaneya is at the enterance of the Agraharam and very near Sri Kodiswarar temple. The temple is opposite to the village post office. The temple has a compound wall and is facing west. The entrance to the temple is through an arch which is crowned by Sri Rama parivar stucco made using lime and mortar. As one enters the temple compound one can see a long tiled porch with a bali peedam in the middle. After this there is a terraced mandapam which has an arch depicting Sri Anjaneya and then there is the Garbhagraham. On the three sides of the vimanam, Bhakta, Sanjeevi and Veera Anjaneya statues are there. There is a Tulsi madam and a well from where water is drawn for pooja.
One can have dharshan of Sri Anjaneya from the entrance of the temple itself. As was the practice of those days, Sri Anjaneya of any ancient temple was named Sri Sanjeevirayar, so this temple deity was also known as Sri Sanjeevirayar. But today the temple is known by the name "Sri Abhaya hasta Anjaneyer kovil". The 'utsava murti' [Sri Bhakta Anjaneya] is also present in the Garbhagraham.
Sri Anjaneya
Sri Anjaneya is in Tribunga standing posture, looking graceful. Both His lotus feet adorn Thandai and Nupuram. His hip is adorned with a decorative belt. His left hand is resting on the left thigh holding the stem of Sowgandika flower. The yagnopavitam is seen across his chest. There are three malas on His neck. His streched right hand is showing 'abhaya mudra'. His face is slightly slanting rightwards and is bright. He is wearing kundalam in His ears, which are touching His shoulders. His kesam is neatly combed and braided. His eyes are glowing with mercy, blessing the devotee. The compassion thus showered can be felt in His presence by seeing His eyes.
---
Experience
A prayer to Abhaya hasta Anjaneya, who showers compassion on His devotees, is bound to bring lasting happiness in one's life.
Ed: April 2020
SWAGATHAM
Welcome to the pages on Son of Wind God Vayu Lord Anjaneya Swami -Vayusuthan.
The intention of this site is to propagate the glory of Lord Anjaneya [Hanuman].
Though the intention of this site is to propagate the glory of Lord Anjaneya [Hanuman], kindly note that no material appearing in these pages could be reproduced in any manner without explicit permission from vayusutha.in
SRI HANUMAN
SRI HANUMAN THINKS DIFFERENTLY, THINKS FAST, THINKS AHEAD AND ACTS FOR SURE.
Our salutations to this Hanuman who always brings subham - everything that is good - for His devotees and eliminates the bad and the evil. He removes even the traces of bad thoughts and deeds from His devotees. i.e He makes them pure in words, thought and deed.