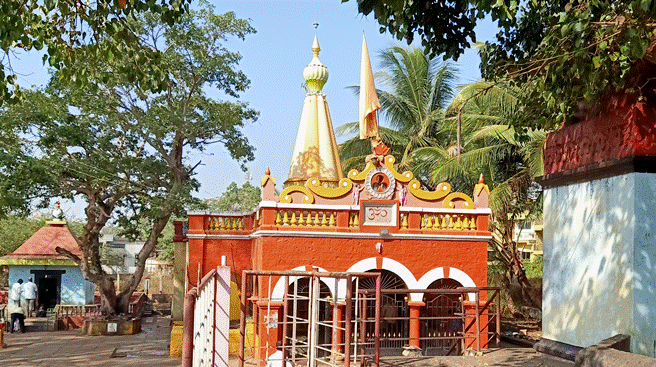 Swayambu Mal Maruti Mandir, Belgavi, Karnataka
dr. kausalya
Belgaum / Belgavi
Belgaum is officially known as Belgavi and is the district head quarters of Belgaum district. This town located at the northern fag end of the state and Goa on West and Maharashtra on West and North-West forming the border States. It is one of the ancient towns of Karnataka. It is declared as the second capital of Karnataka.
Originally Venugrama (town of bamboos), Belgaum City is a treasure house of cultures due to its peculiar geographical location. Nestling in the foothills of the enchanting Sahyadris (Western Ghats), with River Markandeya, an important tributary of the Ghataprabha rises near Belur village in Khanapur taluk and runs in a North east direction through Belgaum. Its natural beauty & environment are a world of contrast & harmonies with swift & kaleidoscopic change in topography, vegetation and climate, making it a veritable paradise or a "poor man's Switzerland.
Rulers of Belgaum
During twelfth century Ratta dynasty shifted from nearby Saundatti and founded this city in place covered with bamboo [venu in Sanskrit] trees and named the city as "Venugrama" and it was latter called "Venupura". Pillars found inside Belgaum fort have Kannada inscriptions in Nagari scripts, one from 1199 by Ratta King Kartaveerya IV.
Belgaum then on was under different rulers like Yadava dynasty, Khalji dynasty, Vijayanagara Empire, Bahmani Sultanate, Bijapur Sultanate, Mughals, Maratha-Peshwas, Mysore kingdom then British, Kittur Chennamma etc.
The city is vibrant in culture because it was under different rulers and the city with its proximity to Konkan, Maratha and Kannadika, it is vibrant in culture with unique amalgamation of all these traditions.
Temples of Belgaum
There are numerous temples in the city for Sri Ganesha, Shiva, Parvati, Hari etc. This town has the uniqueness of having more temples for Sri Hanuman. Many of them are centuries old. When I was on a recent visit to the city, I had a unique experience of being taken to a Hanuman mandir by an atheist who was a regular visitor of the temple!
Sri Hanuman Mandir
We waded through a huge colony which has come up in recent years to reach the Sri Hanuman mandir. The sight of the hanuman mandir from far off itself was soothing to the eyes. A green huge patch of land with a red uniquely architect building was pleasant to the eyes. It is no wonder that an atheist friend of mine is visiting this temple to get some solace when his mind is troubled. He says he used to come to this temple, sit in the steps leading to the temple for hours and looking at devotees who come to offer their prayers to the lord. The pleasantness of the greenery around will itself calm the mind, additionally when he sees the devotees who come to plead to the lord or come to offer their gratitude for fulfilling their wishes, tells my friend that he is not the only person with problem, nor there is a problem without a solution. The temple despite being within a residential complex is so peaceful and one can feel that traditional positive vibrations. As usual he sat at the entrance of the steps leading to the temple and asked me to go for the prayers at the temple.
Legend of the mandir: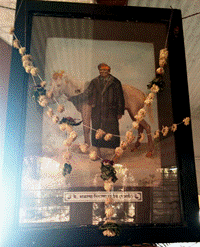 I was welcomed by the elderly priest of the temple. He narrated how this mandir came into existence. It was more than 150 years back when his grandfather named Sri Ballappa Nigappa Pujari who was a farmer had a dream. He was given a divine direction [divya nideshan] to worship Shri Maruti who is present in his field. The next day his grandfather was looking for something which will guide him to Maruti. All of a sudden the same black huge stone which he used to see daily, gave a reflection of Shri Maruti. A closer look at the stone indicated the outline of Sri Maruti figure. He took out a rice dhana (akshatha) and started outlining the figure. He was wonder stuck after finishing the outline and felt santhithyam of the lord Maruti. He started worshipping Lord Maruti then on, allowed all the devotees to worship Maruti by laying the rice dhana on this pitch black stone and see for themselves the Lord coming up alive in front of them. His grandfather slowly resigned from farming and making pooja and prayers to the lord as his main duty. Today the same tradition established by his grandfather continues to be upheld. All devotees can themselves offer puja to the Lord.
Mandir for Sri Hanuman
During those days Belgavi was not as developed as of now. This Mandir was in the center of Belgaum of those days. Sri Maruti of this kshetra attracted many devotees who were showing interest to build a temple for Maruti. Then with the active participation of the family and other devotees a Temple was built. Initially moorti of Sri Renukambha was installed and moortham of Sri Maruti was installed.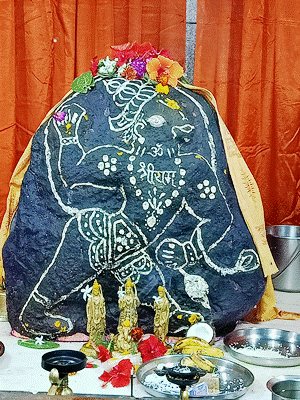 Activity in Mandir
Every year the day on which the presence of Shri Maruti was found by his grandfather special decoration with coloured rice grains is made to the Lord Sri Maruti. That is one occasion when pujari himselves does the decoration. It takes nearly four to five hours to decorate Sri Hanuman and to bring out alive from the stone. He is humble enough to state that his only job in mandir is to open and close the mandir. Whenever the devotees seek assistance to worship the Hanuman he will extend help to them. Like those who are not familiar with Hanuman Aarti, he would sing, light the camphor and hold that aarti plate to the devotee to show. He feels proud of being a humble devotee of Hanuman and helps other devotees of Hanuman and adds this is a service to Sri Ram.
Sri Hanuman
The swayambu deity of Lord Shri Maruti is carved in the big black stone. The boundaries of the lord are highlighted with sandal paste for devotees to appreciate the outline of Hanuman Moorti. The moortham of Sri Maruti is east facing. Maruti is seen walking north with His slightly bent left leg first. In both His legs Lord is seen wearing nupuram. Lord's left hand is seen resting on His left thigh and holding 'ghadha'. Lord's right hand is showing 'abhaya mudhra' assuring the devotees not to be afraid. In His both the wrists He is wearing kankanam and in both the upper arms 'bhujavalayam' could be seen. Lord is wearing Kachcham in the hip. In His chest He is wearing two malas-chains, His kesam is seen flowing from under the crown He is wearing on His head. He is wearing studded earring.
---
Experience
Wan away the troubles of His devotees Maruti had self emerged here, pray the swayambu Swami of this khetra and get rid of all the troubles and be blessed.
Ed: February 2020
SWAGATHAM
Welcome to the pages on Son of Wind God Vayu Lord Anjaneya Swami -Vayusuthan.
The intention of this site is to propagate the glory of Lord Anjaneya [Hanuman].
Though the intention of this site is to propagate the glory of Lord Anjaneya [Hanuman], kindly note that no material appearing in these pages could be reproduced in any manner without explicit permission from vayusutha.in
SRI HANUMAN
SRI HANUMAN THINKS DIFFERENTLY, THINKS FAST, THINKS AHEAD AND ACTS FOR SURE.
Our salutations to this Hanuman who always brings subham - everything that is good - for His devotees and eliminates the bad and the evil. He removes even the traces of bad thoughts and deeds from His devotees. i.e He makes them pure in words, thought and deed.