Aananda Anjaneya of Jakath Rakshaka Perumal temple, Thirukkoodaloor, TNadu
gk kaushik
We had earlier covered details about Veera Sudarshana Sri Anjaneya Temple, of Adhanur Divya Desam of "Andu Alakkum Ayyan" temple, located in Papanasam taluk, Thanjavur District. Kindly revisit the page on "Andu Alakkum Ayyan" temple for details on Sri Sudarshana Anjaneya.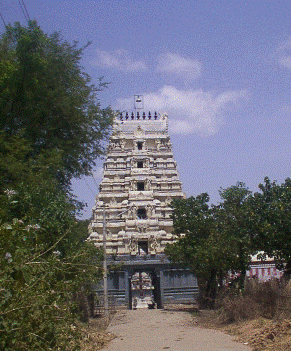 There are few Divya Desam located between river Cauvery and Cullrum. Sri Rangam is one of the most important one among them. We had brought out the similarities between "Andu alakkum ayyan" divya Desam and Sri Rangam in the above mentioned pages. Not far away [around fifteen kilometers] from Andu Alakkum Ayyan temple, there is another Divya Desam on the banks of River Cauvery located in Vadakurangaduthari. The presiding deity is Sri Jakth Rakshaka Perumal [in Tamil Vaiyam Katha Perumal] or more popularly Aaduthurai Perumal.
Sri Jakth Rakshaka Perumal
Mythological, to slay the demon Hiranyaksha who was in netherworld, Maha Vishnu descended in the form boar-Varsha. To get Hiranyaksha, he pierced into netherworld by splitting the earth and came out of the earth at a place called Srimushnam. Thus the world [Jakath in Sanskrit, Vaiyam in Tamil] was saved [Rakhaka in Sanskrit, Katha in Tamil] by the Lord from the demon and evil forces. Sri Tirumangai Azwar, the twelveth Azwar had sung in praise of the deity of this kshetra mentioning this event enacted by the Lord. Thus the Lord of this kshetra is known by the name Sri Jakth Rakshaka Perumal in Tamil Vaiyam Katha Perumal.
This great act of the Lord was of great relief for all rishis, devatas, daityas, danavas, serpents, gandharvas, yakshas and apsaras. All of them with their kinkaras came to this kshetra and worshipped the Lord. The assemblage of these great people is called 'kooduvathu'. Hence this kshetra got the name "Thirukkoodaloor".
There is another legend which says that king Ambarishan cursed by sage Durvasar got rid off the curse after worshipping Lord Vishnu of this kshetra. Hence Lord of this kshetra is also known as Ambarisha Varadhar. It is believed that ambarishan had built the first temple at this kshetra. Later the kings of Chola dynasty and other rulers had improved upon it.
Kaveri River floods
Once there were floods in Kaveri [in Tamil paralence it is known as 'Kaveri pralayam' meaning Kaveri deluge] and the areas near this place were washed away. There were many temples in and around this area that got washed away at that time. This temple is one among them along with other divya desam Andu Alakkum Ayyan of Adhanur also affected by these floods. The Adhanur divya desam had been rebuilt by Raja of Kashimir.
Rani Mangammal of Madurai
This Divya Desam temple was reconstructed by Rani Mangammal of Madurai after Kaveri pralayam. The huge tall compond wall 'thirumathil' constructed arourd this temple to protect the temple from future damage is an indicator to this effort.
During the flood the whole temple got washed away. After flood receeded, the presiding deity, processional deity and ma lakshmi vigrahas taken away in floods were found by the firshermen in the Kaveri at a distance. Meanwhile Rani Mangammal of Madurai had a dream in which Lord appeared and gave direction to rebuild the temple at this kshetra.
She along with her lieutenant came on a tour to the flood affected areas, she camped here to decide on building a new temple, since the earlier one had been completely lost in the flood. She recovered the processional deities and deity Lakshmi from the fishermen and built the temple at the spot indicated by divine.
The presiding deity of the temple is on the other bank of the river Cuvery in Valoothoor. Till recently chariot called Ambarisha Ratha, renovated by Rani Mangammal, was in use at this temple. There is a statue of the queen Mangammal in the temple.
Sri Anjaneya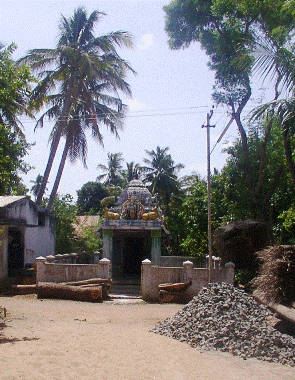 The temple in its hey days was thronged by devotees and all the festivals were celebrated. In one of these festive celebration, Sri Anjaneya had desendend on this kshetra to see the devotees in their happiness and on seeing them the 'Aananda' got on to Him also and was in bhavasamadhi-a yogic posture.
The separate shrine for 'Aanantha Anjaneya' is about 500 yards away from the main temple. Here Lord is seen in a joyful mood laughing in amusement.
Aananda Anjaneya
Lord is seen in standing position facing the Lord of this kshetra in west direction. In both the lotus feet Lord is seen wearing nupurnam and hallow anklet [thandai]. Decorative waist belt is holding the dothi worn with kaccham. He is seen with His palms joint offering pranams to His Lord. He is wearing a three line bead mala close to His neck. He is also seen wearing a long mala in the neck. In ears He is wearing Kundalam which are touching the shoulders. Karna puspam ornament is also seen in the ears of the Lord. The tail of the Lord is raised and goes around the head and ends up on the left shoulder with a small curve. His shika is neatly tied as tuft. Lord's mouth is slighly open and all the teeths along with two 'kora pal' are seen, as Lord is laughing in amusement. Lords eyes are slightly closed and in meditative posture.
---
Experience
Happiness is contagious. Lord Sri Aananda Anjaneya is communicating Happiness. Come, visit the kshetra and take the nectar of Aananda.
source: "108 vainava divyadEsa stala varalAru" by vaishnava sudarAzhi Sri A.EthirAjar, karaikudi.
Ed: October 2019
SWAGATHAM
Welcome to the pages on Son of Wind God Vayu Lord Anjaneya Swami -Vayusuthan.
The intention of this site is to propagate the glory of Lord Anjaneya [Hanuman].
Though the intention of this site is to propagate the glory of Lord Anjaneya [Hanuman], kindly note that no material appearing in these pages could be reproduced in any manner without explicit permission from vayusutha.in
SRI HANUMAN
SRI HANUMAN THINKS DIFFERENTLY, THINKS FAST, THINKS AHEAD AND ACTS FOR SURE.
Our salutations to this Hanuman who always brings subham - everything that is good - for His devotees and eliminates the bad and the evil. He removes even the traces of bad thoughts and deeds from His devotees. i.e He makes them pure in words, thought and deed.