SWAGATHAM
Welcome to the pages on Son of Wind God Vayu Lord Anjaneya Swami -Vayusuthan.
The intention of this site is to propagate the glory of Lord Anjaneya [Hanuman].
Though the intention of this site is to propagate the glory of Lord Anjaneya [Hanuman], kindly note that no material appearing in these pages could be reproduced in any manner without explicit permission from vayusutha.in
SRI HANUMAN
SRI HANUMAN THINKS DIFFERENTLY, THINKS FAST, THINKS AHEAD AND ACTS FOR SURE.
Our salutations to this Hanuman who always brings subham - everything that is good - for His devotees and eliminates the bad and the evil. He removes even the traces of bad thoughts and deeds from His devotees. i.e He makes them pure in words, thought and deed.
Hanumantharayan Kovil, East Hanumantharayan Kovil Street, Madurai
gk kaushik
Glory of Madurai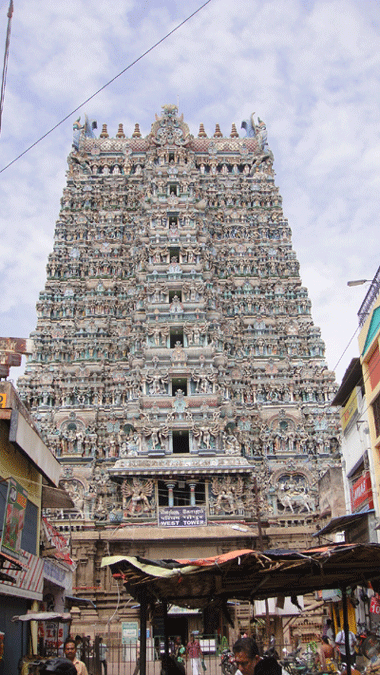 Madurai has a glorious history right from the days when it was under the rule of Pandiya dynasty. The city of Madurai is known as a planned city from the ancient times and any modern town planner will be taking this city as a model for comparison. The city is known as "Thoonga nagaram" meaning the city that never sleeps. The city is equally famous for Sri Meenakshi Sundereswarar temple and its mesmerising glorious temple towers. It is no wonder that Sri R. Krishna Rao of Madras School of Arts who was entrusted with the work of designing an emblem for Government of Madras (now Tamil Nadu) had chosen the west tower of Sri Meenakshi temple as model. (It is not Srivilliputur tower as some claims.)
Madurai of Past
After great rule by Pandiyas and Cholas, Madurai was invaded thrice by the Muslim kingdom of North. In the first invasion led by Malik Kafur in 1311 plundering and looting the wealth was the motive. Malik Kafur ransacked Madurai beyond recognition. Two more expeditions followed the second one in 1314 led by Khusrav Khan and the third one in 1323 by Ulugh Khan from the Delhi Sultanate. While the previous invaders were content with plunder, Ulugh Khan annexed the former Pandyan dominions to the Delhi Sultanate as the province. Madurai then came under Madurai Sultanate for forty three years under eight different rulers.
With the uprise of Vijaynagara Empire established in 1336 by Harihara I and his brother Bukka Raya I of Sangama Dynasty many Sultanate came under them. Bukka-I through Devayi had a son Kumara Kampana, also known as Kampana Udaiyar. Kumara Kampana was trained by his father in warfare and was serving as an army officer in the Vijayanagara Empire. Kumara Kampana led a Vijayanagara army and invaded Madurai in 1378, and defeated the last Madurai sultan, Ala-ud-Din Sikandar Shah. Thus ended the Sultanate rule and brought the territories under Vijayanagara Empire.
Vijayanagara Empire was formed on the advice of Sri Sankaracharya of Sringeri, an Advaita philosopher. Subsequently, the rulers of this Empire had supported Jainism as well as Dvaita philosophy. Sri Hanuman was considered as a deity who could bestow wisdom, strength and courage by the Emperors of this kingdom. At this point of History, Lord Sri Hanuman worship had become a necessity. Thus wherever the representatives of Vijayanagara Empire were ruling, there the worship of Sri Hanuman was observed.
Sri Vyasa Raja and Sri Hanuman
Without exception to the above rule, Madurai and surrounding areas also had temples exclusively for Lord Hanuman. Sri Vyasaraja follower of Sri Madhva Sampradaya and Dvaita Philosophy was Raja Guru for the Vijayanagara Empire. Madhvas consider Sri Hari [Sri Vishnu] and Mukhyaprana [Sri Hanuman] as their main deity of worship. There was change of guard in Vijayanagara from Saluva dynasty to Tuluva dynasty but Sri Vyasaraja continued to be the Raja Guru of the Empire. It is widely known that he had saved the life of Tuluva emperor Sri Krishnadevaraya.
Sri Vyasaraja himself is a great devotee of Sri Hanuman; this widely read Guru who had traveled extensively had built many temples for Sri Hanuman. It was necessity of the time that people had to be courageous and vigilant; therefore worship of Sri Hanuman, bestower of these qualities was resorted to. Therefore where ever he had established temples the followers of Madhva philosophy also went and settled for continuing the task of spreading the Dvaita philosophy.
Madurai and Sri Krishnadevaraya
Although Sri Kumara Kampanna had brought peace to Madurai from 1378 by eliminating Madurai Sultanate, the tussle for power continued. But it was only during the rule of the great emperor of Vijayanagara Sri Krishnadevaraya lasting peace was finally brought to Madurai.
Krishnadevaraya, the emperor of Vijayanagara, sent his general Nagama Nayak to Madurai in order to punish the Virasekhara Chola for despoiling the Pandyas who were under the protection of Vijayanagara. Having defeated the Chola, Nagama proclaimed Madurai as his own. Provoked, Krishnadevaraya sent Visvanatha Nayak son of Nagama Nayak himself to produce his father in the royal court. As a reward for his loyalty Visvanatha Nayak was made ruler of Madurai during 1530. Visvanatha Nayak and his son Krishnappa Nayak supported successive rayas till 1565, thereupon Krishnappa Nayak set up an independent Madurai kingdom with the help of his father. Thus Madurai Nayak's dynasty started from 1530.
Madhvas Settlement
Madhvas, who are follower of Sri Madhvacharya's philosophy of Dvaita [duailsm], consider Sri Hari [Sri Vishnu] and Mukhyaprana [Sri Hanuman] as their main deity of worship. There are many Madhva settlements in and around Madurai, especially with a temple for Sri Hanuman. There are many Madhvas who will not take their food without going to Sri Hanumn temples. For them He is the Lord ie, Raya, therefore they call Sri Anjaneya / Sri Hanuman as Sri Hanumantharaya. One such settlement and their temple are near the west tower of Sri Meenakshi Sundereswarar temple.
There are two streets named after the temple present there, as "Hanumantharayan Kovil Street". The street where the temple is present is known as "East Hanumantharayan Kovil Street", and the street west of the temple is known as "West Hanumantharayan Kovil Street".
Hanumantharayan Kovil
The temple for Lord Hanuman is located in East Hanumantharayan Kovil Street. As one comes from the Nethaji Road side the temple is on the left side. Enterance to the temple is tucked in between the row of shops. There is no gopuram or so, but an arch on the top of the building with a stucco figure made of morter mould and a board announces the entrance of the temple. The Stucco figure inside the arch is of Sri Rama sitting along with Sri Sitadevi on a royal seat. Standing behind them are Sri Lakshmana, Sri Bharatha, Sri Sathruguna, Sri Vibhishana and Sri Hanuman is seated just near the lotus feet of Lord Sri Rama. Sri Vyasa is also seen seating near Sri Rama. Outside the arch on the left is Sri Bhima and right is Sri Hanuman.
It must be noted that Sri Hanuman, Sri Bhima, and Sri Vyasa had been shown in the arch itself is an indicator that this temple is maintained as per Madhva sampradhaya.
The temple is about three hundred fifty years old, and was established by the fore-fathers of the present priest of the temple for the benefit of local Madhva community of Madurai those days.
Hanumantharayan
Lord of this kshetra is facing north. The murtham is of three and half feet in height. Lord is seen getting ready for a 'mal yudham'. His lotus feet wearing hallow ancklets are seen in readiness to move. Near His right knee He is wearing an ornament. In His hands He is wearing kanganam in the wrist and keyuram in arm. His left hand is seen resting on the slightly folded left thigh and at the same time holding the mace. His right hand is seen raised with the fist folded, as if ready to punch the enemy. His tail is seen raised on the back of his right hand, and takes a bend above the head. And in the end of the tail is a neatly tied small bell. The tail and the right hand of the Lord, togther forms the shape of a pranava akshara AUM in Devanagari. Lord is wearing an ornament close to his neck and also three malas, one of which has a pendent in bosom. Lord's face attracts the sight of the devotees. He is wearing ear-ring which is long and touching the shoulders. A small crown on His head is adding beauty to the deity. The Lord is facing straight and eyes of the Lord directly showers blessing on the devotee.
Experience
Sri Anjaneya Swamy of this kshetra bestows power to wrestle all the odds in devotees' life. Dharshan of the Lord is sure to give enoromus courage and power to over come any difficulty one faces.