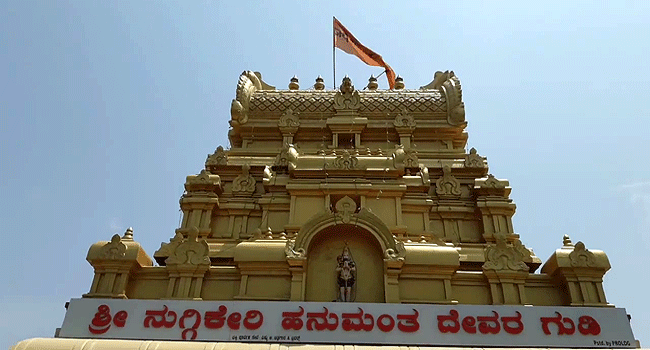 Nuggikeri Hanuman temple, Dharwad, Karnataka
Dr. Kausalya
Dharwad
Dharwad, also known as Dharwar, is a city in Karnataka. It is the headquarters of Dharwad district. Dharwad is located on the main highway between Bangalore and Pune. Dharwad is famous for Karnataka University, a prominent university of the region and is well-known as a city popular with students and pensioners.
Dharwad is situated on the edge of Western Ghats and hence is a hilly town. Dharwad is known for its lakes, but today handful of them onely exists now.
History
The word "Dharwad" means a place of rest in a long travel or a small habitation. For centuries, Dharwad acted as a gateway between the Malenaadu (western mountains) and the Bayalu seeme (plains) and it became a resting place for travellers. The name is derived from the Sanskrit word 'dwarawata', 'dwara' meaning "door" and 'wata' or 'wada'meaning "town".
Another theory is that during the Vijayanagara rule of Dharwad there was a ruler by name "of Dharav" (1403), and Dharwad got its name from him. There are some inscriptions that refer to Dharwad as Kampana Sthana.
Inscriptions found near Dharwad make this place as old as nine hundered years. This place was fortified and the fort had played an importentent role in the power struggle of the then rulers. With this fort, the strategic importance of Dharwad increased and it thus attracted the attention of conquerors, including Aurangzeb, Shivaji, Aurangzeb's son Mu Azam, Peshwa Balaji Rao, Hyder Ali, Tipu Sultan and finally the British colonizers.
Lakes around Dharwad
As said earlier Dharwad had many lakes like Navalur, Koppadkere, Yemmikere, Sadankere, Herekeri, Kelgeri, Nuggikere and Bokyapur. Few of them even now exist. Nuggikeri is one of such lake. Nuggikeri is even more famous for the Hanuman temple which is located on the southern bank of the Nuggikeri Lake. The temple is around ten kilometers from main Dharwad.
Temple for Hanuman adjacent to waterbody
It is a common practice to have an temple built for Sri Hanuman adjacent to river, lake, temple water tank in India and specially in south India. Normally to demortegate a territory the waterbody is used. It was also a practice to have a temple for Sri Hanuman built at the border of a territory. With all these facts taken together we find many temples for Hanuman near waterbody which was once a broder of particular village or raj.
Nuggikeri Lake Dharwad
Nuggikeri Lake which is one of the few lakes still active and it is also largest in and around Dharwad. Lake is situated around 10 km from the main city on the other side of the Dharwad - Kalaghatagi national highway. As one can see a big archway on this highway, welcoming devotees to Nuggikeri Hanuman temple take that road. One can see and enjoy the beauty of the lake walking along the western bank of the lake.
Nuggikeri Hanuman temple
The road will lead one to Nuggikeri Hanuman mandir. Ay any given time and day there are large number of devotees. Cars and moter cyles parked out side the mandir tells that this kshetragya has lot of devotees, from near and far.
Three tier rajagopuram is quite looking is facing south. There is a deepa stambha in front of the rajagopuram. As one enters through the rajagopuram in the ankan there is peepal tree and neem tree twisted together. Entering the main mantapa one can see the main deity from here itself. Recently an arch supported by pillers had been added just before the Garbhagraha with looks like a mun mandapam. Next is Garbhagraham where prisiding deity is present. Utsava murthi is also kept in the Garbhagraha itself. Utsav murthi is made of panchaloka and Lord is seen as Sanjeeviraya while one hand holds gadha and the other is seen carrying Sanjeevi parvath.
Legend
Sri Hanuman of Nuggikeri had been in worship for hundreds years. Many years before Sri Vyasaraja, Sri Balabhima the Hanuman of Nuggikeri decides to come out of the lake. He appeared in the dream of His devotee and instructed him to bring out the vigraha from the lake for worship. Accordingly the devotee searched the lake and brought the vigraha out and started worshipping. During one of his visit Sri Vayasaraja had performed the punar pradishta of Sri Hanuman. And presently the poojas are being conducted by Sri Desai family.
Nuggikeri Sri Hanuman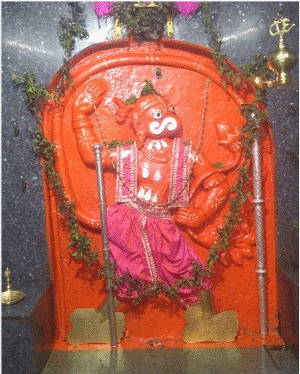 Nuggikeri Sri Hanuman is also known as Sri Balabhima is kshetrakaran. Murtham is about five feet in height, made of hard granite coated with senduram. He is seen in the ardha sila roopa. Lord is seen walking eastward.
Sri Hanuman of this kshetra is tall and gignatic figure and majestic to look at. Lord is facing south. In His lotus feet Lord is wearing 'Thandai' [hallow ancklet] and 'nupuram' [decorative chain]. The dhoti He is wearing with kacham is holding His well built thighs tightly. He is seen wearing an ornamental waist belt in His waist. He is wearing 'keyuram' in His upper arm and hollow bangles [kankanam] in His wriest. In His broad chest He is seen wearing a rosry with two rows of beads. There is another garland having single row of beads. Lord is also wearing a necklace close to His neck. In ears He is wearing 'kundlam' which is toucing His shoulders and in the upper portion of ear He is wearing 'karna pushpa'. Neatly tied hair is held by the ornament known as 'sikha-mani'. Although Sri Hanuman of this kshetra is looking eastward, Devotees can have the grace of Lord's both eyes.
Uniqueness of Lord is both His eyes are of Saligram, and therefore grace of Lord's kataksham is very powerful.
With all this the Lord is great looking and the tail of Lord is seen raised above His head and at the end of the tail with a curve. His raised right hand is in abhya mudra offering the quality of fearlessness to all His devotees. Lords' left hand is seen resting on the left thigh and holding the yet to bloom sowganthika flower.
---
Experience
Lord of kshetra blesses His devotees with His kataksham through Saligram, stand before Him to realise that how blessed you are to have the kataksham of the Lord falling on you.
Ed: [April 2019]
SWAGATHAM
Welcome to the pages on Son of Wind God Vayu Lord Anjaneya Swami -Vayusuthan.
The intention of this site is to propagate the glory of Lord Anjaneya [Hanuman].
Though the intention of this site is to propagate the glory of Lord Anjaneya [Hanuman], kindly note that no material appearing in these pages could be reproduced in any manner without explicit permission from vayusutha.in
SRI HANUMAN
SRI HANUMAN THINKS DIFFERENTLY, THINKS FAST, THINKS AHEAD AND ACTS FOR SURE.
Our salutations to this Hanuman who always brings subham - everything that is good - for His devotees and eliminates the bad and the evil. He removes even the traces of bad thoughts and deeds from His devotees. i.e He makes them pure in words, thought and deed.