SWAGATHAM
Welcome to the pages on Son of Wind God Vayu Lord Anjaneya Swami -Vayusuthan.
The intention of this site is to propagate the glory of Lord Anjaneya [Hanuman].
Though the intention of this site is to propagate the glory of Lord Anjaneya [Hanuman], kindly note that no material appearing in these pages could be reproduced in any manner without explicit permission from vayusutha.in
SRI HANUMAN
SRI HANUMAN THINKS DIFFERENTLY, THINKS FAST, THINKS AHEAD AND ACTS FOR SURE.
Our salutations to this Hanuman who always brings subham - everything that is good - for His devotees and eliminates the bad and the evil. He removes even the traces of bad thoughts and deeds from His devotees. i.e He makes them pure in words, thought and deed.
Dulya Maruti Mandir :: Ganesh Peth :: Pune :: Maharastra
gk kaushik
Pune Then
Today Pune is one of the best known cities of India. It is also known as the cultural capital of Maharashtra. Human dwelling and settlement always bloom adjacent to a river normally. In the same way from time immemorial there was a settlement on the banks of river Mutha. The river Mutha confluences with Mula River and the settlement on the right bank of Mutha is the seeding or beginning of the present day Pune. This settlement area is presently known as Kasabe.
In 1595 king Bahadur Nizam II. (1596-1599) ennobled Maloji Bhonsla the grandfather of Shivaji the Great and gave him the estates of Poona and Supa with the forts and districts of Shivner and Chakan. Maloji settled in Kasabe, the cantonment.
In the year 1630 Kasabe was destroyed completely by Murar Jagdeo the minister of Mahmud the seventh Bijapur king force. It was an irony that in 1635 the same Mahmud of Bijapur, on the occasion of his entering the Bijapur service, confirmed Shahaji Bhonsla the son of Maloji Bhonsla his father's estates of Poona and Supa. Shahaji Bhonsla is the father of Shivaji the great.
It was during Shivaji Maharaj's time, the city was recreated with Kasabe Pune. With Kasabe Ganapati temple and Lal Mahal for his mother to reside Pune once again became habitable.
Real development of Pune started once Bajirao Peshwe settled down with Pune as his headquarters for administration. New areas were developed and were known as Peth. Peth is basically a business location. [We could see that even Bangalore was developed with many Pet.] New peth were either named after the person who had developed it or it was called by the name of a day of the week.
Name Pune
As per the historians there existed a Puneshwar Shiva temple along the banks of the river Mutha in Pune. Along with Puneshwar there existed another temple named Narayaneshwar. In the late thirteenth century Puneshwar temple was pulled down and converted into a dargah now called Younger Sheikh Salla Dargah, which stands in its place to this day.
Punewadi
This place might have got the name Pune from Puneshwar. The original settlement of Pune was known as Punewadi. Punewadi is the area nestled between Mutha River to the North, Ambil stream to the West and Nagzari stream to the East. Settlements were along Nagzari stream and along the Ambil stream. Various temples were spread along these settlements. Narayaneshwar, Punyeshwar, Kedareshwar and Kasaba Ganapati mandir are few to name.
Nagzari stream
Nagazari stream which is lined with a temple on its banks is also known as "Nagtheerth" implying the sacred position it held with people of those days. Sri Namdev had mentioned about this river in his work. Out of the many temples along this stream, we will have a look at the temple dedicated to Sri Maruti.
Ganesh, Mhasoba and Maruti Mandir
It was a custom to have a temple for Sri Ganesha and Sri Maruti at the border of each village. This practice in prevalance could be seen even in present day Andhra, Karnakata and Maharastra. Apart from these two deities, a temple for Sri Mhasoba is also present in many villages of Maharastra. All these temples were found on the borders of the village and were believed that they bring good prosperity by removing all the obstacles and guard the village.
Pune is no exception to this practice. Each time a new peth is developed or the existing peth is modified, then these temples will come up to demarcate the boundary of the path.
Peths of Pune
Punewadi started expanding with more people coming in and larger activities of the rulers. New areas were added for settlement of people. Each time a new area is added the boundary of the new area used to be demarcated with a temple at the boundary. Usually it used to be that of Sri Maruti who is considered as a protector and guardian. These expansions took place continuously under each ruler; hence new peths were coming up during these times. Most of them are named after the founder/ developer of the peth or named after a day of the week. Sometimes new peths were created by modifiying the earlier peths. But all these peths invariably had Sri Maruti mandir.
Maruti Mandir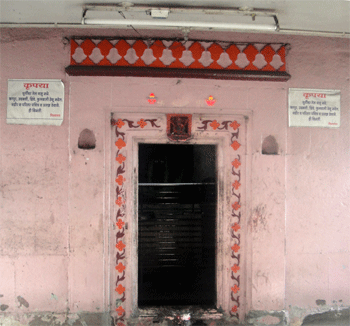 Saint Sri Samarth Ramdas Swami [1608 – 1681] whom Sivaji Maharaj had accepted as his Guru is a great devotee of Sri Rama and is considered as the rebirth of Lord Hanuman. He had consecrated a Maruti on the banks of Nagtheerth during one of his visit to this city.
At a later stage of development of Pune, Sardar Jivajipant Khazgiwale developed this area and named it after Lord Ganesha as Ganesh Peth in the year 1775. This great temple for Maruti is presently seen at the junction of Jagtap Road and Lakshmi Road at 260, Laxmi Road, Raje Wadi, New Nana Peth, Ganesh Peth, Pune.
Rise of Marathas in Bharata Khanda
After Chatrapati Sivaji had reestablished that the people of Bharat can govern themselves; the Bharathiya rule thus established started expanding. The chief of these forces were Marathas, and the expansion of this rule extended from Thanjavur down south to north of Bharat. The might of this force was destined to be challanged. And the war is known as "Third Battle of Panipat"
Third Battle of Panipat
The Third Battle of Panipat took place on 14 January 1761, at Panipat, between a northern expeditionary force of the Maratha Empire and the forces of the King of Afghanistan, Ahmad Shah Abdali, supported by two Indian Muslim allies—the Rohilla Afghans of the Doab, and Shuja-ud-Daula, the Nawab of Awadh.
Marathas lost suzerainty over Punjab till north of Sutlej river to the Afghans. Ahmad Shah Durrani vacated Delhi soon after the battle. Maratha expansion was checked for the time being.
As result of this war, lose estimated that around 30,000-40,000 combatants were killed in the battle. This is no big thing but worst was to follow in form of another 40,000–70,000 non-combatants being massacred following the battle.
Maruti becomes Dulya Maruti
The Maruti established by Saint Sri Samarth Ramdas Swami along the sacred Nagtheerth had sensed the unholy thing that is happening at faraway place Panipat. Nearly a lakh of people being massacred! Maruti could not bear this and grief over took Him, He swayed in angst. People saw this and from then onwards this Maruti was known as "swaying Maruti" in Marathi "Dulya Maruti".
Maruti consecrated by Sri Smarth vowed that the rule of Dharma has to expand and should not be stopped. The expansion which was checked for the time being, with the blessing Lord Maruti reemerged with new vigor and rocked the Bharath varsh. People saw this and from then on this Maruti is known as "rocking Maruti" in Marathi "Dulya Maruti".
In memory of the Maratha commander of Panipat battle Sri Sadashivrao Bhau who lost his life in the battle a new peth Sadashiv peth was created in Pune in the year 1769.
Dulya Maruti Mandir
This great temple for Maruti is presently seen at the junction of Jagtap Road and Lakshmi Road at Laxmi Road, Raje Wadi, New Nana Peth, Ganesh Peth. The temple is in the middle of the road and Lakshmi road splits into two and after the mandir the road rejoins.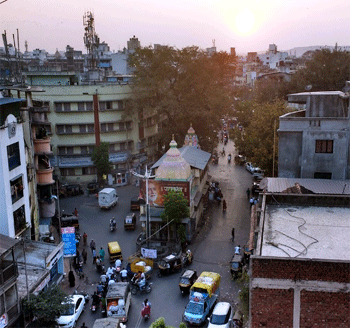 Maruti was consecrated by Sri Smartha near the Nagthreeth stream on the eastern boundary of the old city. The temple of this Maruti was built about 1680 by Naro Anant Natu who also built Someshvar's temple in Raviwar peth. The building was repaired and enlarged about 1780 by Srimati Rakhmabai Johari.
A second temple of Balaji facing Maruti's was added about this time by Makna a Badhai or cabinet maker. Around 1830, both the temples were renovated and a new concourse joining these temples was built. The cost of Rs.1500 was met by raising fund from among the people of Ganesh peth. The temple has a monthly grant of Rs. 4 from the Parvati temple revenues.
The above mentioned two shrines were made into a single temple. The open area between the shrine of Maruti and shrine of Balaji had been covered which acts a concourse for both the shrines. This hall is of thirty feet in height. Since Maruti shrine and Balaji shrine were designed as separate temples there is space around the sannidhi [gharbhagraha] for making circumambulation. Each of the sannidhi is around twenty feet square with separate entrances. The concourse is of forty feet in length and thirty feet wide.
Dulya Maruti
Maruti has been sculptured out of hard black granite stone. The idol is about five feet in height and around 2.5 to 3 feet in width. Lord is facing west, He is pinning a rakshasa under His lotus feet. The rakshasa is seen holding a mace in his left hand. While the head of the rakshasa is seen under His left foot, the feet of the rakshasa is seen under His right foot. Lord is wearing full dhoti upto ankle. The dhoti is held firm in His waist by an ornamental waist belt which has a decorative plumb hanging.
Lord's bosom is decorated with a two strands of bead mala dropping upto his navel. There is another mala with a pendent. In His upper arm He is wearing a 'keauram' and in the wrist a 'kankanam' is seen. With His raised right hand He is showing 'abhaya' mudra and His left hand is resting on His hip. The tail of the Lord is seen raised above His head with a curve in the end making a circle, adding beauty to the tail.
He is seen wearing a turban in Maratha style of those [Shivaji] days. A straight looking face with huge beautiful and glorious eyes pouring out grace, Lord is adorable.
Experience
Dharshan of the Lord Sri Dulya Maruti has a telling effect on His devotee who will sure to regain all lost self confidence and achieve success in all the future endeavors, since Lord of this kshetra is ever compassionate.