Sri Sitarama Anjaneya Temple, Santhapettai
Gudiyatham, Vellore Dist. T.Nadu
gk kaushik
Gudiyatham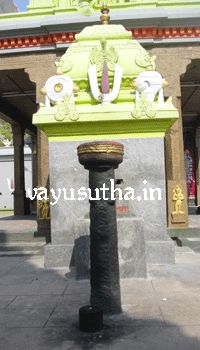 This town is located in Vellore district about thirty kilomenters from Vellore city. The name of the town is also spelled and pronounced as Gudiyattam, Gudiyettram. This is a historical Town of Vellore district. This is more popularly known in the modern history as the town which gave the first Indian national flag which was woven here and was hosted in the historical Red fort of Delhi.
There are ancient temples located in this town. At Nellorepat of Gudiyatham there is an ancient Shiva temple. Sri Karupuleeswarar is the main deity of this temple. The temple draws large number of devotees from nearby towns during its famous Car festival. The Legand has it that this place was abode for the famous sage Goundanya Rishi who was on penance here. The river passing through the town is in his name as "Goundanya Nadi".
History of the township
This place was under the rule of Sambuvarayas, a vassal under 'later Chola dyansty' starting with Kulottunga I. The town had been named by the king as "Kudiyetra-nallur" meaning that the place is good for inhabiting. The local chieftens came to be known as Chola Sambuvarayas. Present day districts of Vellore, Tiruvannamalai, Kancheepuram and Thiruvallur were the northern part of Thondaimandalam under 'later cholas'.
As per the Inscription found in the temple of Kappuleeswarar which was in existence during the period of Kulottunga I the king had donated 90 goats for the maintenance of the temple and for purchase of oil for lighting. This ancient temple located in Gudiyatham is said to have been built at Nallore (Alias) "Jayamkonda Chadurvedi Mangalam". Therefore it could be said that this town has been established by Kulothunga I following the victory of Thondai Mandalam regions. The area around the Kappuleeswarar temple situated at ancient "Nallore" is now named and called as Nellorepettai.
Sri Sitarama Anjaneya temple, Santhapettai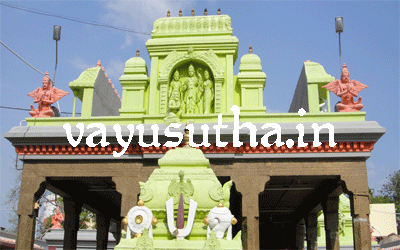 The temple of Sri Kappuleeswarar built during Kulottunga I had been modified and renovated by Vijayanakara Kings under whom the town came. The temple archaeology has evidences to this effect that it was under the patronage of both Chola and Vijayanakara rulers.
Not far away from this Kappuleeswarar temple on the banks of river Goundanya there is another famous temple for Sri Rama. Arulmigu Seetharaman Anjaneya Swamy Temple is located to the east of Kappuleeswarar temple in Santhapet.
Sambuvarayas and Vijayanagar rulers are known for their love and patronage for Sri Rama and Sri Anjaneya. It is no wonder that when this town was under the rule of Sambuvarayas or Vijayanagar this temple should have been built. Archeological evidences like pillars and lamp post in front of Garuda sannidhi stands out to vouch this.
Sri Ramaparivar
As one enters the temple from the rajagopuram a broad great mandapam is seen. In front of the mandapam is the lamp stone piller, Bali peedam and then a small sannidhi for Sri Garudalwar. The sixteen pillar main mandapam is made of hard granite stone. The artha mandapam is seen next and from this mandapam one can have dharshan of Sri Rama and parivar in the main sanctum sanctorum and Sri Anjaneya in the sanctorum on the side.
The main sanctum sanctorum of this temple is east facing. Sri Rama along with Sri Sita and Lakshmana is seen in the main sanctorum. The unique feature of the temple is that the sun rays are falling on Lord Rama in the sanctum sanctorum during two months of Makara, Kumbham of Indian solar calendar.
Sannidhi for Sri Anjaneya
On the left side of the sanctum sanctorum of Sri Rama, there is a separate Sannidhi for Sri Hanuman. This sanctorum is facing south. Idol of Sri Hanuman is about six and half feet in height and four-feet-wide and a stone ornamental arch is also seen. Deity of such magnitude and stature of Sri Hanuman, separate sannidhi for the Sri Hanuman, stone 'prapavali'- ornamental arch for the deity - all this further confirms that this temple had come into existence during Sambuvarayas or Vijayanagar rule.
Anecdote
The collector of Vellore district during the British time took ill and fell sick. He visited this temple and prayed on to Lord Sri Rama and Sri Hanuman for curing his illness. Having been relived of the illness, he had ordered that a portion of tax revenue from the nearby Pasumathur village to be given to this temple. Even today the temple gets a portion of tax revenue from the village.
Recently the renovation of Rajagopuram, construction of marriage hall, kitchen, and meditation hall, unjal mandapam were completed.
Festivals
On every new moon day [Amavasai] utsavar is taken on procession inside the temple. Sri Ramanavami, Vaikunta Ekadesi, Hanumath Jayanthi are celebrated with all gaiety. Unique feature of Sri Hanumath Jayanthi of this temple is that Sri Anjaneya will play the swing in which Sri Rama, Sri Sita will be seated.
Sri Anjaneya
The moorthi of Sri Anjaneya Swami of this kshetra is about six and half feet tall and is made of hard granite stone and is facing south. Unlike in other kshetra here the deity is a full shila. The ornamental arch is also seen behind the Lord. Lord is facing straight and His full face is seen. As He is a 'yathur mukhi', Lord's eyes bestow blessings to the devotees directly. His lotus feet are adorned by nupuram and thandai. The Lord is seen ready to move eastward, with His left lotus foot in the east. Lord's elegently bent right foot is seen slightly behind. His left hand adorned with bracelet is seen resting on the left hip and holding the stem of sowgandika flower. The flower which is in full blossom is seen above His left shoulder. He is wearing ornaments which adorn His bosom. With His raised right hand showing 'abhya mudra', He showers blessings to His devotees. The tail of the Lord is raised above His head with a curved end and is adorned by a small beautiful bell. Lord is wearing ear-studs which are touching His shoulders. His kesam is neatly tied. His eyes are radiant and emitting compassion on the devotee.
---
Experience
The Lord of this kshetra is spectacular in appearance. He bestows with His bright glowing straight eyes fearlessness and straightforwardness to the devotee with all kindness.
Ed [May 2018]
SWAGATHAM
Welcome to the pages on Son of Wind God Vayu Lord Anjaneya Swami -Vayusuthan.
The intention of this site is to propagate the glory of Lord Anjaneya [Hanuman].
Though the intention of this site is to propagate the glory of Lord Anjaneya [Hanuman], kindly note that no material appearing in these pages could be reproduced in any manner without explicit permission from vayusutha.in
SRI HANUMAN
SRI HANUMAN THINKS DIFFERENTLY, THINKS FAST, THINKS AHEAD AND ACTS FOR SURE.
Our salutations to this Hanuman who always brings subham - everything that is good - for His devotees and eliminates the bad and the evil. He removes even the traces of bad thoughts and deeds from His devotees. i.e He makes them pure in words, thought and deed.