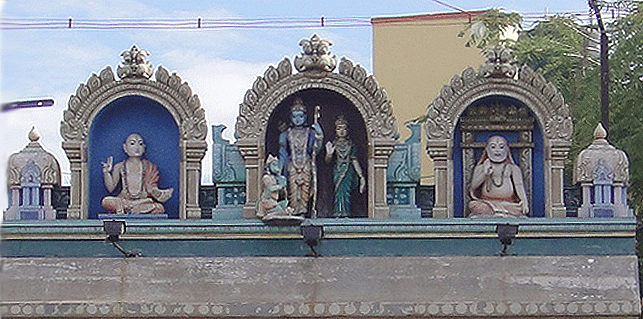 Sri Anjaneya Swamy temple, Periyanaicken Palayam, Coimbatore, TN
gk kaushik
Coimbatore
Coimbatore is known as Manchester of South India. The city is the third largest city of Tamil Nadu after Chennai and Madurai. The origin of this place is even prior to 2nd century AD. As it was a practice to build a city on the banks of a river, this city was also developed on the banks of river Noyyal. This place was under the rule of many dynasties like Rashtrakutas, Chalukyas, Pandyas, Hoysalas and the Vijayanagara Rayas.
There are many theories about how this place got the name "Coimbatore". The tribe of Kosar were living here since "Sangam" period. Kovai Vadavalli was headed by Konan tribal head. He had two daughters by name Konni and Muddah. This place was gifted to his daughters, hence KonniMuthur – Konamuthur – Coimbatore.
Coimbatore ruled by Vijayanagara Rayas
Coimbatore was then under the rule of Madurai Sultanate. Vijayanagar emperor Bukka-I through Devayi had a son Kumara Kampana, also known as Kampana Udaiyar. Kumara Kampana was trained by his father in warfare and was serving as an army officer in the Vijayanagar Empire.
Kampana udaiyar successfully defeated Thondai mandalam chief Champurayan alias Sambhuvarayan. Subsequently, he established the rule of Vijayanagar empire with Kanchipuram as head quarters. In 1378, Kumara Kampana led a successful invasion on the Madurai Sultanate and defeated the last sultan, Ala-ud-Din Sikandar Shah. Thus the territories ruled by Madurai Sultanate came under Vijayanagar Empire including Coimbatore.
Then during 18th century Coimbatore was under the Mysore rulers and also British. With three Anglo-Mysore wars, Coimbatore saw large number of ups and down. Mysore troops and British Troops fought to take control of the strategically located Coimbatore. Finally in 1799 Coimbatore came under the control of Britishers.
During this period under the influence of Rayas and Mysore rulers, both of whom were ardent devotees of Sri Hanuman, Coimbatore also had a large number of devotees for Lord Sri Hanuman.
Vijayanagara Rayas and Hanuman worship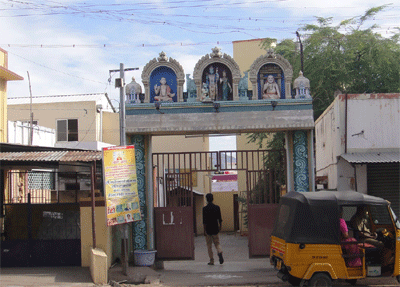 The Vijayanagara Empire was founded in the year 1336 by Harihara I and his brother Bukka Raya I on the advice of Sri Sankaracharya of Sringeri, an Advaita philosopher. Subsequently, the rulers of this dynasty had supported Jainism as well as dwaitha philosophy. Sri Hanuman was considered as a deity who could bestow wisdom, strength and courage. At this point of time, worship of Lord Sri Hanuman worship had become a necessity. Thus wherever the representatives of Vijayanagar Empire were ruling, there the worship of Sri Hanuman was observed. Mysore was also ruled by Rayas, thus in Kongu nadu and Mysore, worship of Sri Hanuman had come in fore.
Coimbatore and temples for Sri Hanuman
Coimbatore was under the influence of Vijayanagara empire either through Madurai Rayas or Mysore rulers. Thus, Sri Hanuman worship had been in practice in vogue since 15th Century. There are many Hanuman Temples in and around the Coimbatore city itself. Later these temples got affiliated to some of the Mutt belonging to Madwa cult. Today these Sri Anjaneya temples are more popularly known in the name of the mutt.
Sri Anjaneya Swamy temple at Periyanaicken Palayam
Periyanaicken palayam, is twenty kilometers away from Coimbatore on the way to Mettupalayam. There are few old temples in Periyanaicken pallyam. One among them is a temple for Sri Hanuman. As one comes from Coimbatore to Periyanaicken pallayam, there is a road on the right which leads to the main police station, sub post office, and sub registrar office. The Anjaneya Temple is located on this road on the left hand side.
Legend of the Temple
The temple was in a house like building without any cupola, tower or arch. This temple of Sri hanuman was popular among large number of locals, who visit it regularly. This temple had been mapped by British around 1850. Therefore it goes without saying that this temple is older by around two hundred years.
There is no record to show as to how this temple was maintained, but with the help of locals the poojas were held but no special poojas were held. When the will of Sri Anjaneya prevails then things starts moving on its own.
During 60s, only a very few used to visit this temple as there were no lighting inside. The temple building was covered with grasses and bushes. One person by name Sri Chikkoose Achar along with his daughter used to go to the village people to procure rice and some money to make naivedyam for the deity and light the deepa daily. After daily pooja, he used to cook for himself and eat only at around 3 pm.
In early 70s a bunch of locals formed an association and named it "Sri Maruthi Seva Sanga". With generous contribution from public the leaking roof was changed and pucca roof was constructed. The Sanjivini Anjanaya Idol also was in a broken condition. The Original damaged Sanjivi Anjaneya vigraha was replaced with a Dasa Anjanaya vigraha. The kumbabhisheka was performed in July 1977. The renewed temple had attracted more devotees from nearby places. There were Bajans on every Thursdays and recitation of Sri Vishnu Sahasranama on every Saturdays which inculcated more vigor in the devotees.
Cupola [Vimanam] for Sri Anjaneya was constructed with kumbam. With the blessing of elders and the Acharyas, Mruthiga Brindavan of Sri Raghavendra Swamy was installed in 1984. Kumbabhisheka was performed. Subsequently Sri Sita Rama was installed in 1997 in Sri Anjaneya Sannidhi, in an elevated platform behind Sri Anjanaya moortham.
Pontiffs from Sri Rayar Mutt, Sri Pejavar Mutt, Sri Vysaraya Mutt, Sri Palimar Mutt, Sri Kaniyur Mutt, Bandarikare mutt had visited this shrine of Lord Hanuman.
Temple today:
With these blessing of elders, and vigorous participation of devotees of Sri Anjaneya today this premises has a new Anna Dhana Mandapam in the first floor, new bore well, archway at the main road leading to the temple etc.
Sri Anjaneya Special poojas of this temple
Every Thursday Bajans, every Saturday recitation of Sri Vishnu Sahasranama, every second Sunday, Sri Sathyanarayana Pooja are being performed regularly. Sri Rayar Ratha Utsava is performed at 7 pm on every Thursday. Kanakabhisheka is performed on devotee's request.
During Yughadhi, Sri Rama Navami, Seetha Kalyanam, Sri Hanumath Jayanthi, Sri Madwa Navami, Sri Madwa Jayanthi, Sri Vyasa Rayar Aradhana special poojas are performed as a mark of celebration.
Sri Raghavendra Swamy Aradhana is conducted for four days.
Sri Anjaneya
Sri Anjaneya Swamy of this kshetra is in standing position and the moortham is about three feet in height. Behind Him SriRama and Mata Sri Sita Devi are placed on a raised platform. There is 'Tiruvachi' for these two.
Sri Anjaneya Swamy is east facing and standing with His hands folded. He is wearing ornaments in shoulders known as 'bhuja badhana', keyuram in arms, kankanam in wrist and all these are adding beauty to the folded hands. Lord is wearing an ornament close to his neck and also three malas, one of which has a pendent in bosom. His lotus feet are adoring an hollow anklets and the Lords' tail with a curve at the end rests near His lotus feet. Lord is wearing ear-ring which is long and touching the shoulder. A small crown on His head is adding beauty to the deity. The straight looking eyes of the Lord are full of compassion.
---
Experience
Destroyer of evil and a protector of trusted, the Lord of the Kshetra had risen from nowhere just to bestow blessings to the trusted. Let us come and pray at this kshetra and take His blessings in abundance.
Ed [September 2017]