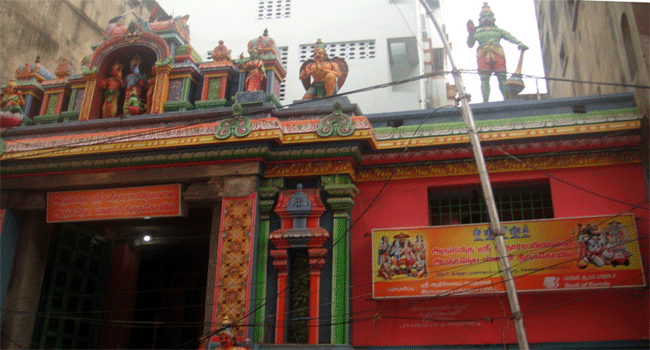 Sri Hanumantharayan Temple
Thatha Muthiappan Street, George Town, Chennai
gk kaushik
Chennai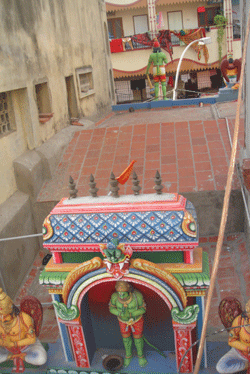 After due deliberation it was arrived that this city of Madras, was created on 22nd August 1639 and hence every year, 22nd August is celebrated as Chennai day, which is considered as its date of birth.
Subsequently, the name of Madras was changed to Chennai after a long debate. Today anything that is talked about Chennai or Madras is with reference to this date and after.
But even before this date the district was bustling with activity. Few places like Thiruvottiyur, Thiruvallikeni, Mylapore, and Tiruvanmiyur were bustling along the coast. In addition, places in the interior like Purasawakam, Pudupakkam, Saidapet, Sembiyam, Vepery, Vyasarpadi were all active as depicted from the inscriptions in city temples. All these were under the rule of representative of Vijayanagar king. In fact the place "Rayapuram" derived its name from Rayas. Portuguese, Dutch, French then English all in turn gained control of part of the said district, slowly to become rulers of the land. British took a portion of land on lease from the Vijayanagar king and Fort Saint George was built in this district. Owing to this construction, many of the natives and their temples were resettled to different location. These settlements were to be known as "Black Town" then "New Black Town" losing the original name and identity of the place.
Muthialpet the George Town
Lot of things has been written about this district after "Muthialpet" was renamed as "George Town". For the people who would like to talk about Chennai and its heritage, George Town has often been a focus of their discussion. This place is considered a city's treasure house of heritage. Each and every road and building of this place reminds us of people who built Madras or Chennai. It is here where the city's heritage lies hidden and it is the city's treasure house of heritage.
The history of Sri Kalikambal temple, located on Thambu Chetty Street is debated in public domain. Whether Chatrapati Veera Sivaji had visited this temple on 3rd October of 1677 or not is a highly debated point. Many authors have written their viewpoints in newspapers concerning this subject without any concrete conclusion.
Temples in George Town
For me visits to George Town are for other reasons. If you look for temples in this area in Google map, not many temples are listed despite a huge number of temples being there. There are few temples built exclusively for Sri Hanuman in these areas which are older by at least two hundred years. Roads are also named in the name of these temples.
Visit to the "Town"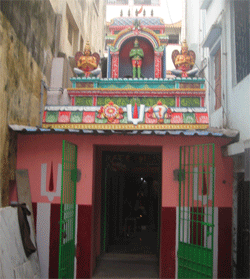 This place is often referred as "town" in the colloquial language. I often visit "town" for purchase of materials in the whole sale market in and around Kothawal Chavadi. Minerva cinema used to be our favorite for Jerry Lewis films. This place was never visited by me with the intention of exploring temples. This time my visit was to find Sri Anjaneya temples in Town.
I went early in the morning on an exploration to the Town. On arrival I enquired the way from a man in "China bazzar" who was playing "adu-puli" all alone. When I asked him the way to "Sanjeevirayan Koil Street", he immediately replied that there is no "Sanjeevirayan Koil street", but there is "Hanumatharayan Koil Street", without taking the eyes off the game. He asked me to take Govindappa Naicken Street and enquire at the intersection of Thatha Muthiappan Street.
In pursuit of the Hanuman temple I started walking in Govindappa Naicken Street and ended up coming across three old Sri Hanuman temples which are more than two hundred years old.
Hanuman Temple of Thatha Muthiappan Street
This street connects Broadway now renamed as Prakasam Salai and Mint Street. The temple for Sri Hanuman is located in this road nearer to Minerva Cinema and Kothwal Chavadi Police Station.
The entrance to the temple is from Thatha Muthiappan Street as well as from Hanumantharayan Koil Street. Earlier the entrance to the temple was from Hanumantharayan Koil Street only. Today we have three streets near this temple named as Hanumantharayan koil Street I, II, III.
The main temple is about ten feet east-west and fifteen feet south-north, housing the Garbhagraham of Sri Hanumantharayan facing south and sannidhis facing east for other deities.
Hanuman Temple Today
Although there is no record to state how old the temple is, it is believed that the temple had been built by the locals as a simple temple with one Sannidhi for Sri Hanuman. While the temple is facing Hanumantharayan Koil Street, the back wall of the sannadhi is facing Thatha Muthiappan Street.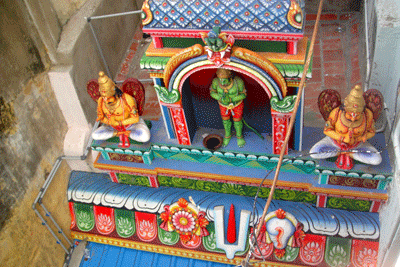 As was the practice of the Telugu speaking people to call Sri Anjaneya as Hanumantharaya or Sanjeevaraya, so this temple was also named Hanumantharaya.
There is a "gangana mantapam" adjacent to this temple facing Thatha Muthiappan Street. Here bhajans used to be performed in good old days. Today this mandapam is attached to this temple and an entrance had been provided to the temple from Thatha Muthiappan Street.
Presently an east facing sannadhi for Sri Rama, Sita and Lakshman adjacent to Sri Hanuman's sannadhi had been added. Sannadhi for other deities have also been added. Devotees can enter the temple from both Hanumantharayan koil street as well as from Thatha Muthiappan Street. Recently the temple had been renovated and Kumbhahibeshakam was performed.
The priest of this temple says the temple must have been in existence from end of 18th century or beginning of the 19th century.
Sri Hanumantharayar
The south facing moortham of Sri Hanuman is about three feet tall. Sri Hanuman of this kshetra stands with His hands folded. The deity is very attractive and grasps entire attention of the devotee. Lords folded hands are adorned with kankanam, keyuram. He is wearing ornaments which adore His bosom. His lotus feet are adorned with a hollow anklet. The Lords' tail with a curve at the end rests near His lotus feet. Lord is wearing ear-studs and His kesam is neatly tied and is held by the ornamental "kesa bhandhanam". His straight looking eyes are glowing and emitting karuna on the devotee. With such bright glowing eyes Lord of this kshetra is bestowing all His karuna on the devotees.
---
Experience
One look at the Lord and the devotee's eyes are sure to be riveted on the deity. The magnetic eyes of the Lord are sure to pull out all the troubles of the devotee and bestow a comforting feeling to prevail over the troubled senses.
Ed [August 2017]
SWAGATHAM
Welcome to the pages on Son of Wind God Vayu Lord Anjaneya Swami -Vayusuthan.
The intention of this site is to propagate the glory of Lord Anjaneya [Hanuman].
Though the intention of this site is to propagate the glory of Lord Anjaneya [Hanuman], kindly note that no material appearing in these pages could be reproduced in any manner without explicit permission from vayusutha.in
SRI HANUMAN
SRI HANUMAN THINKS DIFFERENTLY, THINKS FAST, THINKS AHEAD AND ACTS FOR SURE.
Our salutations to this Hanuman who always brings subham - everything that is good - for His devotees and eliminates the bad and the evil. He removes even the traces of bad thoughts and deeds from His devotees. i.e He makes them pure in words, thought and deed.