Sri Sanjeevaraya Temple, Thippayapalle village
Pullampet mandal, Kadapa District, Andhra
Sri Babuji, Tirupati
Photo courtesy : Sri Mohan Rao, Hyderabad
Cuddapah alias Kadapa
Cuddapah city of Andhra Pradesh is situated eight km south of the Penna River. This city is surrounded on three sides by the Nallamala and Palakonda hills. Cuddapah had derived its name from the word 'Gaddapa' which means entrance or doorway in Telugu. It is considered as the entrance to have the dharshan and blessings of Lord Venkateswara of Sri Sheashatrishyla. Hence the city came to be known as Devuni Caddapah, or Cuddapah.
Pligrimage route for Tirupati
Places like Adoni, Kurnool, Ananthapur etc, formed the Northern part of Cuddapah. These places had dense inhabitation by Vaishnava Devotees ever since the era of Vijayanagar period of rule. These devotees while going to Tirupati will travel through cCudappah which is a part of Eastern Ghats. Eastern Ghats forms a picturesque divinity of great serpent Sri Adisesha with its hood at Tirumala, its body at Ahobilam and its tail- end portion at Srisailam. Therefore before taking a journey to Tirupati, devotee would halt at Kadapa and offer their prayer for safe pilgrimage to Sheashatrishyla. Walking from Kudapa to Tirupati along the western ghat is mesmerizing, where one can witness the majestic flow of river Penna and Papagni river.
Prosperity and Drought
These areas presently known as Rayalaseema are prone to drought and famine. Despite these adverse conditions, people were content and were leading a happy life. There was no dearth of learned people in this place. Many scholars had lived here and had produced many literatures in Telegu, Kannada and Sanskrit as, their contribution towards Bhakti movement. These areas were either under patronage of rulers of Vijayanagara dynasty or Gandikota Pemmasani dynasty.
Thippayapalli Village
Once around five hundered years back, a staunch Vishnava devotee was on his way to Tirupati on pilgrimage. After offering his prayers at Devuni Caddapah he started his last leg of the pilgrimage towards Tirupati. There were no rains and people were suffering of some ailment or the other. Farmers could not grow much grain and the people of the area were suffering because of these multiple factors.
While this devotee was near a village called Thipayapalli, villagers got together and requested this Vishnava devotee to stay for some time in the village and offer his prayers for the welfare of the people of the village. Villagers offered that they will take care of his daily needs. They showed him the the dryed up lake near the village, which otherwise use to be huge source of water. The lake dug with the patronage of king is as huge as an ocean hence known as samudram and named as "Deva samudram" after the king.
Stay of Pundit in the village
Seeing the condition of the people of the village, the pundit decided to help them by offering prayers to deity by staying in the village. He camped in the southern end of the village and started his prayers. He had installed a stone block and with the help of another stone wrote few "Akshara" in the stone. ['Akshara' in general means alphabet. But in Sanskrit 'shara' means one which is perishable and 'Akshara' means one which is NOT perishable.]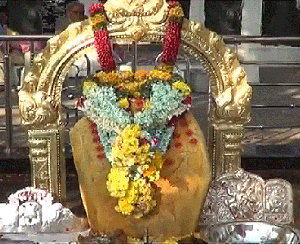 He had asked 'prasadam' [cooked food as offering to the deity] to the deity to be prepared by the man folks of the village. He used to sit on meditation in front of the deity and offer his prayers for hours together. At the end of his prayers, he would offer the prasadam to the deity which used to be his daily diet. These prayers continued for couple of days. After sometime, village started witnessing heavy rains. The deva samudram was then brimming with water. Gradually, the sufferings of villagers receded and their happiness and prosperity restored.
Parting Wishes of Pundit
Throughout the stay of the pundit villagers took care of him and attended to his daily needs. Once prosperity of the village was restored, the pundit decided to continue his pilgrimage to Tirupathi. He suggested the villagers to continue the workship of this deity for continued health, prosperity and peace of mind.
Sri Sajeevaraya Swamy
Villagers were keen to perform the daily pooja as suggested by him but they were not aware of the diety that had been invoked in the stone by the Pundit. When they asked the pundit, he replied that Sri Sajeevaraya Swamy [Sri Anjaneya Swamy] had been invoked in this diety. He suggested them to pray to Sri Sajeevaraya Swamy with all devotion and the manner in which he prayed on Him. Lord Sri Sajeevaraya Swamy protects this village and villagers started pooja to Sri Sajeevaraya Swamy in the same way.
Temple Today
Thippayapalli is a Village in Pullampeta Mandal in Cuddapah District of Andhra Pradesh State, and covered under Rajampet Revenue taluk. Even today one could visit this temple in which Sri Sajeevaraya Swamy is worshipped in the same way as was in practice for the last five hundered years. Even today villagers from surrounding villages like Bavikadapalli, Kollavaripalli, Jaguvaripalli, Brahmanapalli, Utukur are visiting this ancient temple of Sri Sajeevaraya at Thippayapalli and offer their prayer for well being of their village.
Makara Sankaranti festival at Thippayapalli
As a custom, the first crop after the harvest is offered to the deity of the village which is often a practice in all part of our country. This annual festival is celebrated by all as Makara Sankaranti. In Tamilnadu it is known as Pongal, in Punjab it is known as Lohri, in Assam it is Bihu etc.
In this village every year, Sunday prior to the Makara Sankranti, Pongal is offered to Sri Sanjeevaraya Swamy. As customary in this village,the pongal offering is prepared by the men folks of the village. As per the custom, the poojas are conducted by the men while the women folks have dharshan of the deity from the entrance, hounouring the age old custom for the welfare of the village.
---
Experience
Lord Sajeevaraya Swamy at this village Thippayapalli who is in 'aroopa' formless amorphous and as ubiquitous is protecting the people from all ailments and the village from drought and famine. Pray on to this ubiquitous Lord Sanjeevaraya for gaining strength to face the ploblem, health and prosprity and peace of mind.
Ed [May 2017]
SWAGATHAM
Welcome to the pages on Son of Wind God Vayu Lord Anjaneya Swami -Vayusuthan.
The intention of this site is to propagate the glory of Lord Anjaneya [Hanuman].
Though the intention of this site is to propagate the glory of Lord Anjaneya [Hanuman], kindly note that no material appearing in these pages could be reproduced in any manner without explicit permission from vayusutha.in
SRI HANUMAN
SRI HANUMAN THINKS DIFFERENTLY, THINKS FAST, THINKS AHEAD AND ACTS FOR SURE.
Our salutations to this Hanuman who always brings subham - everything that is good - for His devotees and eliminates the bad and the evil. He removes even the traces of bad thoughts and deeds from His devotees. i.e He makes them pure in words, thought and deed.