Sri Anjaneya Swami temple, Kothapet,
Guntur, Andhra Pradesh.
gk kaushik
Guntur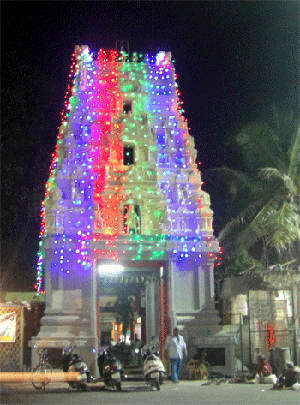 Guntur, a city in Andhra Pradesh is famous for its red chilllies and tobacco. which is exported across the globe. It is an ancient and old city situated on the fertile plains of Krishna River. Proximity of Guntur to city Amaravati, which is the capital city of present Andhra Pradesh makes it all the more important city.
This ancient place Guntur is considered the second oldest evidence of civilization of humans in India, in the form of Palaeolithic (Old Stone Age) implements. Ancient history dates back to the time of Sala kings who ruled during the 5th century BC. One of the other earliest reference to the present name of the city can be dated back to the period of Ammaraja–I (922-929 CE), the Vengi Eastern Chalukyan King. It is also mentioned in another two inscriptions dated 1147 AD and 1158 AD. In Sanskrit, the name of Guntur was referred as Garthapuri, "Garthapuri" or "Guntlapuri" translates to "a place surrounded by water ponds"
Ancient Guntur
The original Sanskrit name (ancient Vedic culture/tradition) for Guntur was Garthapuri. The "Agasthyeswara Sivalayam" in the old city of Guntur is an ancient temple for Siva. Agastya had built the temple in the last Treta-Yuga around the emergence of Swayambhu Linga. Hence the temple was named as Agasthyeswara Sivalayam .
Guntur was successively ruled by famous dynasties such as the Satavahanas, Andhra Ikshvakus, Pallavas, Ananda Gotrikas, Vishnukundina, Kota Vamsa, Chalukyas, Cholas, Kakatiyas, Vijayanagara and Qutb Shahis during ancient and medieval times. The famous battle of Palnadu which is enshrined in the literature as Palnati Yuddham was fought in Guntur district in 1180.
Guntur became part of the Qutub Shahi sultanate of Golconda, Mughal empire in 1687. This empire was a part of Nizam of Hyderabad from 1724. The place was subsequently occupied by French in 1750s. Raja Vasireddy Venkatadri Nayudu (1783-1816) shifted his capital from Chintapalli in Krishna district to Amaravati across the river Krishna. He ruled with munificence and built many temples in Guntur region. Guntur was brought under the control of the British East India Company in1788, and became part of of Madras Presidency.
Literacy rich Guntur
It has been established that the area around Guntur had philosophical university way back from 200 BC. There are many scholors like S/Shri Nannayabhatta, Vemana, Gurram Jashuva, Tallavajjula Sivasankara Sastry, Tikkana, Bajilepalli, Lakshmikantham, Madabusi Vedantam Narasimha Charyulu, Acharya Nagarjuna, Kalaprapurna Tummala, Seetha Rama Murthy Chowdari, Karuna Sree "Jandhyala Papayya Sastry", Rayaprolu Subba Rao who had made Guntur proud.
Guntur the Transit town
Guntur has acted as transit town for the pilgrims and scholars travelling from South India to North India and vice versa. It is a common practice for South Indians to visit Kasi [Varanasi] in North and pilgrims from North India to visit Rameswaram in South. People of this town had been one of the best hosts for these pilgirms.
Mutts built by Bairahis in South India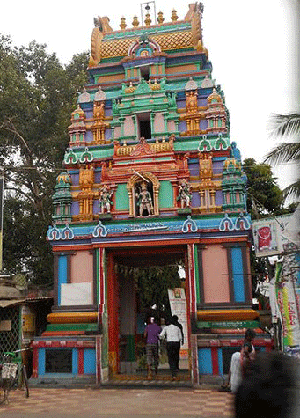 Apart from these pilgrims, there were Bairahis who are saintly people who also undertook pilgrimage of their choice. Bairahi is a word derived from the word vairahi which means 'people living with a vow'. It refers to persons who lead their life with an aim to attain 'moksha'. These people are recognized to follow and adopt any means to attain the same. There are many such Bairahi who visit these holy kshetras in pursuit to this goal of attainment of 'moksha'. Few of these saint who travelled to south India as a part of this holy trip, had decided to settle down in various places in South India. Few of them had built rest house [known as chatram or matam] for other visitors from their place of origin; in such matam they also installed deity of their choice and affection.
Guntur Mutts
Exactly three hundered years' back, three saintly people from Ayodhya were on pilgrimage to South India. Shri Jaganath Das Babaji along with Shri Shyamla Das Babaji and Shri Bhagavan Das Babaji while on pilgrimage tour. , decided to stay put in Guntur and establish mutt in the year 1717. They had established three mutts in Lalapet area of Guntur and as practiced by the Bairahis they had established dieties of their choice in their mutts. Sri Padmavathi and Andal sametha Sri Venkateswara Swami, Sri Jaggannatha swami, Sri Anjaneya Swami are the three deities established by them in their mutts.
They also provided facility for stay and served food to pilgrims. They never demanded money from the pilgrims for the service provided in their mutts. The mutt functioned on donations given voluntarily by the the pilgrims.
Kothepete mutt
At Kothepete opposite to Gunta ground they installed Sri Anjaneya Swami. In the year 1795, a devotee by name Sri Vasi Reddy Ventaktathri Naidu garu visited this mutt. He was inspired by the functioning of the mutt and had donated 300 acres of land for these mutts. Revenue generated from the land was utilized for the nitya pooja and annual celebrations.
Kothepete Sri Anjaneya temple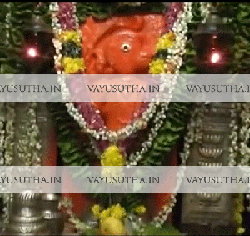 Today the mutt is no longer seen as a pilgrmage choultry, but the temples established by them continue to function. Sri Anjaneya Temple situated opposite to Gunta ground attracts large numbers of devotees from all over the Guntur District. This Temple near Nazz centre is facing north. The poojas are conducted by the decendents' of the founder members with all devotion and faith as per the rules set in Vaikhanasa agama. The poojas are conducted so good that the deities in these mutts were santified and the presense of the Godliness is felt by the devotees.
Kothepete Sri Anjaneya
The North facing Sri Anjaneya is seen walking westward with His left foot forward. Both His lotus ankles are seen wearing hollowed ankeles. With His right hand Lord is blessing the devotees with "Abayam". In His left hand He is holding mace [ghada]. His blossom is seen with three neckles. His yogyopaveedham is seen brightly. Lords' forearm is adorn with a chain, ear ring known as "kundalam" is just touching His shoulders. His sika is tied neatly and seen huge bundle. His raised tail goes just above His head and the end is elegently curved. Lords' ears are seen erect with alertness as if listening attentively to the request of the devotee. His bright eyes are with all alertness, and at the same time bestowing the blessings.
---
Experience
Come to Kothepete, in Guntur a heritage holy city and get blessings from lord Anjaneya and witness the sanctity and divinity of pooja at this temple. Lord Anjaneya will listen attentively to your woes and would address them at the earliest.
Ed [April 2017]
SWAGATHAM
Welcome to the pages on Son of Wind God Vayu Lord Anjaneya Swami -Vayusuthan.
The intention of this site is to propagate the glory of Lord Anjaneya [Hanuman].
Though the intention of this site is to propagate the glory of Lord Anjaneya [Hanuman], kindly note that no material appearing in these pages could be reproduced in any manner without explicit permission from vayusutha.in
SRI HANUMAN
SRI HANUMAN THINKS DIFFERENTLY, THINKS FAST, THINKS AHEAD AND ACTS FOR SURE.
Our salutations to this Hanuman who always brings subham - everything that is good - for His devotees and eliminates the bad and the evil. He removes even the traces of bad thoughts and deeds from His devotees. i.e He makes them pure in words, thought and deed.