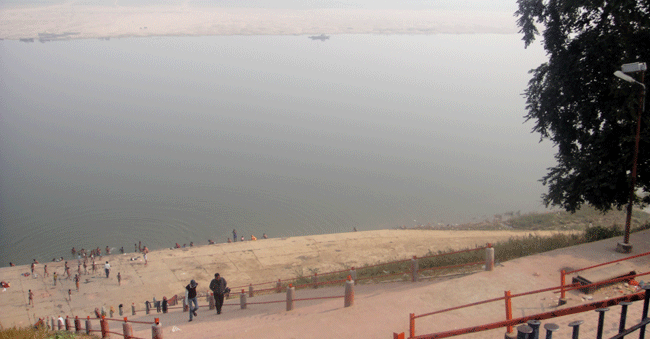 Sri Siddhi Hanuman of Naandhi, Chitrakoot, Utter Pradesh
gk kaushik
TulsiDas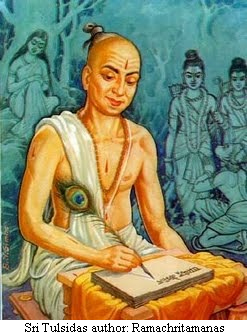 Sri Tulsi Das is a familiar name for Sri Hanuman devotees, he happens to be a great saint. Saint Sri Tulsi Das had given us the great epic of Sri Ramayana in Awadhi language which happens to be the native language in this district. Despite being a schlolar in Sanskrit language, he was ordained to write the epic in Awadhi so that a common man could recite this holy script. The saint with great knowledge had retold Sri Ramayana and had the epic titled "Rama Charit Manas". He had plotted the manas as Sri Siva rendering the story of Sri Ramachandra, thus bringing unity among the followers of Sri Siva and Sri Vishnu. It was revolutionary on his part to bring in this unity among the these two groups of sanadhana dharma followers of that time.
Rambola leaves Rajapur
Sri Tulsidas was born to Sri Athmaram (a Saryupareen Brahmin) and Hulsi in the village Rajapur in the present Chitrakoot district of Uttar Pradesh. Right at the birth the boy uttered 'Ram' hence called Rambola.
Since the child was born under the Abhuktamūla constellation, which according to Jyotisha (Hindu astrology) causes immediate danger to the life of the father. Due to the inauspicious events at the time of his birth, he was abandoned by his parents on the fourth night. He was subsequently sent away with Chuniya, a female servant of Hulsi.
She took the child to her village of Haripur and looked after him for five and a half years after which she died. Rambola was left to fend for himself as an impoverished orphan, and wandered from door to door begging for alms.
Rambola to Tulsidas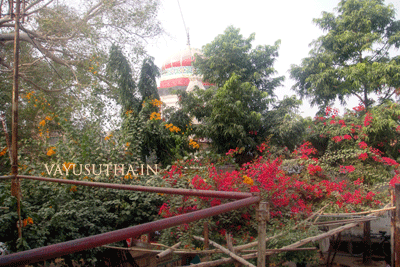 Rambola was subsequently adopted by Narharidas, a Vaishnava ascetic of Ramananda's monastic order. Narharidas is believed to be the fourth disciple of Ramananda. Rambola was given the Virakta Diksha (Vairagi initiation) with the new name of Tulsidas.
Tulsidas was then given proper education on various aspects Sanadhana Dharma. After few years he was given initiation to narration of Srimath Ramayana of Saint Valmiki by his guru. Thereafter Sri Tulsidas was popular for being an exponent of Ramayana pravachana [discourse].
Tulsidas Revisit to Rajapur
As the Rajapur village was undergoing some bad patch of time, people from Rajapur village approached Tulsidas to grace the village, without knowing that he is their Rambola. On an auspicious day he set forth to the village. The village elders welcomed him and as arranged he gave discourse on Ramayana in his village.
Sri Tulsidas and Naandhi Sri Hanuman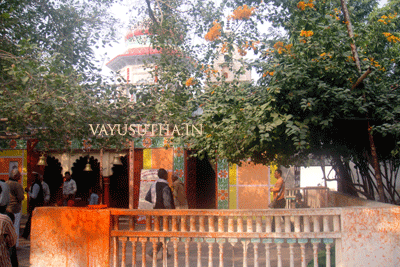 During his stay at Rajapur, as per the divine direction Sri Tulsi Das would visit a village by name NAndhi nearby Rajapur. Naandhi means joy, satisfaction, delight, in general. He was regular visitor to Naandhi for offering his prayers to Sri Hanumanji of this village. This particular murti of Sri Hanuman is Siddhi Hanuman and it was well known that many saints had initiated tantric powers on this murti earlier. He continued his deep meditation in the presence of Siddhi Hanuman. In due course of time, people of Rajapur found a quantum change in their prospects after arrival of Sri Tulsidas and his discourse of Srimath Ramayana. The rains became regular, crops started growing in in abundance. This led to prosperity and happiness among people of Rajapur.
Mantra roopa Sri Hanuman at Rajapur
Once there was flood in the river which prevented Sri Tulsidas to go to the village NAndhi. He meditated upon Sri Hanuman of NAndhi sitting on the banks of the flooded river. He had a divine direction from Sri Hanuman of NAndhi that he will present himself in Rajapur itself in the sandalwood paste prepared by him. He could initiate NAndhi Hanuman [Thantric roopa] in the sandalwood paste in Manthra roopa.
Kindly see "Sri Sankata Mochan Hanuman of Rajapur Chitrakoot Utter Pradesh" for details about Manthra roopa Hanuman
Siddhi Hanuman of Naandhi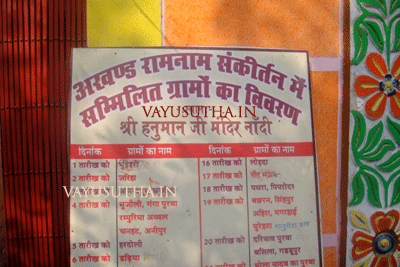 Sri Hanuman of this kshetra had been in worship by many saints of past. They had initiated thantric powers in the murti of this kshetra therefore Sri Hanuman of this kshetra is known as Nandhi Siddha Hanuman, meaning one who bestows joy, satisfaction, delight, and prosperity. Because of presence of this powerful Hanuman this village itself got the name Naandhi.
Sri Hanuman of this kshetra is a swayambhu. Sri Hanuman is seen from the side and seen as walking. Only the left lotus feet of the Lord is visible, while the right feet is only half outside the ground level and rest of the portion is below the earth. Lords tail seen raised above the head. Right hand is seen giving 'abayam' to the devotee.
Temple Complex
The temple complex is huge, and the big peepal tree in front of the main entrance gives a pleasant atmosphere for offering prayers and meditation. Ram Charit Manas is recited regularly in this Kshetra and people from surrounding villages join for this Sri Ramayana yagya.
---
Experience
Dharshan of Naandhi Siddha Hanuman in the background of Manas pat is a delight and sure to give joy to the devotees.
Ed [February 2017]
SWAGATHAM
Welcome to the pages on Son of Wind God Vayu Lord Anjaneya Swami -Vayusuthan.
The intention of this site is to propagate the glory of Lord Anjaneya [Hanuman].
Though the intention of this site is to propagate the glory of Lord Anjaneya [Hanuman], kindly note that no material appearing in these pages could be reproduced in any manner without explicit permission from vayusutha.in
SRI HANUMAN
SRI HANUMAN THINKS DIFFERENTLY, THINKS FAST, THINKS AHEAD AND ACTS FOR SURE.
Our salutations to this Hanuman who always brings subham - everything that is good - for His devotees and eliminates the bad and the evil. He removes even the traces of bad thoughts and deeds from His devotees. i.e He makes them pure in words, thought and deed.