SWAGATHAM
Welcome to the pages on Son of Wind God Vayu Lord Anjaneya Swami -Vayusuthan.
The intention of this site is to propagate the glory of Lord Anjaneya [Hanuman].
Though the intention of this site is to propagate the glory of Lord Anjaneya [Hanuman], kindly note that no material appearing in these pages could be reproduced in any manner without explicit permission from vayusutha.in
SRI HANUMAN
SRI HANUMAN THINKS DIFFERENTLY, THINKS FAST, THINKS AHEAD AND ACTS FOR SURE.
Our salutations to this Hanuman who always brings subham - everything that is good - for His devotees and eliminates the bad and the evil. He removes even the traces of bad thoughts and deeds from His devotees. i.e He makes them pure in words, thought and deed.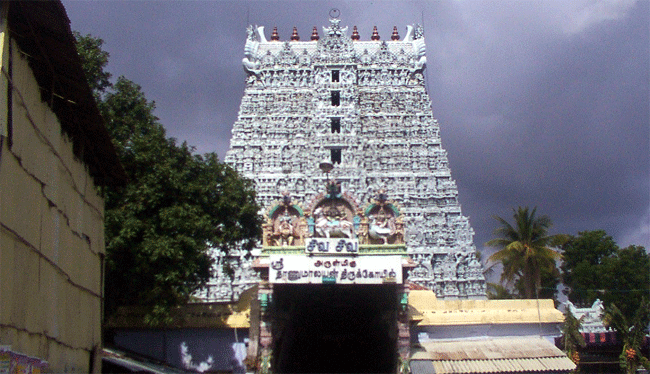 Viswaroopa Sri Hanuman, Suchindram

Kanya Kumari, Tamil Nadu
smt. b sowmiya
Sthanumalayan
Sthanu-Maal-Ayan temple of Suchindram is located around thirteen km from Kanyakumari. The temple is dedicated to the Trinity — Brahma, Vishnu and Siva. Traditionally the top, middle and bottom portions of the image in the temple represent Siva (Sthanu), Vishnu (Maal) and Brahma (Ayan) respectively.
The legend has it that the Trinity - Brahma, Vishnu and Siva came for alms and to test Sati Anusuya's devotion for her husband Maharishi Atri. When food was offered to them they laid a condition. To fulfill her duty to feed the needy and to meet the condition laid by the Trinity, Anusuya had them transformed into babies and throwing off her clothes she offered them food. Since Trinity had come together at this place this kshetram is known as "Sthanumalayan" kovil.
The main deity is in the form of linga formation in which the Trinity is worshipped.
Name Suchindram
According to the Sthalapuranam, Indra was relieved of a curse as he had worshiped the deity of this kshetram, hence place got the name 'Suchindram'. "Suchi" means purifying and the place where "Indra" was purified got the name of Suchindram. Even now Indra visits the temple daily for performing "Ardhajama Pooja" in the night.
My visit to Suchindram
I took a Local bus from Nagarkovil to Kanya kumari and got dropped at Suchindram. Next to the bus stand is an arch announcing the direction of Suchindram Temple. The journey from Nagarkovil was very comfortable and thoroughly enjoyable. There were greenery all around pleasing to the eyes and the cool breeze from around was pleasing to the body. Once you enter the arch you will be passing the huge temple tank. The water level in tank was surprising, more or less to the brim and only few steps of the tank were visible. A huge 134 feet tall raja gopuram [temple tower] welcomes you. This temple at Suchindram is known as Trimurti stalam, but more popular for the huge Sri Hanuman idol.
Raja gopuram
An imposing towering gopuram of seven-storied 134 feet tall is a feast to the eyes. It is an excellent example of classic South Indian temple architecture. The unpainted gopuram houses many intricately and amazingly carved thousands of high relief sculptures. These exquisitely rendered images of deities, and scenes from puranas are amazing to look at. With the Sun rays falling on this white tower it even more enhances the beauty of the east facing multi-faceted gopuram. It is told that there is an excellent collection of paintings found on the inside wall of this gopuram and each tier is painted with herbal extracted colors.
The Temple
The temple had been in existence from long. Cholas, Cheras, Nayak, Venadu dynasties had contributed their might to make this temple an architectural marvel, by the exquisite workmanship in stone. To name a few four musical pillars carved out of a single stone stand at 18 feet in height in the Alankara Mandapam area, and they emit the sounds of various musical notes when struck. There are an additional 1035 pillars with carvings in the area known as the dancing hall.
The Nandi image in the temple made of lime and mortar is thirteen feet high, twenty one feet long and ten feet wide. It is one of the biggest of its kind in the country.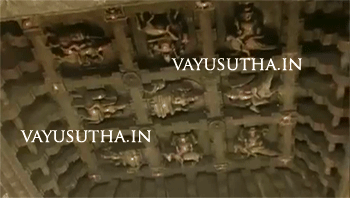 Near Nandi one can see the sannathi for Navagraham. The Navagraha devathas are sculptured on the roof of the mandapam, there is a platform just under this roof and the devotees light lamps and place it on the platform directly under the particular devatha. This is unique to this temple. There are musical pillars in this temple which are worth seeing.
Apart from the main santum for Sthanumalayar, there are sannathis for other deities also. Just opposite to the main santum is a shrine for Maha Vishnu and two Dwaja stambha for these two shrines are side by side. The other shrines are Udaya Marthanda vinayakar, Virabhadra, Chidhabareswara, Indra vinayaka, Bala Subramaniam, Chitra Shabha - Nataraja, Vallabha Vinayaka, Dharma Samvardhini, Kala Bairavar, Kanaka Durga, Mahadeva, Sri Rama, Sakshi Vinayaka, Dattatreya.
Fine polished sculptures in stone of various idols found on the pillars every where speaks for the sculptural excellence during those times.While the main deity was in existence from the beginning more and more sannathis were added from time to time thus making this temple a huge complex of deities. But at the same time the temple has only one parikrama. Prakaram is also very long like those at Rameswaram and Madurai.
Deity Sri Anjaneya Murti
As one takes the parikrama of the temple, in the western corner of north prakaram there is a carving of Sita mata in one of the pillars. As one passes through the prakaram on to the right side there is a curving of Sri Anjaneya telling the news of having seen Sita mata to Sri Rama. When one reaches the Eastern corner of North prakaram the Deity Sri Anjaneya is seen. Sri Anjaneya is seen here in Viswaroopa form. Before we could pray on to Him let us recall the incident depicted here. He had been brought to life in this twenty two feet monolithic granite figure.
Viswaroopam of Sri Anjaneya in Ramayana
Sri Anjaneya meets MataSita at Ashoka vartika. When Sita expressed her grief, at one stage Sri Hanuman tells that the grief will be over, and he can take her on his back and cross the ocean so that she can be united with Sri Rama. Astonished Sita told Sri Hanuman as to how he can do this with a 'alpashaiiraH' - small body? It seems to show the 'kapitvam' - apishness.
Hearing these words Sri Hanuman thought it as a 'paribhavam' - insult. He wanted to show Sita that he is capable of assuming body of any shape and size at his will [kamaroopi]. Getting down from the tree he started to increase his body-form. Thus Hanuman, the foremost of monkeys, sparkled like Meru and Mandara mountains, shining brightly like a blazing fire. He thus stood too in front of Sita mata.
The scene described above is from Srimath Valmiki Ramayanam in Sunder kanda. Sri Hanuman assumes a viswaroopam only at this place. In Ramayanam, Hanuman assumes a viswaroopam, that too for Sita mata. Look at the description of his viswaroopam sparkling like Meru and Mandara! Great height! Tall and huge an unimaginable size! He was not only sparkling, he was like blazing fire shining brightly. Word could stretch to this extend only to describe the figure Sri Hanuman had assumed.
Sri Anjaneya at Suchindram
We are fortunate to have the description of Sri Hanuman depicted in a figure here in Suchindram. Sculptured to bring alive the true picture of Sri Hanuman as was seen by Mata Sri Sita then. Sri Hanuman of Suchindram is to be seen in person to believe this. Now stand in front of Lord and the prayers will flow without any hindrance. When in His presense, one is sure to forget the rest of the world and the activity around him. One can not be a passer-by to look at Him like some odd tourist. He will attract the devotee and accept his prayers and absolve him of any sorrow, grief, trouble [sankat].
Legend
There are two version of how Sri Anjaneya had come to this north-east corner of the temple. Incidentally north-east corner is also known as 'vayu moolai' as per the tradition.
The history of Hanuman at this kshetram is quite fascinating. The idol was buried in the temple complex, when the priests feared an attack by the Tippu Sultan sometime around 1740. Left underground for nearly two hundered years, it was eventually forgotten. One day many years later, in 1930, Sri M.K. Neelakanta Iyer, then Secretary of the Devaswom Board, known to be an extremely pious and honorable aristocrat serving under then Maharaja of Travancore Sri Chithira Thirunal [1924-1949], tripped and fell while circumambulating the temple. And after a detailed study of Prasnam (astrological guidance), it was found that the Hanuman statue was buried at that particular place. Sri Hanuman Swamy was brought out from the under ground and then it was decided to install the idol at the north-eastern corner of the temple.
Second version has it that the Rajagopuram was having only foundation and no tower was there. During the time of Maharaja of Trivancore Sri Moola Thirunal [1885-1924], the famous Pechiparai Reservoir was constructed. At that time he had decided to construct the rajagopuram for the Suchindram also. When work for the construction was started, Sri Hanuman statue was found from underground. It was then decided to install the idol at the north-eastern corner of the temple.
Sri Anjaneya of Suchindram
Sri Anjaneya murti of this kshetram is of twenty two feet tall and majestically standing with His two palms joined and hands folded. Every inch of the deity is a delight to look at. There are no words to describe the beauty and magnificence of the Lord. A keen look at Sri Anjaneya will tell that He is giving Viswaroopam to Sri Sita Mata. His standing posture is slightly delicate out of modesty. His expression on the face shows a trace of bashfulness. All this indicate that He is standing in front of Sita Mata. For many of the present day sculptures Sri Hanuman of kshetra had become the lead-model. But only the Anjaneya of this ksethram is actually giving the Viswaroopa dharshan.
Experience
A visit to this holy kshetra and the dharshan of Viswaroopa Anjaneya is sure to absolve us of any sorrow or grief and sure to mitigate all our tribulations.