Sri Veera Anjaneya Swami Temple, Chengalputtu, Tamilnadu
gk kaushik
Chengalput Perumal Kovil
When you are inside the beautiful temple for Sri Kothanda Ramaswami temple in the serene atmosphere surrounded by green looking mountains on the backdrop, you will feel you are not in a town by name Chengalput but in heaven. Though the temple is named Sri Kothanda Ramaswami temple, the main deity of Sri Ramaswami appears as described in the sloka "vaithehi sahitham...", sitting on a raised platform in the veerasana posture and his right hand showing the gyana mudhra with his consort Sri Vaithehi on his along side. While his anuja Sri Lashmana is standing by his side, the other anujas Bharata and Shatrugna are sitting in front along with Sri Prapanjana Sutha alias Sri Anjaneya with anjali hasta. The serene atmosphere in which Sri Rama is giving the gyanopadesa to Sri Anjaneya is a feast to the eyes, and one would be mesmerised by the sheer grace of the Lord. The 'uthsava moorthi' is however Kothanda Raman.
Sri Varadharaja Swami sannathi
On to the left side of Sri Ramaswami sannathi is the sannathi of Sri Varadharaja Swami, who is the original presiding deity of this temple. Sri Varadharaja Swami here is facing south, and holding the sudharshan chakra in prayoga posture in his right hand. There is a separate thaayar sannathi for Sri Perundevi. The 'uthsava moorthi' of Sri Varadharaja Swami is present with Mata Sri Sri Devi and Sri Booma Devi . This temple was build around 1041 A.D. and popularly known as Perumal koil.
Sri Thima Raja Jamindar shifted the temple in 1768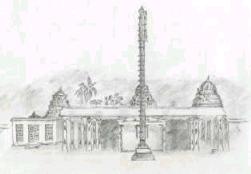 There was a temple for Lord Sri Pattabiramar in the fort area of Chengalput then. When there was invasion of the Hindu temples by others, Sri Thima Raja Jamindar - the local chieftain - had shifted the Lord Sri Pattabiramar temple to the complex of Sri Varadharaja Swami temple in the year 1768. The Jamindar was the father of Sri Chengalvarayan - after whom the place has acquired the name Chengalput. One of the ornaments that adorn the Lord was gifted in 1887, on the occasion of the golden jubilee celebration rule of HM Queen Victoria.
Sri Anjaneya Swami Sannathi
There is a separate sannathi for Veera Anjaneya in the north -west corner of the complex, the corner ruled by Vayu as per Vaastu shastra. The Lord Anjaneya Swami is in a unique posture here. Anjaneya is seen here with one hand giving abaya and the other hand resting on his hip holding a large lotus. His tail is raised and a small bell is tied to the end of the tail. Like Rudhra who held the "Kalan" tide to the ground as Kala samhara murthi in Thirukataiyur, here Anjaneya is seen holding Sri Sani Bhagawan to the ground.
Legend : Sri Sani Bhagawan and Sri Anjaneya
The story behind this special roopa of Anjaneya goes like this.
When Anjaneya was standing on the top of mountain Mahendra ready to leap to Lanka, Sani Bhagawan the son of Lord Surya came to Anjaneya and told that his seven and half years of tenure with him is to start. Anjaneya told him that since he is going to Lanka on Sri Rama's (who is also a surya vensi) mission, as son of Surya he should spare him for the time and on return he himself will come to Sani Bhagawan. The proposal was agreed upon and Sani Bhagawan was waiting for Anjaneya on the mountain Mahendra.
But in the zeal to assist Sri Rama in accomplishing the task of bringing back Sri Sita, Anjaneya had forgotten the words of promise given to Sani Bhagawan. Anjaneya Swami was assisting building of the bridge to Lanka, by carrying lots of stones on his head to put across the ocean. Sani Bhagawan came to the site and reminded him of the words and asked him as to which part of Anjaneya's body he should occupy. Again Anjaneya pleaded with him to spare him for the time. But Sani Bhagawan as duty bound told him that there could be no relaxation to the duty this time. Anjaneya thought for a while and suggested to Sani Bhagawan that while performing his duty he could also assist Rama by doing some labour, just like a small squirrel which was also doing its mite. Sani Bhagawan asked Anjaneya as to how he could assist Rama, to which Anjaneya said "carry some stones on your head and sit on my head". With the promise to assist Rama while performing his duty, Sani agreed to this. He carried some stones and occupied Anjaneya's head. Now he was caught between the stone in the head of Anjaneya and the Stone on his own head.
Sri Anjaneya pinning Sri Sani Bhagawan
Anjaneya sang in praise of Lord Rama and was dancing while he was carrying on with his mission. Every time he was jumping, the stones were also jumping and Sani was getting crushed in between. Sani Bhagawan was not able to bear the torment meted by these jumping stones. He requested Anjaneya that he may be relived of this task and that he would prefer to stick around the feet of Anjaneya instead of his head. Anjaneya was busy carrying stones for the Sethu Bandhan and did not pay any heed to the request of Sani Bhagawan. On hearing the noise created by Sani Bhagawan, Lord Rama intervened and told Anjaneya to have a considerate view. Anjaneya then released Sani Bhagawan from his head but had pinned Sani Bhagawan to ground before he could cling to his feet.
Once again Sani Bhagawan requested Anjaneya and Rama to release him with these words :
yo vakthirama the nama maruthe: abiva swayam
kshanam thathra ne thishteyam sathyam prethi srunoomethe |
"O Rama, I will not hold (even see) those who spells your name or Maruthi's name even for a kshanam (micro - second)", with these words Sani Bhagawan goes to his abode.
The Veera Anjaneya moorti of this temple depicts this part of history in the life of Anjaneya.
---
Experience
There is no doubt in the minds of Anjaneya Bhakthas that the Lord is the saviour. Praying to him one could live totally rid of all sankatas for he is a Sankata mokshana prabhu.
[ed. 13.12.2001]
SWAGATHAM
Welcome to the pages on Son of Wind God Vayu Lord Anjaneya Swami -Vayusuthan.
The intention of this site is to propagate the glory of Lord Anjaneya [Hanuman].
Though the intention of this site is to propagate the glory of Lord Anjaneya [Hanuman], kindly note that no material appearing in these pages could be reproduced in any manner without explicit permission from vayusutha.in
SRI HANUMAN
SRI HANUMAN THINKS DIFFERENTLY, THINKS FAST, THINKS AHEAD AND ACTS FOR SURE.
Our salutations to this Hanuman who always brings subham - everything that is good - for His devotees and eliminates the bad and the evil. He removes even the traces of bad thoughts and deeds from His devotees. i.e He makes them pure in words, thought and deed.