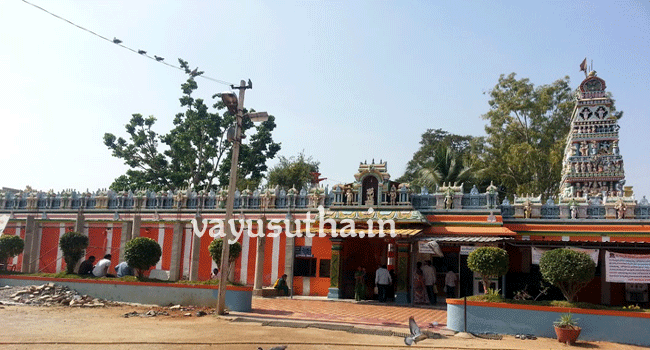 Sri Dhyana Anjaneya Swamy Temple
Karmanghat, Saroornagar, Hyderabad
Telakapally Raja Sekhar Sarma, Hyderabad
Photos by Kumari Vanka Jyotsna, Hyderabad
Hyderabad
Hyderabad is the common capital of both the south Indian states of Andhra Pradesh and newly formed Telangana. As per the archaeological evidence this place had been in habitation since 500 BC. It had been under rule of many dynasties like Mauryan, Satavahanas, Ikshvaku, Chalukya etc. Kakatiyas, who were feudal chieftains of Chalukya, declared independence and setup their kingdom with Warangal as their capital. The Golconda fort the chief attraction for visitors to this city was built by Kakatiyas.
The Kakatiya dynasty and Hyderabad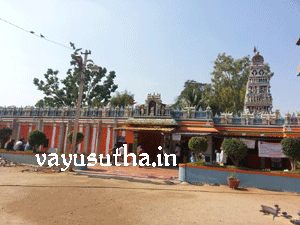 The Kakatiya dynasty ruled most of the Telugu speaking lands covered by current day Telangana and Andhra Pradesh from 1083 CE to 1323 CE with Orugallu, now Warangal, as its capital. This Hindu kingdom was one of the great Telugu empires that lasted for centuries until the conquest by the Delhi Sultanate. The rule of Rudrama and her grand son Prataparudra of this dynasty were spent mostly in war and both of them were adventurers. They had tough time protecting the kingdom.
Prataparudra had made another memorable contribution to this city, which had withstood all the troubles that ensued during the following periods. In fact it stands as a crown among the fighting survivors and declaring it in its name itself. That is Kharmanghat Sri Dhyana Anjaneya Swamy Temple.
Temple built by Prataparudra
It was during 1143 AD that the then Kakatiya ruler Sri Prataparudra had come to the forest near the village named Lakshmigudem for hunting. This village is nearby Hyderabad of today. After hunting for a long period, the king took rest under a tree. The Kakatiya ruler heard the roar of a tiger, he went on to search for the tiger in the forest once again, but now he heard someone chanting Ramajapam "Srirama, Srirama". The Kakatiya ruler heard the chanting of SriRama nama and went in quest of the voice in the dense jungle and found the Lord Hanuman idol in seated posture there.
He discovered that the divine voice is coming out from this deity present there. After paying respects to the Lord Hanuman, he returned to the city. During that night, he was given a divine direction by Lord Hanuman to construct a temple at this place. The king built the temple immediately. The temple was maintained by the successive rulers also.
Lakshmigudem becomes Karmanghat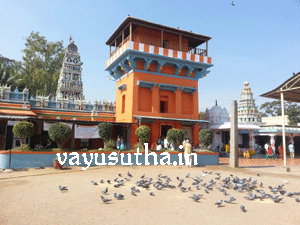 There is an interesting incident behind the location getting its new name as Karmanghat [karo man ghat/करो मन घट]. During 17th century, Aurangzeb of Moghul Empire sent his Army to all corners of the country for the further expansion of their territory. In this quest he had come to south and wanted to conquer the sultanate of Hyderabad. He first laid siege to Golconda along with his commanders Khwaja Abid during 1686 and had to retreat in frustration. In frustration when retracting he and his men destroyed many places of worship of Hindus.
Aurangzeb was not to let Golconda out of his sight, returned again in 1687 and he laid siege of the fort with more vigor. This time he was successful and he captured the fort. The victorious Aurangzeb ordered his men to destroy all places of worship of Hindus. This temple of Lord Hanuman had also come in their way. They wanted to destroy this temple and vigraha also. His army men made efforts to enter the temple, but they were pushed by some strong divine force. They could not even come any close to the boundary of the temple.
When this shocking news was informed to Aurangzeb, he decided to look into this wonder and brought implements to demolish the temple himself. When he was near the temple, he heard a thundering and roaring voice from nowhere saying, "Mandir todna hai to, pehle tum karo man ghat" (मंदिर तोडना है तो पहले तुम करो मन घट) means, "If you want to destroy the temple, then make your heart stronger". After hearing this strange furious voice, the Aurangzeb's implements slipped from his hand. When he doubted that it could be a trick, he saw light emerging and engulfing the entire area. Out of fear and anxiety he left the place and away from the vicinity of the temple.
The words 'Karo Man Ghat' had become the key slogam for the deity of this Mandir, and in due course of time the place came to be known as 'karomanghat' which later became Karmanghat.
Karmanghat Hanuman Temple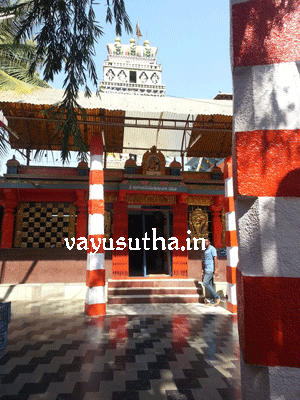 The temple is located in Karmanghat village which is presently in Saroornagar Mandal under Ranga Reddy District of Telangana near its State capital Hyderabad. The temple complex is spread in around three acres of land. While the main deity of this temple is Sri Anjaneya, over the time many other temples had been built and today the whole complex is huge.
In the complex apart from Dhyana Anjaneya, other temple includes temple for Vigneshvara in the right side of the main temple and on the east side, temples for Sri Puri Jagannadha Swamy, Durga mata, Venugopala Swamy, Navagraha, Bhramarambasametha sphatika lingeshwara, ramalayam, santhoshimata, Basurivala Krishna, Kasi Visweswara, Sarswathi, Nageswara and Subrhamanyeswara are present.
Dhyana Anjaneya Swamy
Sri Karmanghat Sri Dhyana Anjaneya Swamy Temple is one of the ancient and biggest temples built exclusively for Lord Hanuman in and around Hyderabad city. As one enters through the main entrance of the complex from the south side where (pushkarini ) koneru is existing, the entrance for Sri Hanuman temple is seen. There are four pillars of different height in the vicinity of the Sri Hanuman temple entrance. During festival season oil lamps are lit and kept atop of these pillars.
Main deity Lord Hanuman of this temple is known as 'Dhyana Anjaneya Swamy'. Sri Hanuman of this kshetra is seen in a sitting posture wearing calm as an ornament of His face. The main deity is about 5 feet tall is facing south. The face of the Lord though looks that of an lion His calmness bring out the charm of the deity.
Ustava murthy a small idol kept near the main deity is used during the procession in palanquin on every Tuesday and Saturday.
Festivals and management of the temple: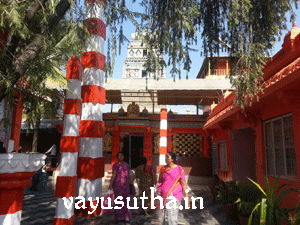 The temple is under the control of Endowment Department of Telangana Government. Construction Raja Gopuram with seven tiers is in progress. The temple has a scheme to feed devotees daily at noon.
Many Hindu festivals like Hanuman Jayanti, Sri Rama Navami, Ugadi [Telugu new year day], Krishna Janmashtami and Maha Sivarathri are celebrated with great splendor.
How to Reach Karmanghat :
Karmanghat Hanuman temple is located in the main road of the village Karmanghat, which falls in Saroornagar Mandal under Rangareddy District of Telangana. It is now a part of Hyderabad and is near Sagar Ring road. One can reach this place from MG Bus Station which is at a distance of ten kilometers or from Secunderabad Railway station which is around sixteen kilometers.
Temple Timings:
Mon, Wed, Thu, Fri: 6:00 am to 12:00 pm and 16:30 pm to 20:30 pm
Tue and Sat and festival occasion: 5:30 am to 13:00 pm and 16:30 pm to 21:00 pm.
---
Experience
The calm looking Karmanghat Hanuman is sure to restore faith and vigor in His devotee. Devotee is sure to revitalise to face the challenging world around him.
Ed [April 2015] [Sri RamaNavami Spl]
author is working in Hyderabad in Postal Dept.