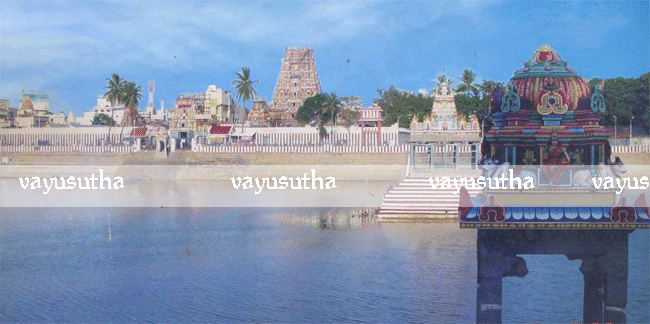 Sri Veera Anjaneya Temple : Luz : Mylapore : Chennai
gk kaushik
Mylapore of Chennai pattanam
ThePeople who had visited Madras City, which is presently known, as Chennai must have seen the grand and magnificent Kapaliswarar temple at Mylapore. The imposing Raja Gopuram will remain in our memory. When inside this temple we are far away from the maddening crowd and the hassle of the city. Sri Thirugyana Sampanthar is one of the great saints who had song in praise of Lord Shiva. Sri Thirugyana Sampanthar had song in praise of Lord Kapaliswarar, therefore it is believed that the temple had been in existence for a long time.
"Thiru Kural" written by Saint poet Sri Thiruvalluvar was also born in Mylapore. There is a temple for the saint in the place where he was born in Mylapore. This part of the city is one of the oldest places. While Thiruvetriuoor is said to be the northern boundary of the Chennai pattanam, southern boundary was Thiruvanmiuoor. The center of the pattanam (a sea shore town) was Mylapore and Thiruvallikeeni (Triplicane).
Thanneer thurai Anjaneya Swami Temple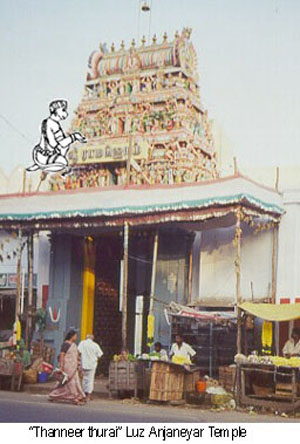 Near to the Thiruvalluvar temple there is a famous Anjaneya Swami temple. Bhagawan Anjaneya swamy temple near Sanskrit college at Mylapore, Chennai is one of the oldest Anjaneya temples of Chennai. This temple is popularly known as "thanneer thurai Anjaneyar koil" in forties and fifties, since this temple is situated near "thanneer thurai" vegetable market. In those days there were very few temples exclusively for Anjaneyar in the whole of Chennai. Presently this temple is known as Luz Anjaneyar since Mylapore itself has three Anjaneyar temples.
Unique in many ways
The Bhagawan Anjaneya Swamy of this temple is unique in many ways. Many scholars like Brahma Shri Anantharama Deekshithar, Shri Kripanantha Wariyar had given discourses on Ramayana at the Sanskrit College nearby this temple. Bhagawan Anjaneya Swami who is present wherever Ramanama is spelled, had heard the Ramayana from the temple itself. This Anjaneya Swami had seen more Ramabhakthas emerging after these discourses.
The Sanskrit College was the venue for many vedic activities, scholastic discussions on Hindu Dharma and discourses on Puranas and Ithihasas.
Sri Kanchi Kamakoti Peetam Jagath Guru Shri Paramacharya was camping in the Sanskrit College for Chatur Masya and performing the Chandra Mouliseeswara puja. Many days after the evening puja Shri Paramacharya had enlightened the devotees with the spiritual teachings. Many clarifications about Dharma had been offered to the devotees in these teachings. Many unclear concepts that people had about Hindu Dharma -for a common man these concepts were bordering on mystery – were clarified by his teachings. The Bhagawan Anjaneya Swami of this temple has been a witness to all these functions and activities at the Sanskrit College.
Sri Rajaji's Ramayana (retold)
Sri Chakravarthi Rajagopalachari, the first Indian Governor General of India, popularly known as Rajaji had retold The Ramayana in Tamil under the title "Chakravarthi Thirumagan" (meaning Great Son of Emperor). Before publishing this as a serial in the Tamil weekly "Kalki", Sri Rajaji had placed the manuscript in this temple seeking the blessings of Sri Anjaneya.
The Shilpa of Swami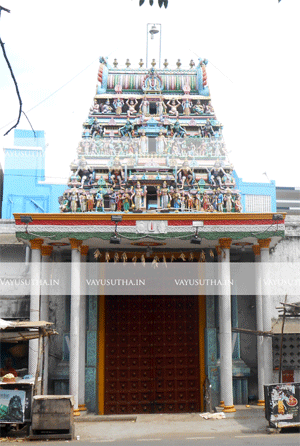 The shrine of Bhagawan Anjaneya Swamy in "ardha shilpa" form is west facing and He is seen as if walking towards South. On His ears he wears Kundalam, and His eyes are having bright hue. His right hand is in "Abaya mudra", His left hand is resting in the hip and holding the "gatha". On His arms he wears armlet known as keyura and on His wrists are solid bangles known as kankana. His lotus feet is adorned with an anklet known as thandai. His lankulam (tail) is raised above the head and is pointing towards South. The Bhagawan is seen resting on a lotus pedestal as in the case of Shri Lakshmi, and Shri Saraswati.
In Bhagawan Anjaneya sannidhi one could see utsavamoorthi of Anjaneya Swami and also a panchloka Venugopala Swamy. On to the right of Bhagawan Anjaneya Sannidhi is the Perumal Kothanda Rama Sannidhi constructed during 1954, housing Sri Rama along with His consort Devishri Sita, His anuja Lakshmana.
Legend
It is said that the trading community of Mysore known as "Shettys" left their home town around 300 years ago due to torture met out by Yousuf Khan. They had come down to Chennai and settled down in Mylapore where potters' were having their kiln and the area was known as Kayapettai or Kosapettai. They had established the "Hanumantharaya" shilapam which they had brought with them from Mysore here in Koyapettai. In the course of time, this trading community had merged with the trading community of Tamil Nadu and had acquired the identity as "Chettiars".
The temple was small and one could have dharshan of Bhagwan Anjaneya Swami from the main road itself. In the recent past Rajagopuram had been built and the temple had been enlarged with the active participation of devotees and management. It is said that on January first of every year the offer of Vada Malai to Bhagawan is likely to cross five hundred in number.
---
Experience
It is believed that by offering Vada Malai to Bhagawan Anjaneya Swami of this kshethra the wishes of the devotees are fulfilled as He is vanchithaya pradhanan.
SWAGATHAM
Welcome to the pages on Son of Wind God Vayu Lord Anjaneya Swami -Vayusuthan.
The intention of this site is to propagate the glory of Lord Anjaneya [Hanuman].
Though the intention of this site is to propagate the glory of Lord Anjaneya [Hanuman], kindly note that no material appearing in these pages could be reproduced in any manner without explicit permission from vayusutha.in
SRI HANUMAN
SRI HANUMAN THINKS DIFFERENTLY, THINKS FAST, THINKS AHEAD AND ACTS FOR SURE.
Our salutations to this Hanuman who always brings subham - everything that is good - for His devotees and eliminates the bad and the evil. He removes even the traces of bad thoughts and deeds from His devotees. i.e He makes them pure in words, thought and deed.